Semi-Homemade Strawberry Whoopie Pies Recipe
Our Semi-Homemade Strawberry Whoopie Pies Recipe is the perfect sweet treat that takes only minutes to prepare! Everyone will love this easy dessert recipe! These strawberry whoopie pies are made with a box cake mix
Semi-Homemade Strawberry Whoopie Pies
This Strawberry Whoopie Recipe is the solution to your last-minute cravings.  If you have ever sat at home and thought "I want to make a delicious dessert, but I don't want to make anything too complex", then this is the recipe to try. Of course, you have. I like often have thought this very same
Of course, you have asked yourself that question, most of us have.  I just want to whip up a delicious sweet treat that doesn't take a ton of time.  This Strawberry Whoopie Pies Recipe is just what you need, and trust me, you'll love the result!.
I have a slight obsession with whoopie pies. I have even made them with veggies. WHAT?!?! Yes, I have a love of hiding in fresh veggies to boost up any sweet. Believe me, you won't even notice.  They passed the husband and kid test for sure.  Be sure to check out my Chocolate Healthy Hidden Veggies Whoopie Pies. 
Frozen strawberries are incorporated with a store purchased frosting filling (first shortcut). Go and choose your FAVORITE brands vanilla frosting. That sweet, happy frosting will taste like a celebration. Then grab a box of Strawberry cake mix (shortcut number two) and pantry available baking items and you are ready to GO GO GO!!!
Make them, and be joyful.
It may also cause spontaneous bursts of happiness and confetti throwing.
I'm just speaking from experience.
Semi-Homemade Strawberry Whoopie Pies Recipe
Semi-Homemade: Strawberry Whoopie Pies with Strawberry Filling
Author:
InspiringSavings.com
Ingredients
1 box of strawberry cake mix (Do not follow box instructions)
2 eggs
⅓ cup melted butter
½ cup
½ cup flour
1 cup frozen strawberries
¼ cup sugar
1 tablespoon cornstarch
1 can vanilla frosting
Instructions
Preheat the oven to 350°
In a large bowl mix together the cake mix, eggs, water, melted butter, and flour. The addition of the melted butter and flour will help turn your cake mix into a whoopie pie!
The batter should be thick. Spoon onto a cookie sheet and bake for 15 minutes or until a toothpick inserted in the middle comes out clean.
In a small saucepan, add the strawberries and sugar cook over medium-low heat until soft, stir in the cornstarch, bring to a boil and reduce to simmer. Cook until sauce starts to thicken. Remove from heat. Chill.
Once the strawberry sauce is cold. Mix about 2 tablespoons of the sauce into the frosting.
Spoon onto whoopie pie bottoms and the top.
Try serving drizzled with more strawberry sauce and vanilla ice cream!
Adding a few things to a basic cake mix can turn that cake into a Whoopie pies recipe so easily!  I love knowing if I keep this in my pantry, I can have a super easy dessert in no time at all!
You want your strawberry whoopie pies recipe dough to be pretty thick like a cookie dough would normally be.  This won't be poured like a cake batter but dropped like a cookie.  If you want to make sure you get each pie identical in size, you can easily use an ice cream scoop to put your dough on the baking sheets. I also line my baking sheets with a silicone baking mat to prevent sticking.  These are perfect for cleanup!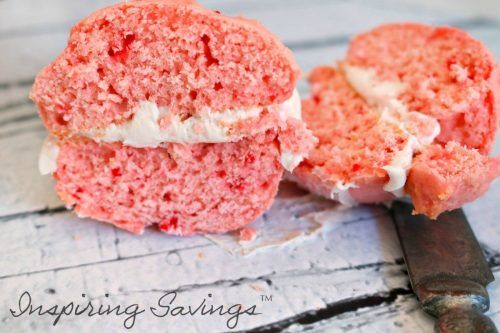 This semi-homemade strawberry whoopie pies recipe is sure to be a favorite for everyone in your family!  You can easily adapt this by using a chocolate frosting as the filling for a more decadent treat!
More Great Recipes:
Strawberry Filled Angel Food Cake
Blueberry Sour Cream Pound Cake