Estimated reading time: 11 minutes
Want to save more money? Time to simply pull out your phone. Download, tap, and swipe your way to more savings. Download these must-have money savings smartphone apps.
Must-Have Money Savings Smart Phone Apps
As technology is ever-changing, looking for exciting fresh ways to save money can be as simple as a click away from your phone.
You will fall in love with this article on Must-Have Money Savings Smart Phone Apps.
I will show you today how to take your smartphone and turn it into a virtual money-saving machine. I can recall writing this same post almost a year ago and just having a list of 12.
An explosion of money savings apps had occurred. Some are no longer up and running due to popularity, but many have stayed.
I have compiled a list of my favorite FREE money savings smartphone apps (for groceries, for shopping, for travel, and more).
Keep in mind that new apps are developed all the time. So while it is possible I've missed something, I do feel confident that this list is a great selection.
Please also note that you can use multiple rebates from different smartphone apps on one item (adding more savings) and also by using printable coupons.
Money-Saving Apps for Groceries
Why not save money doing what you love? Download these apps to make the most of your extracurriculars.
Saving on Organic Food Just got better!!!! I am so excited to announce the newest smartphone money-saving app, Makeena Download the FREE app and start browsing exclusive offers on foods you can feel good about.
They hand-picked only the best all-natural, organic, gluten-free, and non-GMO kinds of foods for you. You won't see high-fructose corn syrup and artificial flavors here.
Just take a picture of the receipt, and within 24 hours, Makeena will send you real money that can be cashed out through PayPal or Venmo once you reach the $20 threshold.
Bonus: when you sign up NOW using my link here, you will earn a few $1 towards your $20 cash-out threshold.
Fetch Rewards is quickly becoming one of the top apps out there when it comes to saving money on groceries. This is my favorite one, because it is the easiest to use and you earn points on every recipe.
Right now, when you sign up for Fetch Rewards they will give you a cash bonus. When you sign up using promo code, FJ8FR, you will earn a free 2000 points (or $2).
Your credit will be added after scanning your first receipt.
Similar to Ibotta, this app pays you to take a picture of a receipt with specific offers on it. You'll find a wide range of offers varying from alcohol, produce all the way to snacks and dairy.
The best part? It doesn't matter where you make the purchase, just as long as it shows up on your receipt.
Circle from Target (previously known as Cartwheel) is a first-of-its-kind program that gives shoppers a new way to save on hundreds of items throughout Target stores.
This includes grocery, household, clothing, health and beauty, baby items, office supplies, and, well, pretty much any category of items that Target sells!
With this free program, you will earn 1% on every purchase to redeem on a future Target trip. They'll also get personalized offers like a birthday discount of 5% and can cast votes to help direct Target's giving to approximately 800 nonprofit organizations.
Please note that shoppers with a Target RedCard aren't eligible to earn 1% when they pay with the store-branded card. Instead, they will continue to get 5% off purchases and can take advantage of the other Target Circle perks.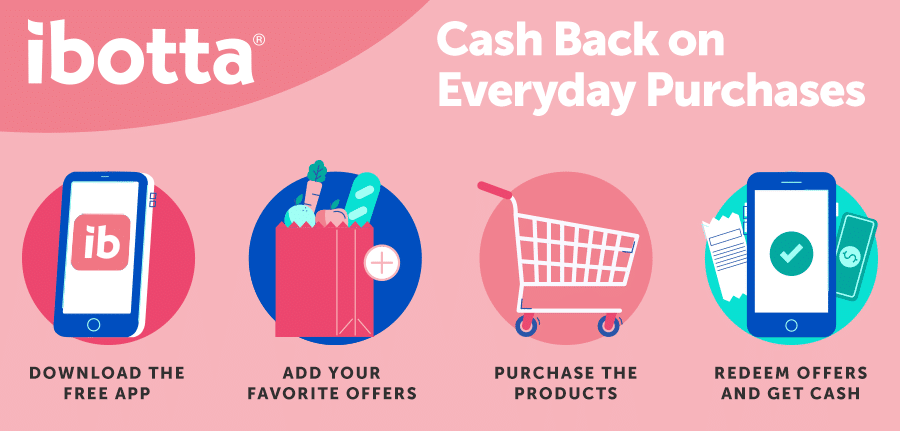 "Clip" the coupon offers for groceries you want from this app.
Then when you purchase those items from a participating retailer, you scan your receipt with your smartphone, scan the image barcodes and you get the cashback!
Plus, you can still use coupons in the store on the items, saving you EVEN MORE! Ibotta offers change frequently.
The best part of all you can simply link many of your store loyalty cards, so no scanning is necessary. But you do have to clip your offers prior to purchasing to earn credit.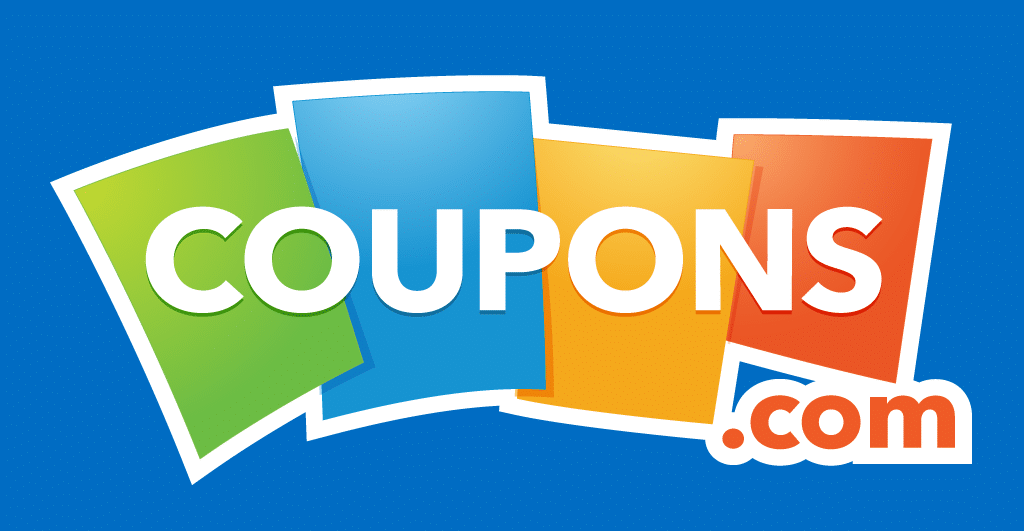 Make your way over to Coupons.com, where you can save even more with our exciting new app featuring cash back offers.
Use them at ANY retailer that provides itemized receipts.
Skip the receipts and link your store loyalty cards for automatic cash back (1,000s of stores to choose from).
Cash out with NO minimum balance — your money will go straight to PayPal*, and you can grab it whenever you need it.
PLUS, you'll have access to thousands of printable coupons and coupon codes on the Coupons.com website, saving you even more on everything you need from breakfast to bedtime.
Money-Saving Smart Phone Apps for Shopping
With Upside, people earn cash back and businesses earn a proven profit, so communities grow stronger.
And every transaction through Upside benefits the world at large, offsetting carbon and food waste so that our communities thrive for years to come.
Upside is a platform that lets you shop as usual and earn cash back, but in a way that makes sure businesses earn too.
Claim an offer and get the most value on gas, groceries, and restaurants. There's no limit to how much you can earn, and you can even use it with other coupons, discounts, and loyalty programs.
An App that offers rewards and cashback for buying just about anything.
After you check out, use the app to snap a photo of your receipt. Each image earns you virtual coins that you can use for Amazon gift cards or cash through Paypal.
Whether you are at Best Buy purchasing a new TV or Kohl's getting an outfit for work, this app could save you money. By simply searching the app for a store, you can find coupons and codes that could end up cutting the cost of your purchase.
Retailmenot has over 50,000 coupon codes for online stores. If there are coupon codes available, you'll see a section called Active Coupons. You'll see a percentage and the higher it is, the better chance the code will work.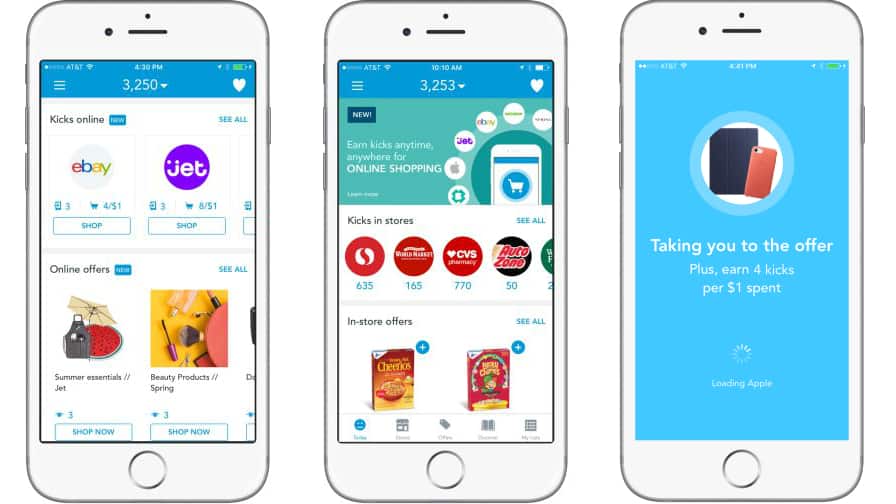 We're all familiar with traditional reward programs. Shopkick is a shopping rewards program that's more rewarding. No plastic cards, no confusing rules, no extra steps.
Walk into your favorite stores like Target, Macy's, Best Buy, Crate&Barrel, Old Navy, Exxon, and Mobil convenience stores, and more—and you automatically rack up points called "kicks", which are redeemable for gift cards.
No applications to fill out, and no purchase is required. That's right—you just walk in with your smartphone and instantly earn kicks.
Right now when you sign up using promo code INSPIRING you will receive a Free $5 in KICKS!
Comparing prices is the BEST way to save you money. If you are a comparison shopper this app is for you. Simply scan the barcode or type in the item you are looking to purchase.
Once you've found a product, ShopSavvy tells you the cheapest local or online price.
For local products, you can get map directions, visit their website, or call the store.
For online products, you can visit their website or share the product using Facebook or Twitter.
Out shopping and Need a coupon in a hurry? No Problem. Open up this app and you are instantly connected to your local stores and coupons that may be available.
Just click on the link provide and up pops your money-saving coupon.
Traveling for work or on vacation? TheCouponsApp continues to dig up coupons for you, no matter where you may be.
TopCashback.com is America's one-and-only 100% commission rate cashback site; it gives all the commission rate stores pay back to consumers as a cashback rebate. It lists more than 2,600 online stores including Groupon cashback, Overstock cashback, and Kohl's rebates.
There is no minimum withdrawal level and you can cash out immediately, as many times a day/week/month/year as you want. Plus your cash comes via PayPal or direct deposit.
Money Saving Apps for Traveling
is a free app that allows you to find the least expensive gas in your area. Filling up your tank is never fun, especially when gas prices are high.
If you want to be able to find the most affordable fuel in your area, download Gas Buddy.
You may not think that saving a few cents a gallon is a big deal, but that adds up over time and can lead to significant savings.
You know the company offers room and home rentals, often for less than hotel rates. Now it has added the opportunity to book unique lower cost experiences in dozens of cities around the world, all hosted by locals.
Other Money-Saving Smart Phone Apps
Calling all overspenders and super savers – these apps can help support your strengths and make up for your weakness.
This budgeting app lets you create virtual "envelopes" to keep track of spending in various categories. Your cash for each month's expenses is taken out and divided into envelopes for each budget category.
Like groceries, transportation, eating out, and rent.
This app is great for Dave Ramsey fans who find it cumbersome to carry actual envelopes. This app has both a free and paid version.
This app will help you save little by little and get creative with how much money you set aside and when. For example, you can direct the app to save $3 toward a trip to New York every time you buy a pizza or to put aside a $1 whenever you clock into work.
Other Money Saving Articles
The Best Time to Buy Anytime – A Month to Month Grocery Sale Cycle Guide
How To Take Family Road Trips on The Cheap
How To Get Grocery Coupons for Free!!