The Freecycle Network – Give and Get Free Stuff
Learn how to get free stuff for your home with The Freecycle Network. The perfect way to get stuff but a great way to reuse an item that might have ended up in a landfill. Learn how the Freecycle program works
The Freecycle Network – Give and Get Free Stuff
Heard the Saying "One Man's Trash is another Treasure"? I love it when I can find a good roadside curb item. One that I can fix up and repurpose in my home.
No need to search out the streets when you can do it all online.
Plus if you have items that you would love to get rid of that are still in good use, you can list it online too. Don't want the hassle of selling it? Or need a few things that you don't want to spend money on?
Now is your chance to try The Freecycle Network. It is a great program that allows you to list items that you want to get rid of or pick up some items that would be perfect for your home.
What is Freecycle
We all love saving money on items we buy – but getting stuff for free is even better. Freecycle is an online not for profit network that provides unwanted items to others through a pass it on system. This program helps items from needlessly taking up space in a landfill.
The concept of The Freecycle Network is quite simple: It's a large network of people who give things they don't need to people who want them.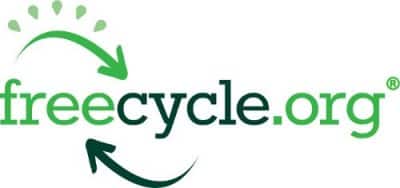 It was started in 2003 by Deron Beal and at first, only 30-40 people (Deron Friends), now FreeCycle is in over 86 countries and has over 5,000 groups. Great Grassroots effort has now flourished.
There are so many great benefits to this program, but there is one con I have to let you know about. I find it more annoying than anything. Lots of Emails. The Freecycle Network operates by email and it will quickly fill up your inbox.
What You Will Find on FreeCycle
You can give and get almost anything on your local freecycling group. Some of the most common posts are for items such as old electronics, building materials, clothes, books, and furniture.
Even things you might not consider reusable like clothing scraps, old CDs or cassette tapes and broken appliances. These items are sort after others who may be artists looking for materials or tinkerers looking for an interesting project or spare parts.
Honestly you just never know what you will find. It is like searching for lost treasure.
There are some things you'll need to know before becoming a member
Must be a member to post items (membership is FREE)
Don't add any personal information to post for safety reasons.
Just like any other buying/selling program, please don't go alone to pick up items. Most people will do porch pick-ups, please use your discretion when picking up.
When you're offering items for others to pick up at your house, consider leaving the items outside, clearly labeled with the name of the person who is picking them up (if you feel comfortable with kind of pick-up).
Each FreeCycle Group has its own set of rules. Please read them prior to posting.
No advertising is allowed
Suggested Items to Request or Give-Away on Freecycle:
Furniture
Dishes
Toys
Clothing
Backpacks
Coupons
Computers
Cell Phones
Electronics
Sports Equipment
To Sign up to become a member, click here!!
Now you're freecycling! It's a simple, economical, emotionally rewarding and morally sound practice that can literally help save the Earth.
Freecycle performs many wonderful functions: building bonds and community, keeping material items from the landfills, and redeeming the clutter that consumes us by moving it forward to a new, productive life. I am so glad that you can be a part of these wonderful efforts.
The more people who are members sharing, the more items there are to receive.
Other Frugal Living Articles
Must-Have Money Savings Smart Phone Apps
The Do's & Don't to Thrift store shopping
5 Rules for Handling Infant Hand Me Downs