Estimated reading time: 6 minutes
You can make more out of lemons than lemonade. In fact, lemon juice is a really useful liquid that can be used to clean your home, treat cold symptoms, and even be part of your beauty regimen. Check out these Brilliant Ways To Use Leftover Lemons Around The House.
What To Do With Leftover Lemons
Lemons, Lemons, Lemons…… Too Many Lemons – Here is what to do!
Have you ever purchased lemons and had to throw a few out? You had all the intentions in the world to use them but didn't.  
Or after squeezing the lemon juice from the lemon, you toss the leftover rind. Let's explore other uses for leftover or extra lemons that may be floating around in your fridge.
You can make more out of lemons than lemonade.
In fact, lemon juice is a really useful liquid that can be used to clean your home, and can even be part of your beauty regimen. Let's get frugal. 
I'd wager a bet that no other fruit works quite as hard as the little lemon. Let's start using lemons to their full potential. Let's make every lemon we use a success, an overachiever … a winner.
We use to keep leftover lemons in a container in the refrigerator. But more often than not, I found that they would go bad before I even had a chance to use them. 
Sad but true, and like many of us, I just can't stand food waste. There are no savings in tossing out food. 
By the end of this list, you'll see just how much this little citrus fruit can do!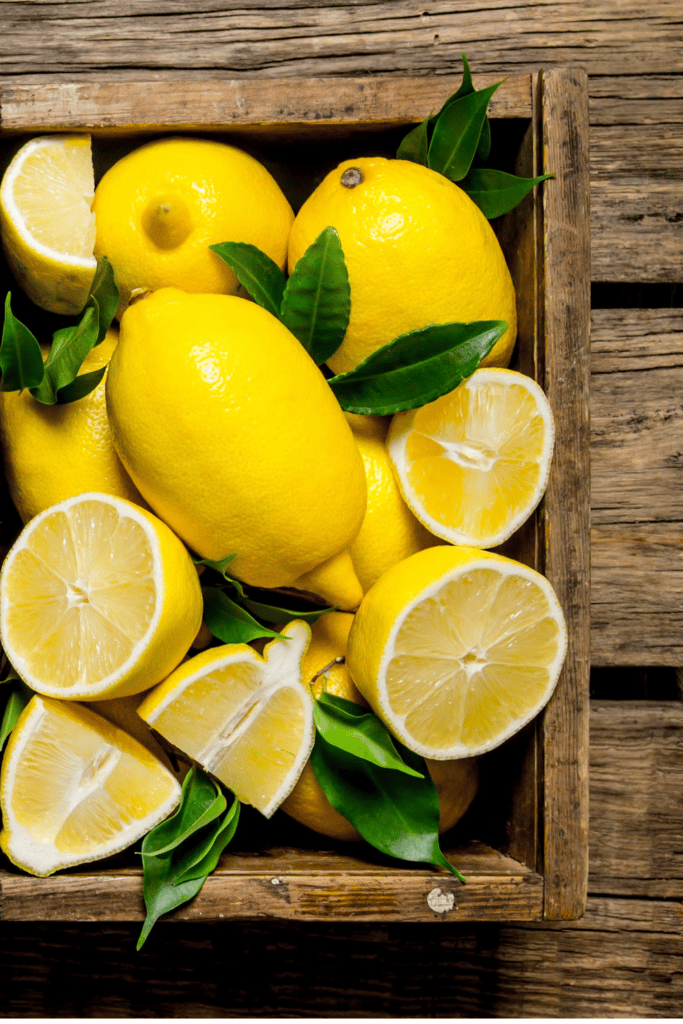 Freeze Your Extra Lemons
After slicing lemons that I knew my family would not be able to use up, we started to freeze them. Fresh lemon slices are so refreshing and lovely in a glass of water.
A frozen lemon slice is like a lemon ice cube!  You actually get the same effect as having a fresh lemon slice in your water.  
Over the summer, I actually sliced them up and froze all my lemon slices just to keep my water a little cooler and tastier.
Make a Tea with Lemon
When cold and flu season is upon us, nothing helps more at breaking down the mucus than lemon.
Squeeze that lemon juice into some hot water with a dash of honey – And there you have it – a sore throat remedy! 
Freshen Up With Leftover Lemons – Beauty Hacks
Get rid of bad breath.
Squish a little lemon juice in a small bit of water and swish it around in your mouth for a few seconds. I know some may not like the taste of straight lemon juice.
If you can, DO IT!!!
Then swallow the juice for extra freshening. Lemon juice will also aid in digestion, and will give you a nice jolt of vitamin C!
Lighten blemishes.
If you have some blemishes or you notice your face darkening in pigment in some spots, put some lemon juice on it every day until it lightens.
The antioxidant content in lemon juice is known to help fight free radicals in the skin.
Whiten discolored elbows, heels, and knees.
 Just rub half a juiced lemon over the spotty areas and watch them disappear. 
One reminder: Lemon juice increases sensitivity to sunlight, so don't go gallivanting about in the daylight after using it on exposed skin.
Kick Start Your Morning
Drinking a glass of lukewarm lemon water when you first wake up in the morning is a great kickstart to your day! Tahlia from
Her Happy Heart goes into more detail here – healthy morning routine ideas.
Clean With Lemons Around The House – Kitchen Cleaning Hacks
Cut the grease & grime on that cutting board
Take extra lemon rinds and a little coarse salt (Kosher) to clean wooden cutting boards. If not taken care of properly, they can turn into a smelly (and in some cases, moldy) mess.
Sprinkle the salt liberally all over the board, then slice your lemon and use it to rub the salt into the board.
The salt acts as an abrasive to lift stains and the lemon juice leaves everything smelling great.
Throw it in the garbage disposal.
We also found out our garbage disposable LOVES lemon rinds (Nom, Nom, Nom). After dishes are rinsed, put half a lemon in the garbage disposal.
Run hot water for a few seconds and then run the disposal for a few seconds to lightly chop the lemon. Leave the chopped lemon in there overnight and finish the job in the morning.
Clean your microwave quickly.
Squeeze the juice out of half a lemon and put it in 1 cup of water in a microwave-safe bowl. Run the microwave for 5 minutes.
The lemon juice steam majorly cuts down on wiping-off time.
After letting it cool down for a few minutes, take a damp cloth and wipe down your microwave. SPARKLING clean!
Use as a multipurpose cleaner.
Vinegar is one of my favorite natural cleaners.
I take the whole used lemon, lemon bits, or just the peels. Place them in a large pint glass and then fill the whole thing with distilled white vinegar.
After 24 hours, your vinegar will be infused with lemon. Perfect for wiping countertops, the stove, or cleaning your floor.
I don't own it, but happen to know about a book called Lemon Magic: 200 Beauty and Household Uses for Lemon Juice. Clearly, my list has fallen short of 200.
However, you can check out this book to give you more great ideas. They offer some great ways to use leftover lemons.
What are some other ways to use leftover lemons around the house? If you have any special tips, please let us all know.
Drop us a comment below we would love to hear from you.
Other Household Tips & Tricks
How to make your own homemade carpet powder
How To Clean Kitchen Cabinets And Degrease All Naturally