Homemade Carpet Powder – 2 Ingredients
Got odors. Try this DIY 2 Ingredient Odor Busting Homemade Carpet Powder Recipe! Just make it, sprinkle it and vacuum the odors away. Your house will smell amazing.

Homemade Carpet Powder – 2 Ingredients
What is that SMELL??? You say the kids did it, maybe the dogs? Who knows where that smell came from but your carpets need to be refreshed.  Today I want to share how to make your own Homemade Carpet Powder Mix with just 2 ingredients! It will have your carpet and rugs smelling fresh in no time!
Homemade Carpet Powder is so frugal and easy to make yourself. Carpet powder is one product that I can't do without.  Even though it is a reasonable price, it can all add up if you purchasing it often. Making it at home can help save you money.
This recipe only requires 2 ingredients! I am one for using ingredients that don't contain harsh chemicals.  I love using essential oils. Essential oils are like concentrated super-powered plants. If you have pets that love to attract fleas you can prevent them by adding a few tablespoons of borax to your mix.
If you can recall I shared a neat trick for storing my baking soda.  This is how I also store my Homemade Carpet Powder. 
What You Will Need
Clean Mason Jar
Baking Soda, 1 box
Borax (optional, flea repellent)
Your Favorite Essential Oil – 10 to 15 drops
How to Make Your Carpet Powder
To make your own carpet deodorizer using natural ingredients, combine baking soda in a medium-sized bowl with 15 – 20 drops of essential oil. I have also combined oils it gives a different scent.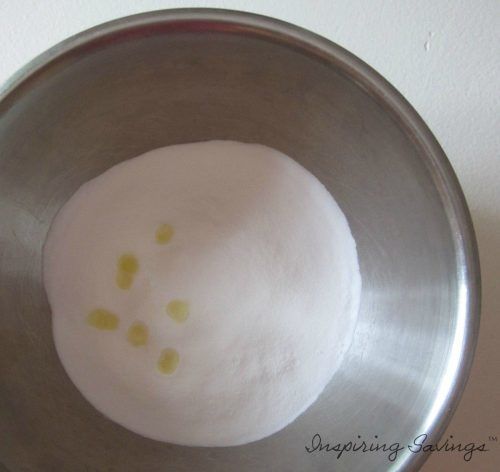 Mix it together & store it in a mason jar or get creative and use an old Parmesan cheese container. The top of the container will make it easier to shake evenly on your carpet.
Once your deodorizer is complete sprinkle liberally on carpets and let it set for 15 minutes to as long as an hour (depending on time available and strength of carpet odor). Vacuum thoroughly.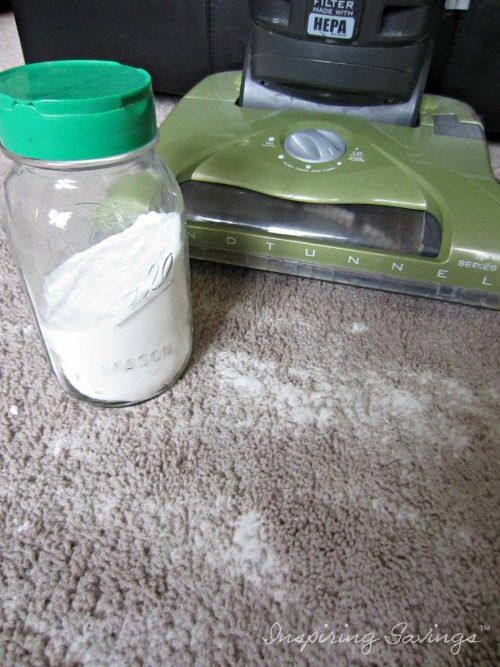 It is simple, frugal and easy. 
You can also add a couple tablespoons of borax (found with the laundry detergent) or food grade D.E. to repel fleas.  The food grade d.e. is great for repelling bed bugs too!
Just an FYI: Some vacuums are not made for powder mix– the filters are just too good (hepa, etc) and will clog them causing the motor to burn out.  If you are using a newer vacuum just make sure to clean those filters before & after. I have an older vacuum that I like to use for this homemade carpet powder mix.
Other Frugal Living Articles
6 Food Purchases That Kill Your Budget
The Do's & Don't to Thrift store shopping
Tips To Buying Organic Food On A Budget
What To Do With Those Over Lemons