Estimated reading time: 7 minutes
Don't shell out for toy storage! Get some toy organization ideas here. Use one of these inexpensive and common household items that make great toy organizers for your kid's playthings. Keep them all in one place. I am loving these toy storage hacks. Great solutions for organizing all those games, books, puzzles, and craft supplies.
Get Your Home Organized By Cutting The Clutter
Cutting the clutter in your home by paring down and organizing all of your own belongings isn't always easy, and it often seems even more difficult to accomplish these same tasks in your child's room.
I am excited to share with you some out of the box ideas when it comes to using 10 Common Items that Make Great Toy Organizers.
The sheer volume of toys they manage to collect over a relatively short period can be overwhelming, making it hard for little ones to keep their rooms clean with no extra help and presenting a challenge in logistics after gift-giving holidays and birthdays.
I don't know about you, but I have a very hard time getting rid of all their "friends".
Especially when I know they still enjoy playing with them. These ten common items can, with a bit of creativity, become interesting and effective toy organizers. Plus rid you of the anxiety of seeing all the clutter around your home.
Thinking outside of the toy box can help you keep your child's room inviting and clutter-free.
10 Common Items that Make Great Toy Organizers.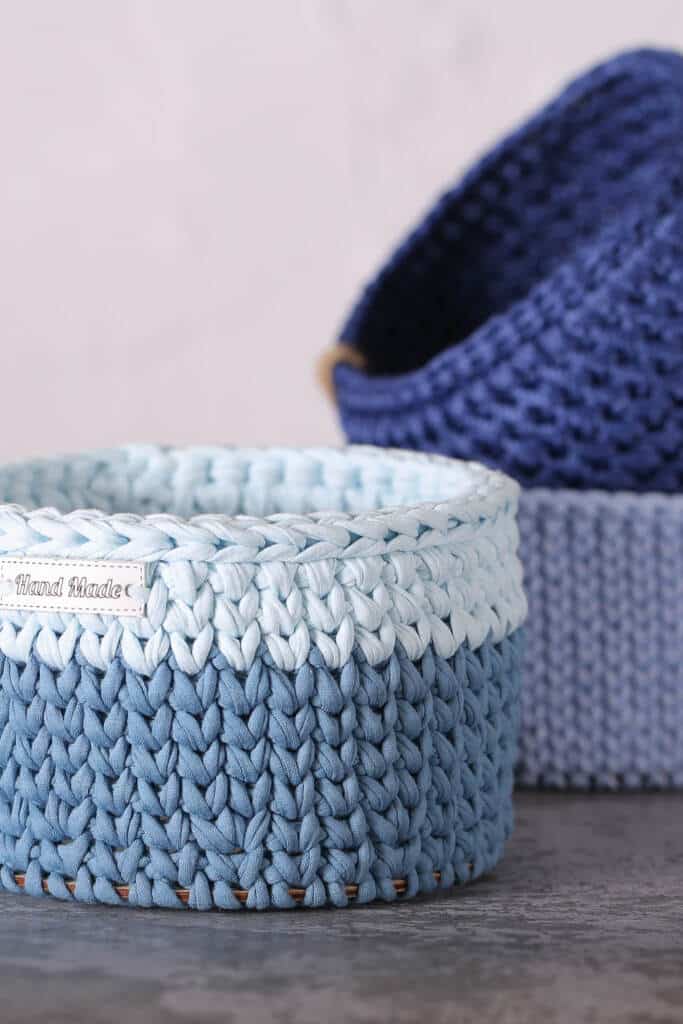 Baskets
Woven baskets are functional storage items that can also become whimsical decorative items, stashing away toys and lending a polished air to the room.
For even more ornamental power, line baskets with fabric that coordinates with the color scheme of your child's room.
Micheals craft store carries a lot of different kinds and they always seem to have great sales.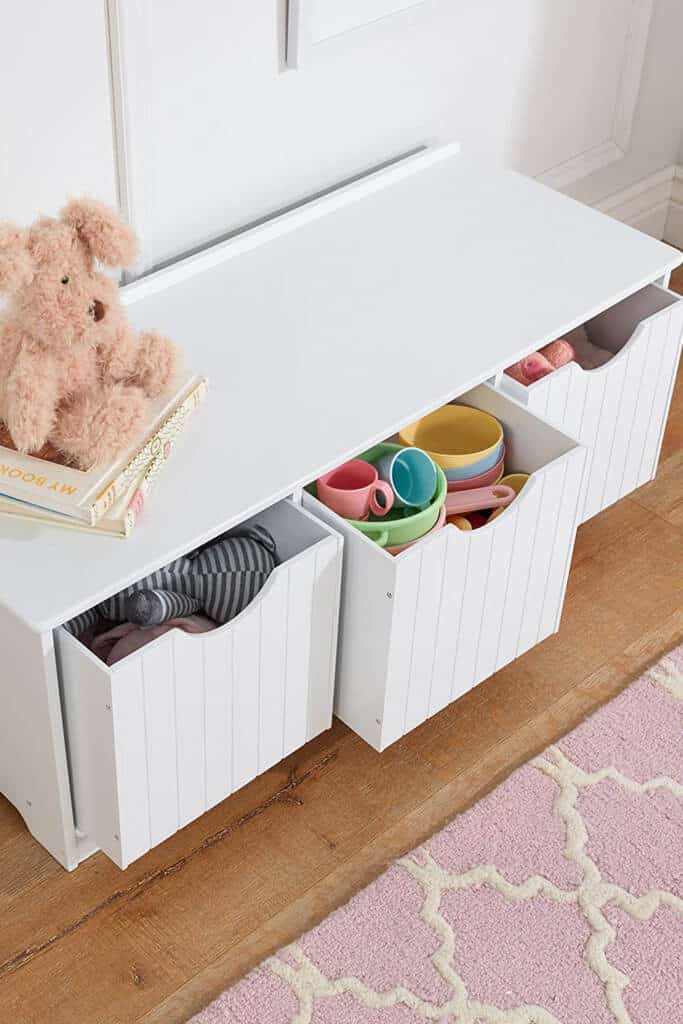 Storage Benches
There's often a shortage of seating in kids' rooms, which can begin to present a challenge as they get older and start to have friends over.
Solve the seating problem and your toy organization woes by storing toys under the lid of a storage bench, which becomes functional seating and an organizational tool.
Wire Bins
Wire bins, especially those that have flat edges to facilitate wall mounting, can be great ways to keep smaller toys off the ground and out of the way.
Just be sure they're mounted low enough for your child to see inside and retrieve the desired toy himself, or you might find yourself in the position of both taking them out for him and putting them away at the end of the day.
Storage Cubes
Typically made of plastic and covered in durable, brightly colored canvas, storage cubes are functional toy organizers that also lend splashes of color to the room.
They have the bonus of being lightweight enough that your child can move them himself.
If, of course, the toys themselves aren't particularly heavy.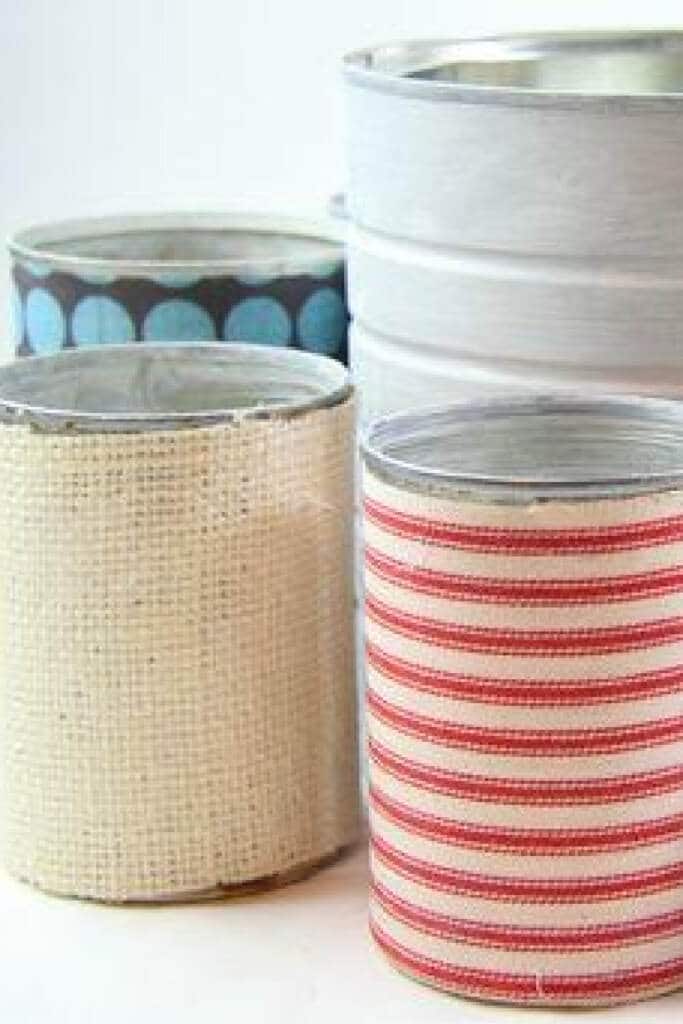 Coffee Cans
Painting a coffee can in your child's favorite color and personalizing it with their name will put the fun back into functionality.
Before turning your newest project over to your little one, make sure that the inner lip is completely dull to avoid any accidental cuts when he reaches inside.
Diaper Wipe Containers
By the time your infant reaches toddlerhood, the number of lidded plastic diaper wipe containers you've collected can be impressive.
Rather than tossing them into the garbage to take up space in a landfill.
It might be better to take the green route by re-purposing them to hold small toys or crayons. Here are some really neat ideas that you can do with some baby wipe containers.
Buckets and Pails
With their handles and sturdy construction, small buckets and pails are great choices for kids' organizations.
Not only can your child maneuver them easily with the handle, but they can also double as toys themselves.
Suitcases
When you're not traveling, kids' luggage sits in a closet collecting dust. Rather than storing non-functional pieces all year, only to use them once or twice.
Think about filling them with toys, doll clothes, or other items, then stash them under the bed.
Your child can still access her favorite toys, but they're no longer taking up space all over the room and her luggage is being put to functional use year-round.
Spice Racks
Older children that are becoming arts and crafts enthusiasts can acquire a lot of glitter, sequins, buttons, and other supplies that aren't always easy to store.
A new spice rack might be just what you're looking for. Shaker tops built into the jars are ideal for glitter, ribbons can be neatly coiled and stashed inside, and buttons or other small bits can be collected into them for easy storage.
Glass or clear plastic jars will allow your little one to see what each of them contains. This can easily corral all their things into their own rack.
Cabinets
Even though you can install wall cabinets in your child's room, it's likely to be an involved and fairly expensive project.
Rather than investing in custom cabinetry, stop by your local builders' supply and pick up a couple of cabinet sections intended for upper wall mounting.
Arrange them in a straight line, then cover the top with pine or some other type of lumber. Stain or paint the entire new piece of furniture. Your design choice is up to you.
Now you will be able to enjoy a custom credenza you've built with a hammer and a few nails. And all it took was a minimal investment of time and/or effort.
In addition to using some of these toy storage ideas, it's also wise to cull your children's toys periodically to make room for new ones.
Unless they have some sort of particular emotional significance, any playthings that are broken, damaged, or rarely played with should be discarded. Keeping the interest of maintaining order and organization.
Special Note
It is important to not spend too much time thinking about items you haven't used in years. Instead, look at it and decide.. toss or donate. If, of course, you still use many of your items… it is time to make space for them.
What items did you use in your home that you were able to repurpose into great Toy Organizers?
Leave a comment below. I would love to know.
Other Simple Solutions Articles
8 Life-Changing Hacks for Organizing Jewelry
The Best Way to Store Natural Baking Soda For Other Uses