Estimated reading time: 7 minutes
Binder clips are surprisingly useful in many areas around your house. Here are 10 uses for binder clips hacks. These are out of the boxes ideas.
Uses for Binder Clips Outside of The Office
Binder Clips are very handy in the office, but have you ever thought about how you can use them around the house?
These clips can be used in so many ways to help you out at home. When it comes to DIY projects and MacGyver tricks, the binder clip is one of the most versatile things around.
You can get these types of clips in various sizes, and there is a use for every size.
They are so versatile. All of these are pretty genius. None of these are gimmicky hacks either. They are genuinely useful. You'll learn how to use binder clips to organize computer cables, make an impromptu cover for a razor, and more.
Here are just a few ideas to get you started.
I'm sure you can think of more uses, too, once you get going!
A Chip Clip
Who needs to spend money on cheap plastic chip clips? These clips secure chip bags better and keep your chips fresher for a longer period of time.
No more wasting money on extra plastic clips.
Card Holder for Kids
Does your family love playing games, but the little ones always drop their cards?
Using a binder clip at the bottom of the fanned-out cards will keep the cards together and make it easier for little hands to enjoy the game.
No more dropped cards all over the place. It makes card playing easier for little hands.
You will need to adjust the holder as the card game goes on, but it will make playing cards a lot easier.
Cable Catcher
Have messy cables under your desk or behind the TV?
Binder clips make a great cable catcher. Just gather your cables together and clip them. Now your cables are neater with no tangles!
Cover Your Razors For Travel
Getting ready for a trip takes time and planning, so why not make one thing easier?
A binder clip covers the sharp edge of any razors you are taking with you.
No need to worry when pulling your razor out of your bag. Your fingers are protected from accidentally grabbing your razor out of your bag and your razor is protected.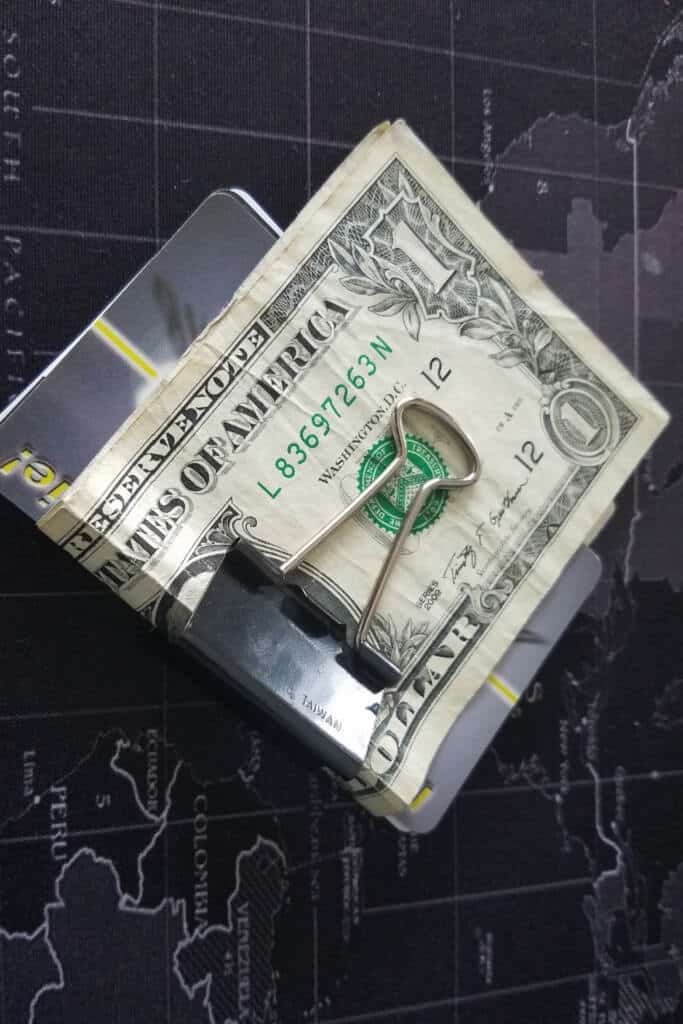 A Money Clip
A money clip is great to have, especially when traveling. Binder clips make a great money clip since the money will stay secure and not fall out.
You can also keep store loyalty cards with you as well.
This is one my son loves. He takes what he needs to school, which isn't a lot, and it is organized in his pocket.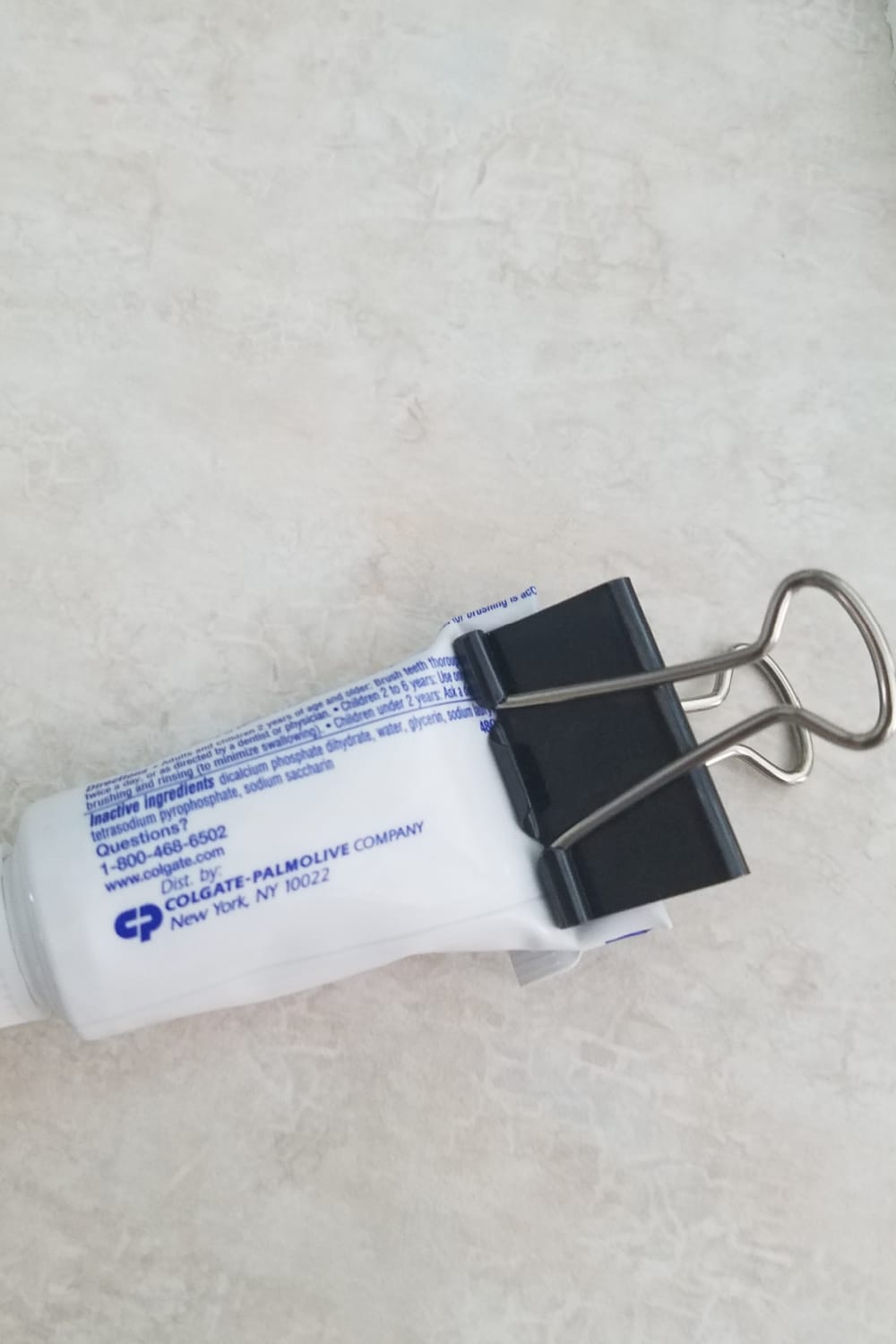 A Toothpaste Tube Squeezer
Yes, the dreaded toothpaste tube.
A binder clip is great to put on the bottom of the tube. As you squeeze the tube after use, just put the clip back on to keep everything in place.
A binder clip will keep the tube squeezed and you will always have the toothpaste at the top where you need it to be.
Useful Bookmark
If you read a lot of books, then you are probably always looking for a bookmark. A clip makes a great bookmark for kids and adults alike.
Don't lose your place and spend more time reading than looking around for a bookmark.
This is one of my favorite uses. I always have a pile of books on my nightstand. It helps me to keep organized.
Tea Bag Helper
I hate when teabags fall into my cup, and a simple clip can help with this. Just clip it on the side of your cup and it will hold the bag in place while your tea steeps.
As a tea drinker, this is a fun hack, but not one that is necessary. I prefer to wrap my tea string to the cup handle.
But HEY it is still neat.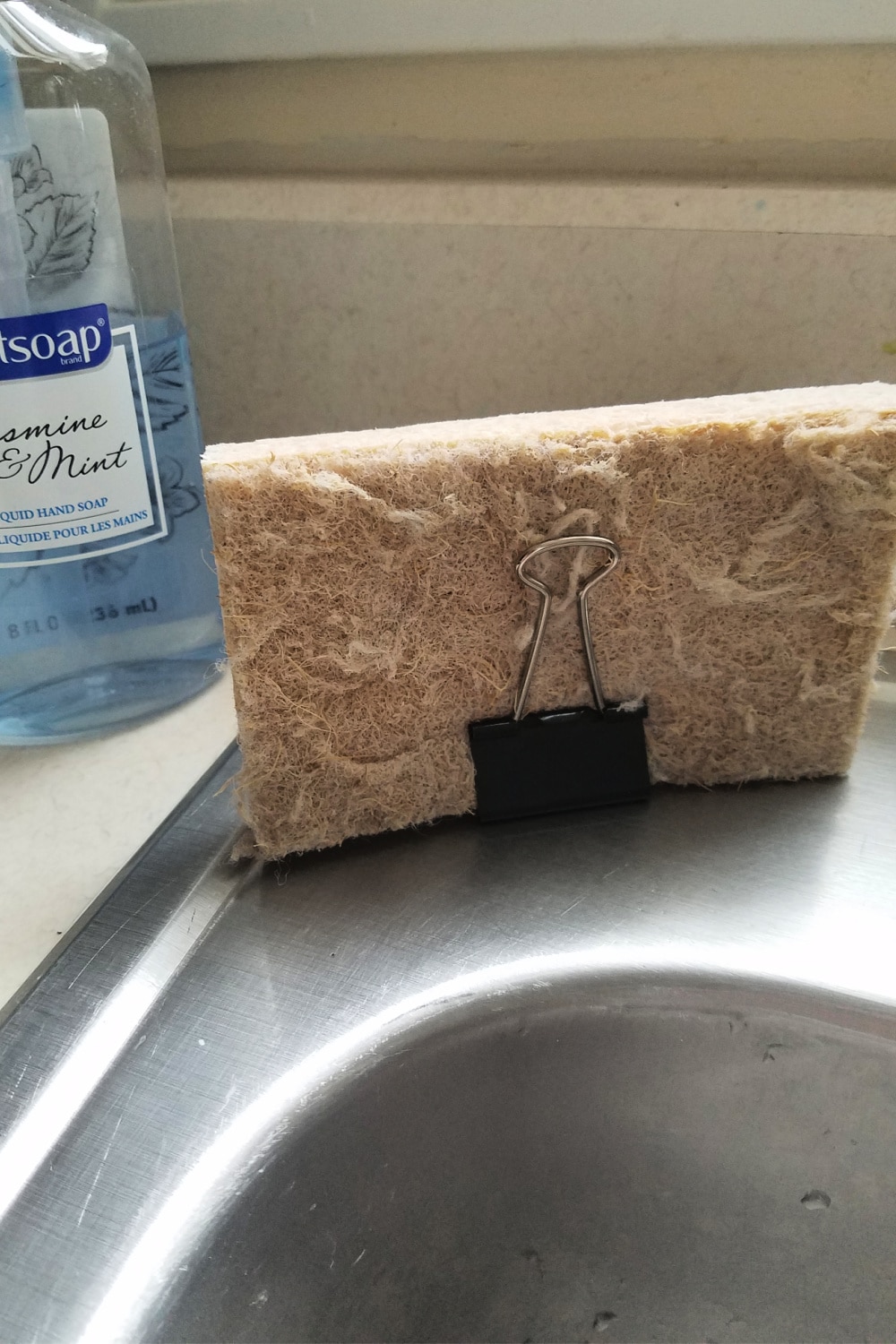 Helpful Sponge Holder
If you want to let your kitchen sponges dry out, use a binder clip!
Just wring out the sponge and then stand it up, using the binder clip as a stand at the bottom.
VIOLA! I love this idea because it allows better airflow to dry out your sponge.
Have I convinced you about using binder clips in your home?
If not, it is time to start and see how helpful they can be. Have fun coming up with new ways to put binder clips to work for you at home.
These clips are super handy. We have them hanging out in our junk drawer. Time to clean out your drawers and see how you can put them to use.
We would love to hear from you. Do you have a fun binder clip hack not mentioned above?
Tell us about it by leaving us a comment below.
Don't have any binder clips? You can order them right now with this quick link below.
Other Fun Household Hack Articles
How To Keep Fresh Flowers Lasting Beautiful Longer
Alka-Seltzer for Genius Solutions at Home