Estimated reading time: 8 minutes
Remove greasy build-up and dirt from your kitchen cabinets with this all Natural Kitchen Degrease. This cleaner will have your cabinets clean in a few short moments. Deep clean your kitchen fast.
This is The Best Degreaser For Kitchen Cabinets
I want to shout from the hilltops of my kitchen and say, "Ladies & Gentlemen, I have done it!!!
I have learned how to clean kitchen cabinets and have even degreased my kitchen cabinets in the fastest way possible!"
CRAZY right!
Yes, my excitement is killing me.
Now I know you are thinking I am crazy, but cleanliness is one of my pet peeves. I love to sit back and feel comfortable in my home knowing that I have a clean house. Big… Big fan of decluttering.
I hope I am not the only one.
Last night, I got into one of my nesting modes and decided I was tired of looking at the decor on the tops of my kitchen cabinets. I know….we often get tired of looking at the same ole same ole.
With that said, I started pulling down all my vases, flowers, etc.
I have never been so grossed out. That led me to learn how to clean kitchen cabinets to degrease them naturally!
Starting from the top cleaning and going to the bottom is a secret I learned from hotel maids.
How To Clean Kitchen Cabinets With The Best Kitchen Cabinets Degreaser
Today, I am going to share with you my kitchen grease.
It is embarrassing, but you must see the after pictures.
The dust and grease on the very tops of my kitchen cabinets actually don't photograph well.
I mean… I feel like it was a lot worse than what the photograph shows. Mainly because I was stuck on the tops of my cabinets, feeling all that grossness.
It isn't easy standing on my countertops to clean in a small 1 1/2 foot space, but I did it.
Don't forget to scroll to the bottom to see all the postive comments about this cleaner.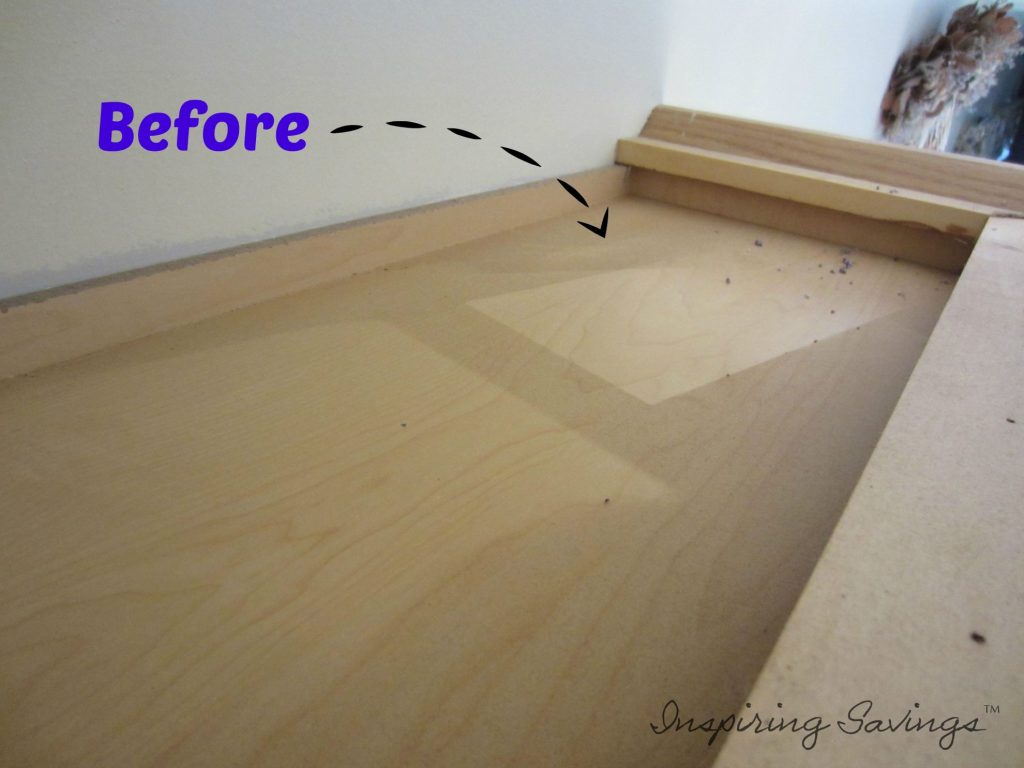 You are going to be completely AMAZED at how to clean kitchen cabinets and how I removed all the grease.
It only took two ingredients and very little muscle work.
In fact, it was cleaned off with one or two wipes.
YES, I just said one or two easy wipes.
For a busy mom, that's always a plus. Especially when you get into a mood to clean and want to get a lot done in a short period of time.
Coughing all while you clean….not the best of ideas.
Aren't you excited?
They may not have discovered a cure for the common cold, but I found something almost as good. My kitchen cabinets are finally clean and it didn't take me half a day to accomplish this feat.

Arlene P.
I started experimenting with products that would be all-natural instead of using harsh chemicals at home.
Frankly, I have tried many products and they just do not hold up to this all-natural do-it-yourself mix.
I took it upon myself to search for a better cleaner.
Besides, I just got so sick of ingesting chemicals while I would clean in such a tight space.
You are going to want to run to the store or your pantry and pull out these two ingredients.
Supplies Needed To Degrease Your Kitchen Cabinets:
Don't forget to scroll to the bottom of this post to read through the frequently asked questions.
1/2 cup Borax
1 cup Distilled Vinegar
1 gallon of Very Hot Water
How to Create A Batch of All-Natural Kitchen Degreaser
To make this process work, you will need roughly 1 gallon of hot water. Mix the amounts as listed above until completely dissolved (Please keep in mind that hot water is the only good way to dissolve borax).
Please do not use a magic eraser during your cleaning process. You will pull the finish off your cabinets.
Now it is time to get started on cleaning your cabinets. Seriously! What are you waiting for? Go get started now.
NOW, are you ready to shout out to the WORLD "Check out my clean cabinets"
I want to hear about how much you loved this all-natural degreaser, so please leave a comment below. You can also read through how well this worked for others, too.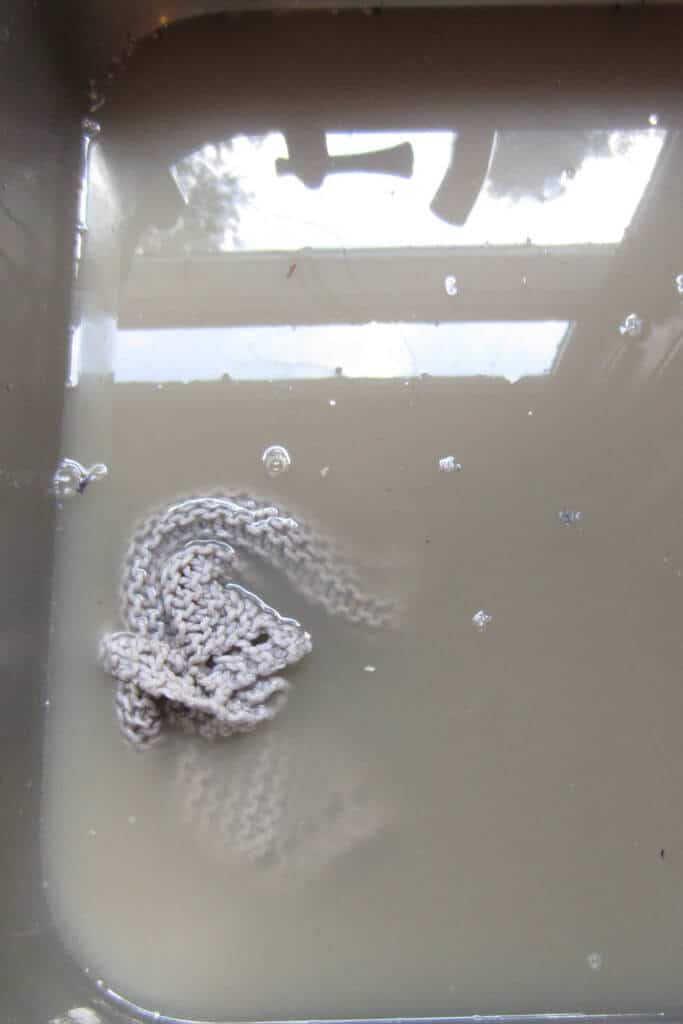 And of course, I have to show you how filthy my dirty water became. Check out that dishcloth. It is one of my favorites. My grandmother crochets wash clothes. I look forward to Christmas when I get a few more of her creations each year.
When you know you have a lot of grease and dirt buildup in your kitchen, this is a great method for how to clean kitchen cabinets and degrease them in a safe, all-natural way.
This recipe mixture works well on the tops and the face surfaces of your cabinets.
What ARE you waiting for? Please come back and tell us how it worked for you!!
Here are Some Pretty Awesome Homemade Cleaning Products From Other Bloggers
Homemade Carpet Cleaning Solution (from Happy Money Saver) – This homemade carpet cleaner solution cleans carpet stains left from food, accidents, pets, and life's little messes. And with a cost of $1 per gallon to make, this secret formula is gonna save you a TON of money.
Homemade Citrus All-Purpose Cleaner (The Praire Homestead)– This homemade Citrus All-Purpose Cleaner is a cleaning powerhouse that you can make for just pennies. It can clean your house from top to bottom.
Want to quickly buy the items needed for this cleaning mix?
Click the image links below. If you are an Amazon Prime member, you get FREE shipping. Otherwise, shipping is free with Super Saver Shipping when you spend $25.
You can try Amazon Prime right now for FREE for 30 days!
Frequently Asked Questions About Using This All-Natural Kitchen Degreaser
Can you use this All-Natural Kitchen Degreaser in a spray bottle?
I would not suggest using a borax solution in a spray bottle. Borax naturally crystalizes. I would be afraid that once the water has cooled off, it would crystallize and eventually clog the spray nozzle.
That would be a huge bummer. It is quite easy to whip up a batch when you are ready to tackle your cabinets.
Can this cleaner be used on the front panels of my cabinets?
Absolutely! This cleaner is safe for the tops as well as the front of your cabinets. I have to be honest. I have pure oak cabinets (see next question) fronts, and it doesn't seem to work as well as it did for cleaning the tops.
If you read through the comments of this post, you will find many that have had great success.
Can this All-Natural Kitchen Degreaser be used on all wood cabinets?
Another big "yes". As stated above, I have 100% oak wood cabinets. Disclosure, I originally concocted this mixture in 2016 and never went back to my old ways of cleaning my cabinets.
My cabinets are beautiful and still remained the same color and shine since we purchased our house.
Can this cleaner be used as a prep before painting?
Absolutely! In fact, I have used it myself on my own Oak cabinets before I have prepped and painted. Prior to sanding, clean your cabinets with the amazing cleaner.
Do I need to use hot water?
Hot water is the only way you can dissolve the borax. Without hot water, this mixture will not work as efficiently.
Other Cleaning Tips and Ideas from Inspiring Savings:
Read More on Inspiring Savings