Steps to Clean and Remove Grease from Kitchen Cabinets
Don't miss our tips for How To Clean Kitchen Cabinets With an All Natural Kitchen Degreaser! This will remove dirt, grease, and grime from cabinets fast! Making deep cleaning your kitchen better. Easy Spring cleaning prep.

Steps to Clean and Remove Grease from Kitchen Cabinets
I want to shout from the hilltops of my kitchen and say "Ladies & Gentlemen, I have done it!!!  I have learned how to clean kitchen cabinets and have even degreased my kitchen cabinets in the fastest way possible!" Now I know you are thinking I am crazy, but cleanliness is one of my pet peeves. I love to sit back and feel comfortable in my home knowing that I have a clean house.
Last night, I got into one of my nesting modes and decided I was tired of looking at the decor on the tops of my kitchen cabinets. I know….we often get tired of looking at the same ole same ole. with that said, I started pulling down all my vases, flowers, etc.  I have never been so grossed out.  That led me to learn how to clean kitchen cabinets to degrease them naturally!
How To Clean Kitchen Cabinets And Degrease All Naturally
Today, I am going to share with you my kitchen grease. It is embarrassing, but you must see the after pictures. The dust and grease on the very tops of my kitchen cabinets actually photograph well. I mean….I feel like it was a whole lot worse than what the photograph shows. Mainly because I was stuck on the tops of my cabinets feeling all that grossness.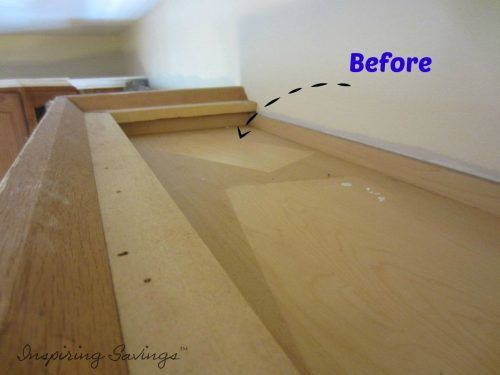 You are going to be completely AMAZED at how to clean kitchen cabinets and how I removed all the grease. It only took two ingredients and very little muscle work. In fact, it was cleaned off in one or two wipes. YES..I just said one or two easy wipes.  For a busy mom, that's always a plus.  Especially when you get into a mood to clean and want to get a lot done in a short period of time.
I started experimenting with products that would be all natural instead of using harsh chemicals at home. Frankly, I have tried many products and they just do not hold up to this all-natural do it yourself mix. I took it upon myself to search out a better cleaner.
You are going to want to run to the store or your pantry and pull out these two ingredients.
Supplies Needed To Degrease Your Kitchen Cabinets:
1/2 cup Borax
1 cup Distilled Vinegar
1 A gallon of Very Hot Water
In order to make this process work, you are going to need roughly 1 gallon of hot water. Mix the amounts as listed above until completely dissolved. Then get started on cleaning your cabinets. Seriously! What are you waiting for? Go get started now.
NOW, are you ready to Shout out to the WORLD "Check out my clean cabinets" I want to hear about how much you loved this all natural degreaser.
And of course, I have to show you how filthy my dirty water became. Check out that dishcloth. It is one of my favorites. My grandmother crochets wash clothes. I look forward to Christmas when I get a few more of her creations.
When you know you have a lot of grease and dirt build up in your kitchen, this is a great method for how to clean kitchen cabinets and degrease them in a safe all natural way. This recipe mixture works well on the tops and the face surfaces of your cabinets.
What ARE you waiting for?  Please come back and tell us how it worked for you!!
Want to quickly buy the items needed for this cleaning mix? Click the image links below. If you are an Amazon Prime member, you get FREE shipping. Otherwise, Shipping is free with Super Saver Shipping when you spend $25. You can try Amazon Prime right now for FREE for 30 days!
Other Cleaning Tips:
10 Kid Safe Homemade Cleaning Products
20 Other Uses For Coffee Filters
5 Tips To Help You Organize Your House Quicker