Estimated reading time: 7 minutes
Our homes are our safe-havens. Therefore, they have to be nice and clean. Keeping your home clean without harmful toxins is important. These eco-friendly cleaners will keep your home sparkling clean.
Best Eco-friendly Cleaners to Keep Your Home Sparkling Clean
Over the years, I have been eliminating harmful cleaning products from my cleaning routine.
I can recall a time when I was removing built-up grease from my cabinets and, to my dismay, the product I was using didn't work. It was a chemical-filled bottle that promised to remove my grease, but it didn't.
I took it upon myself to create a cleaning solution that worked. AND God Bless this cleaner. It has saved me time, money, and not to mention reduce the toxin in our home. I made this simple solution.
This post has hit the Pinterest market and has been highly reviewed as well by others. Eco-friendly cleaners save so much more than the environment. They can help save you money too.
Finding a better solution
I promised myself that I would search for the best cleaning eco-friendly products that would help clean my home and reduce my toxins. I found I wasn't the only one looking for the same.
Knowing that your home is clean is important to everyone. But what if you don't like the idea of using harsh or chemical-filled cleaning products? You can still have a sparkling clean home without having to use any products that aren't eco-friendly and safe for both you, your family, and your pets.
As people become more environmentally conscious, more eco-friendly cleaning products continue to hit the market. And some of these product lines offer the ability to produce less waste too.
Let's talk about some of the best eco-friendly cleaning products you can use to keep your home sparkling clean naturally.
Next time you stock up on supplies, consider these green cleaning alternatives.
Best Dang™ Products were created to bring the best and most environmentally friendly products from the commercial cleaning market into your home. These cleaning products are hydrogen peroxide based with the power of citrus.
You can clean every surface knowing you can walk away with a clean surface. These products are versatile and safe.
Who says you can't keep a clean house and be a planet-saving superhero? With Best Dang™, you're tackling those crayon marks and coffee spills with an eco-friendly power.
Frosch is another company that makes a wide range of eco-friendly and vegan cleaning products. You can find multi-purpose cleaners, laundry detergent, dishwashing liquid, bathroom cleaners, fabric softeners, floor cleaners, and baby wash.
This company is known for its highly effective products, commitment to sustainability, and reasonable prices.
Cleancult makes a variety of eco-friendly home cleaning products that are scented with essential oils.
They were one of the first companies to offer refillable glass bottles for all of its cleaning products. Refills come in paper cartons that are easy to recycle, and they even offer subscription refill programs.
Cleancult offers dishwashing liquid, dishwasher tablets, all-purpose cleaners, body soap, and laundry detergent. All of their products include coconut and coconut oils.
Go with whichever fits your cleaning style and budget.
Truce Cleaning Products are made with safe all-natural ingredients and they have a full range of eco-friendly cleaning products.
They have an all-purpose cleaner concentrate that you add water to that can be used for cleaning most surfaces in your home.
There is also a lemon scouring powder made with borax, salt, and baking soda that works great at cleaning sinks, bathtubs, and tile.
They also offer foaming hand soap, yoga mat cleaner, and linen and room sprays. These products come in multiple all-natural scents.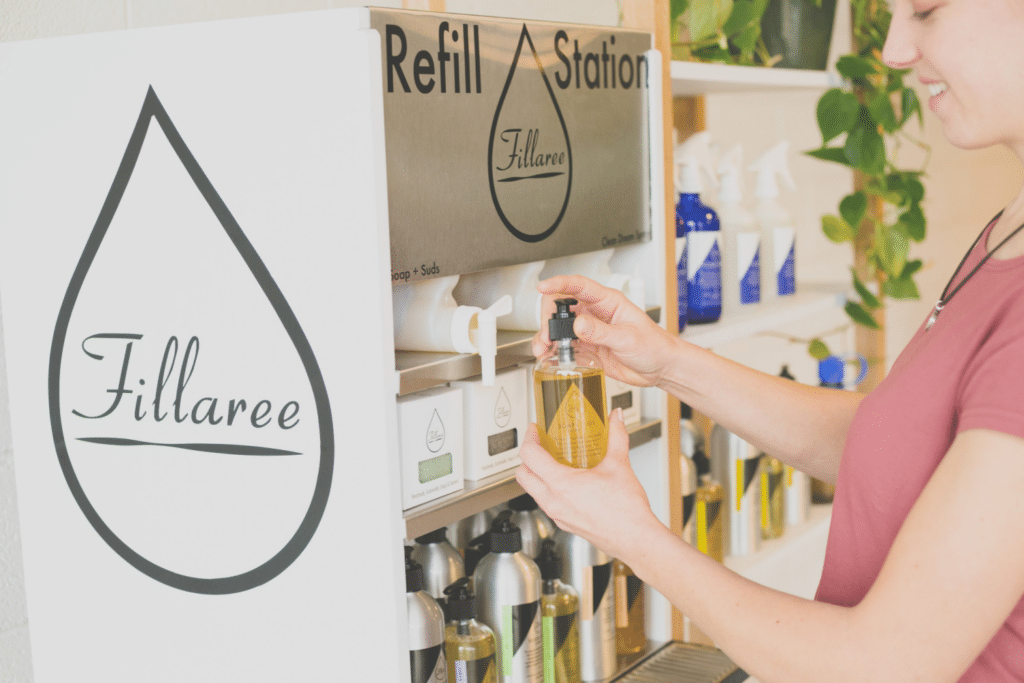 Fillaree is an all-natural, eco-friendly soap company. In addition, to hand soap and dish soap, they also have a Clean Dream all-purpose cleaner, shampoo, conditioner, body wash, lotion, and laundry detergent. The laundry detergent is made from cast-off soap, so it reduces any wasted product that they might have otherwise had.
All of their soaps and cleaners come in refillable glass or heavy-duty plastic bottles. This company also offers pot scrubbers, dish scrubbers, and wool balls to reduce static electricity in the dryer.
Fillaree offers a refillable subscription program. This program allows you to refill the bottles at home. Once the refill bottles are empty, you use the prepaid envelope to send them back to the company. Once they receive them, they will ship you more products in the same bottle, so there is zero waste.
Fillaree also offers refill stations at select locations across the United States, and they continue to add additional refill stations.
It is time to make the move from Traditional Detergent to Earth Breeze Laundry Detergent Sheets. With fewer ingredients and additives, laundry sheets can actually mean cleaner clothes, since laundry detergent sheets won't leave soap residue or skin irritants on your clothes.
Laundry sheets are already perfectly pre-measured, so your clothes will come clean without fussing over messy detergent measuring cups too.
Laundry detergent sheets are lightweight and compact, as well as being low-waste. There is zero need for a detergent jug or scoop and their cardboard packaging is completely recyclable.
Want to give them a try? You can purchase Laundry Detergent Sheets from Earth Breeze.
All Smart and Eco-friendly Cleaners Choices
These eco-friendly cleaners can keep your home sparkling clean without having to use any harsh chemicals. However, I know that these products will give you a good place to start looking.
Remember, cleaning doesn't have to be wasteful.
What are your favorite eco-friendly cleaners to use around your home? Leave us a comment below. In fact, if you have used any of the cleaners listed above, please let us know.
Other Great Eco-Friendly Articles
Super Cool Eco-Friendly Products That Work & Help Save Money
Easy Ways Going Green Can Save you Money
The Benefits of Home Canning your Own Food