Buffalo Chicken Stuffed Bread Bites
Don't miss our Buffalo Chicken Stuffed Bread Bites! These are the perfect easy dinner or fun appetizer everyone will love!

Buffalo Chicken Stuffed Bread Bites
This Buffalo Chicken Stuffed Bread Bites recipe proves my opinion, the more ways you can use buffalo chicken, the better. Don't you agree?  My family and I are BIG time addicts to anything spicy. Well, except my daughter, I am hoping to convert her. She takes after my dad. Both have a hard time eating food that might contain too  much peppercorn.  They are both a work in progress.
Get ready for a great appetizer!  These Buffalo Chicken Stuffed Bread Bites give you the flavors of well made buffalo wings. DROOL!!!   I make a lot of different buffalo chicken dip, for parties, or just for dinner, and I am always looking for new ways to use it. If you can recall I made these AMAZING Cheesy Buffalo Chicken Pinwheels for Christmas and then again as requested by my son for New Years Eve.
Start by cooking your chicken and celery.  If you are strapped for time, you can grab a rotisserie chicken and shred it instead.  I often grab whole chickens on sale to roast then shred and portion into freezer containers for recipes like this.  I can grab a pack out of the freezer, and heat to toss into a recipe so easily!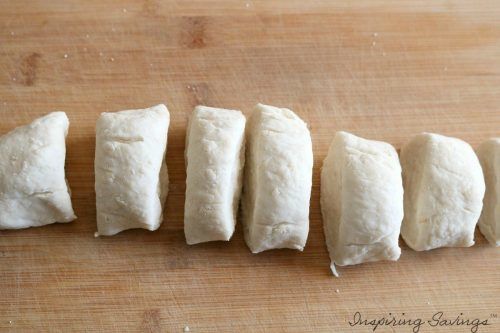 I include a super easy recipe for dough, but if you are in a hurry canned biscuits make this stuffed bread recipe come together in no time at all. Plus, they are almost always on sale with coupons, so they are easy to stay in budget!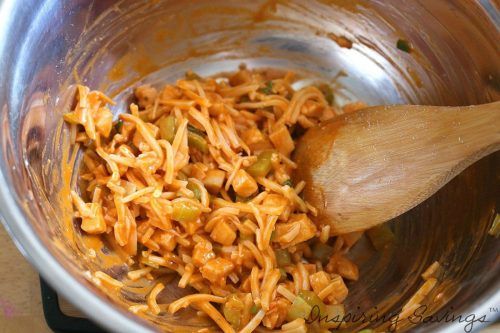 This is where the cheesy spicy goodness comes into this stuffed bread recipe.  Once your chicken and celery are cooked through, toss with cheddar cheese and the hot sauce.  Then you get to stuff your biscuits or dough!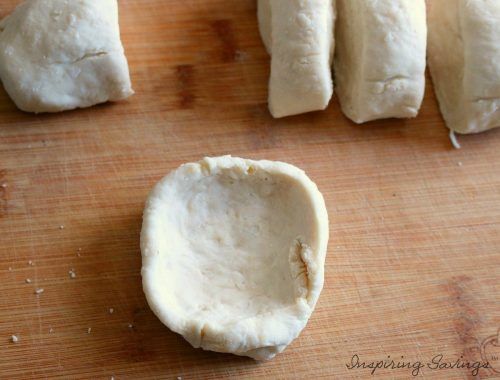 Brush the tops with a little melted butter and extra cheese before you pop them into the oven.  You'll love the result!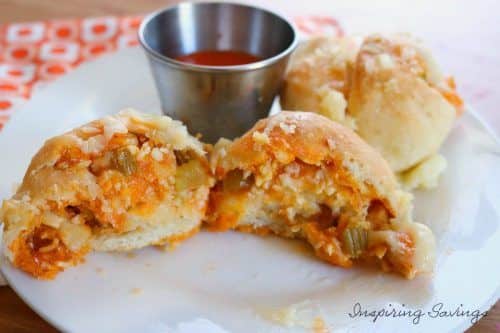 These spicy Buffalo Chicken Stuffed Bread bite appetizers that are going to be perfect for your next gathering. Don't forget to use your favorite hot sauce or buffalo sauce (We like Frank's).Don't forget to serve with some blue cheese dip or ranch or a combination of both.
Buffalo Chicken Stuffed Bread Bites Recipe
Buffalo Chicken Stuffed Bread Bites
Ingredients
6oz boneless skinless chicken breast, diced
1 celery stalk, diced
1 green onion, chopped
½ cup buffalo chicken sauce
1 cup shredded monterey jack cheese
----For the bread dough---
2¼ cup all purpose flour
1 teaspoon salt
1 packet quick rise yeast
1 tablespoon olive oil
¾ cup warm water
Instructions
Preheat the oven to 425
In a large bowl, combine the water and yeast. Mix until dissolved. Add the flour, salt and olive oil. Continue mixing.
Use your hand to press the dough into the ball and work into a ball. If the dough is sticky, add 1 tablespoon of flour and
continue working into a ball. Set aside.
In a skillet, saute the chicken, celery and green onion until the chicken achieves a nice brown color and cooks through. Remove from heat.
Either in the skillet or a bowl- add the buffalo sauce and half of the cheese. Mix well.
Work dough into a log. Cut into equal pieces. Form each pieces into a bowl shape. Fill with chicken mixture and pinch together.
Place the dough balls into a greased pan or casserole dish. Top with the remaining shredded cheese and bake for 20 minutes or until golden brown.
Serve with buffalo sauce and ranch!
More Great Recipes:
Chicken Fajita Rice Skillet Meal
Slow Cooker Buffalo Chicken Mac & Cheese