Cheesy Mexican Pretzel Bread with Chili Lime Dipping Sauce
Pretzel Bread is a great appetizer or snack! This Cheesy Mexican Pretzel Bread with Chili Lime Dipping Sauce is a fun & fast favorite!

I love to make super simple recipes and pretzel bread is a favorite.  We've hit the mother-load of amazing flavor with this Cheesy Mexican Pretzel Bread with chili lime dipping sauce. In order to get started, you are going to need to get my favorite pretzel dough recipe (click the link, it is well worth it).
Cheesy Mexican Pretzel Bread with Chili Lime Dipping Sauce
Soft and chewy pretzel bread stuffed with gooey melted cheese? YES!!! Who doesn't love cheese?! They say anything made with cheese is better. We are a cheese eating family, despite the fact that my husband is lactose intolerant.  This is a great snack, appetizer, or side dish that you will be able to whip up in no time at all.
I am sorry to say that the sauce was an afterthought. but they didn't make it into the photo opp. The sauce really was a great addition. The bread alone tastes just lovely, but with the sauce, it is out of the park delicious.
Start with our simple pretzel dough recipe, and then flatten the dough into a loaf shape.  You are going to "stuff" this loaf with cheese and spices, but you could easily form the loaf into any shape once you are done.
We stick with a basic long loaf since it is easy to slice and portion for sharing.  With kids in the house, you find portion sizes being equal to be pretty important.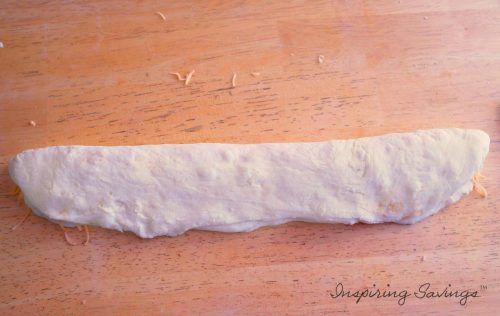 Slide your pretzel bread onto a baking sheet and sprinkle with spices.  I recommend using a silicone baking mat if you have on hand to help prevent it from sticking or getting too brown on the bottom.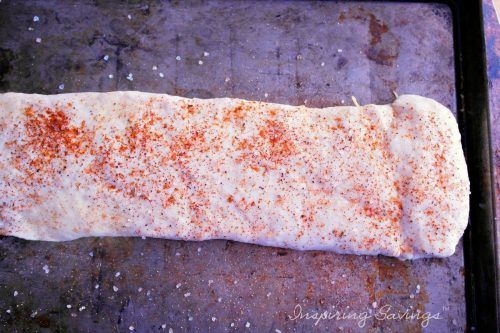 Bake for 10-15 minutes, or until golden brown.  For a bit of extra color on the top, you can sprinkle extra cheese and pop under the broiler at the last second.
Cheesy Mexican Pretzel Bread Recipe
Cheesy Mexican Pretzel Bread with Chili Lime Dipping Sauce
Ingredients
2 cups Colby Jack Shredded Cheese
1 teaspoon each:
Chili Powder
Garlic Powder
Onion Powder
Paprika
Cumin
Black Pepper
½ teaspoon each:
Salt
Oregano
Cayenne Pepper (optional)
½ cup warm water
1 tablespoon baking soda
++++Chili Lime Sauce++++
8 oz sour cream
2 teaspoons lime juice
1 teaspoon chili powder
pinch salt & pepper
Instructions
Preheat the oven to 425. Roll the dough out into a rectangle shape.
Mix all of the Mexican seasoning ingredients together, sprinkle half on the dough.
Top with the shredded cheese.
Fold the dough over, fold the ends in.
Mix together the warm water and baking soda in a small dish. Brush over the top of the dough. This will
give the dough a golden brown and chewy crust.
Sprinkle with remaining Mexican seasoning.
Bake for 10-15 mins. or until golden brown.
+++For the dipping sauce:++++
Add the sour cream to a small dish, mix in the chili powder, salt & pepper.
Gradually add the lime juice, mixing continuously.
Refrigerate for at least 15 minutes to enhance flavors.
This Mexican Cheesy Pretzel Bread is an ideal fast appetizer to whip up if you have guests on their way.  Make our yummy dipping sauce, or serve with your favorite Ranch-style dip or dressing.
More Great Appetizers:
Cheesy Buffalo Chicken Pinwheels
Sweet & Sour Hidden Veggie Meatballs
Buffalo Chicken Stuffed Bread Bites