Estimated reading time: 4 minutes
Making Homemade Taco Seasoning is so easy to make with spices you probably already have on hand. Mix it up with chili powder, cumin, garlic powder, onion powder, paprika, black pepper, and a little cayenne. It's the best for tacos, burritos, dips, and more!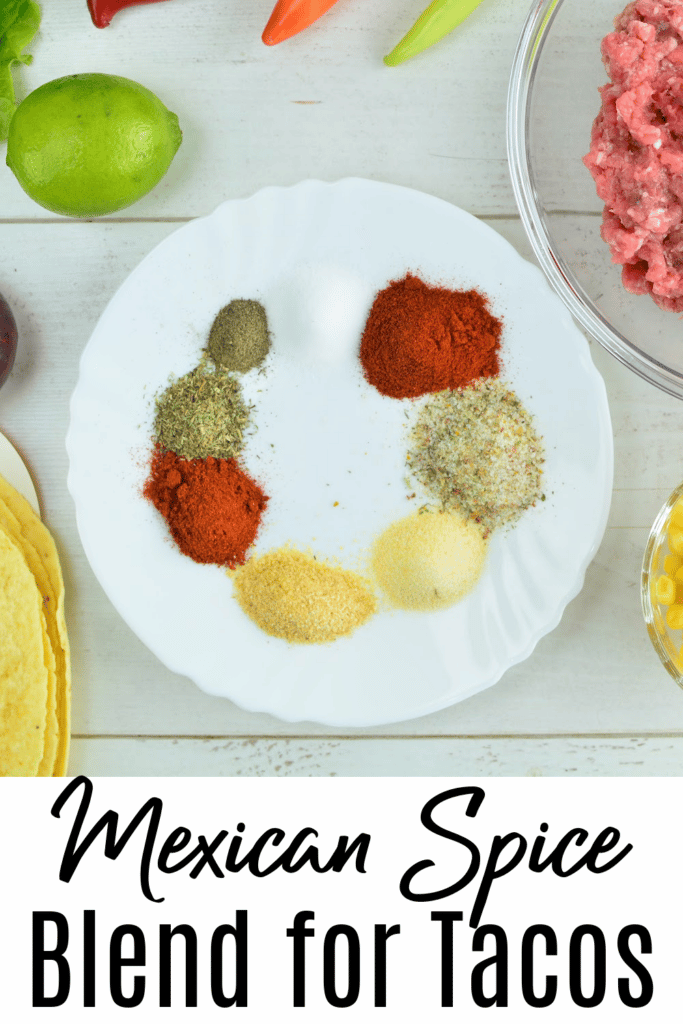 Homemade Mexican Spice Blend for Tacos
Getting ready to make a recipe that calls for taco seasoning, but don't have a seasoning packet on hand?
No worries — just mix up a quick batch of this homemade taco seasoning!
Not only is it quick—you can whip up a batch in about 30 seconds. Homemade taco seasoning is such a cinch to throw together.
Tacos are of our favorite meals to eat and they are also very simple to make. Being raised in a military family, my dad seemed to get stationed in the Southwest states (Spending 9 years in Arizona and 4 years in Texas). We made great friends who taught us how to cook.
I am so excited to share with you our family recipe for Homemade Taco Seasoning.
Homemade Taco Seasoning just tastes better than store-bought versions. Plus YOU control the ingredients No preservatives and ingredients you can't pronounce. I like to make ours in a larger batch since we use it so frequently.
I know some of you are thinking that prepackaged is much more convenient. Well, I am not going to lie. They absolutely can be easier. But once you make this ahead of time, it will be just as simple and time-saving as the store-bought variety.
But if you take just 3 minutes to make a big batch of your very own seasoning, you don't even have to go to the store to pick up those "convenient" packs. You will already have some ready to go in your pantry.
Believe me, once you make this recipe you will never go back to buying the packets.
Fresh the way you like! This seasoning pairs nicely with our breakfast burritos.
Spices and Herbs for Taco Seasoning:
Chili powder
Paprika
Cumin
Onion powder
Garlic powder
Oregano
Salt
Since this is made from spices, it's naturally gluten-free (just make sure your chili powder and all spices are GF).
More on How To Store Spices And Keep Spices Fresh.
How To Make Your Seasoning Mix
Combine the ingredients. Combine everything together in a small jar, cover, and shake until evenly combined.
Then Store. A batch of homemade taco seasoning should last you about a year!
This is fantastic news.
A tightly-sealed mason jar is a great way to store your homemade taco seasoning, or a Ziploc bag with the excess air pushed out of it works well, too.
Use can also use your homemade taco seasoning in:
However you use it, this homemade taco seasoning recipe is a great one to have in your back pocket. So go raid your spice drawer and let's make a quick batch together!
soups
salad dressings
dips
popcorn
tossed over oven-roasted potatoes
sprinkled over your favorite grilled veggies
seasoning for homemade tortilla chips
as a rub for chicken, pork, or beef
and of course, all sorts of yummy Mexican entrees!
Homemade Taco Seasoning Recipe
After looking at the ingredients of store-bought taco seasoning packets, which have several not-so-good ingredients, I decided it was time to figure out how to make my own DIY taco seasoning and clean it up a little.
Creating your own taco mix at home allows you to control what ingredients go into it while saving money!
This is the recipe mix I came up with. I hope you enjoy it as much as my family does.
I will typically use around 2 tbsp of this seasoning per 1 pound of ground beef when making seasoning beef for tacos. However, please season to your taste.
Taco Seasoning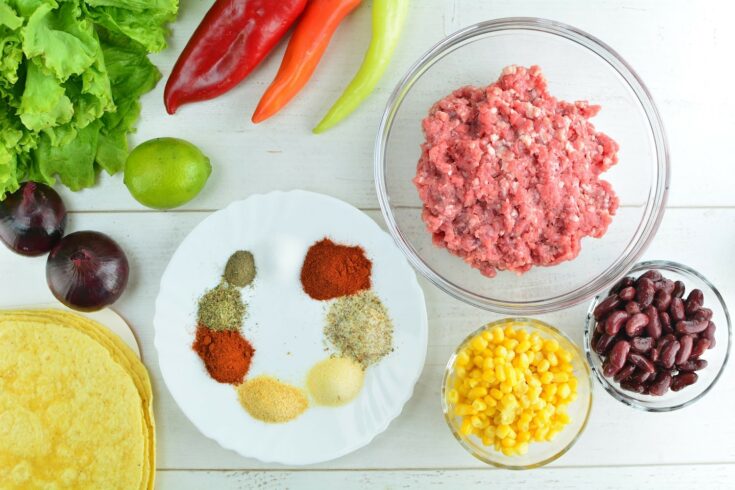 This Large Batch Homemade Taco Seasoning is so much healthier and cheaper than the store-bought packets and tastes great on veggies, meats, and even popcorn!
Ingredients
3 tbsp chili powder
4 tsp paprika
4 1/2 tsp cumin
1 tbsp onion powder
1/2 tsp garlic powder
2 tsp oregano
1/2 tsp salt
Instructions
Collect all seasonings.
Place in an unused spice container.
Shake well until incorporated.
Notes
Use 2 tablespoons per 1 pound of ground beef.
Nutrition Information:
Yield:
4
Serving Size:
1
Amount Per Serving:
Calories:

41
Total Fat:

2g
Saturated Fat:

0g
Trans Fat:

0g
Unsaturated Fat:

1g
Cholesterol:

0mg
Sodium:

470mg
Carbohydrates:

7g
Fiber:

4g
Sugar:

1g
Protein:

2g
If you made this recipe mix, we would love to know all about it.
Please leave us a comment below and tell us how making your own taco seasoning worked out for your family.
Other Seasoning Mix Recipes
Make Your Own Homemade Dry Onion Soup Mix
Eating out is easy, and it usually tastes delicious, but it's expensive. Making this meal at home will save you money. Add this recipe to your weekly meal plan.