Estimated reading time: 8 minutes
Get yourself organized in the kitchen. Make the most out of easy dinner prep and save money while utilizing meal planning apps. Here is the best free menu planning apps & tools.
The Best Free Meal Planning Apps & Tools
OHHHH the dread question; "What's for dinner?"
You don't need to be a techie wiz to make menu planning a little bit easier. But did you know there are many tools available on the internet that will help you with your weekly menu plan?
Planning your meals is one of the best ways to save money and eat healthy at the same time.
When you make a meal plan before you shop, you are not only making for a less stressful week, but you are giving yourself a chance to eat a healthier diet.
This week we are viewing some of my favorite meal planning apps.
Free Meal Planning Apps & Tools List
For many people, it can be hard to get started with a meal plan. Instead of letting that hold you back. Try one of the apps on this list to give you a shove in the right direction. 
Meallime App provides a large inventory of various types of delicious recipes based on your preferences and choices, including Vegetarian, Paleo, Allergies-Free, Gluten-Free, etc.
It is the meal planner of choice for those who have diet restrictions. Most recipes are focused on fast prep times in 30 minutes, so you may be able to save even more time in the kitchen.
You can also create profiles for couples or whole families to make planning a little easier. You can then look for recipes that match all those requirements. When you pick a recipe, it shows up on the grocery list with the necessary ingredients.
It also offers substitutes for items that you may not have on hand, but will still work for that particular meal.
All Recipes has a fantastic search menu and a vast database for finding recipes.
Browse through over 1,000 already created menus for occasions from every day to holidays. View automatically calculated nutritional information for your entire meal. You can also economize by cooking what's on sale near you, and the app can suggest recipes when you walk to certain stores.
Tap to add full recipes or ingredients to your shopping list, which you can cook with the help of some 1,000 step-by-step cooking videos, complete with cooking instructions. Plus, Allrecipes Menu Planner makes it so easy to plan and shop for your meal (or meals!)
You can utilize the Free Version or pay a low monthly fee to go Pro!
Big Oven contains a database of more than 350,000 recipes.
There's no shortage of inspiration in this app. Seasonal collections featured on the home screen ensure you're using the freshest in-season ingredients. Our favorite feature of BigOven?
The "Use Up Leftovers" suggests a recipe you can make with the three ingredients you enter. Clip recipes from your favorite sites upload recipes by snapping a photo, or mark existing recipes as a favorite to save for later.
Organize and filter recipes by category to find any recipe with seasonal collections or suggested dishes or tap to save and share meal ideas.
Paprika Recipe Manager
Paprika Recipe Manager is a mobile app and meal planning tool that helps you to organize your recipe collection and plan your meals based on those recipes you can build shopping lists.
It's available for free on the web, on iOS, Android, Windows Phone/Windows RT, Nook, and Kindle devices. Paprika is an app that helps you organize your recipes, make meal plans, and create grocery lists.
Using Paprika's built-in browser, you can save recipes from anywhere on the web. Once you have a good collection of recipes, you can build menus for your regular meals, for special events, or on any night of the week.
The Yummly app is a personal favorite of mine. It is very simple to use. The user interface and design are top-notch.
Your profile includes likes/dislikes, allergies, diet, cuisines, and even your skill level. You can search for recipes based on course, prep time, or what's trending, or you can use the sliders to narrow down the results by calorie, carb, fat, or cholesterol levels.
(see why I like it?)
While there's no weekly or monthly calendar for meal planning, you can make collections of recipes. I tested it out, making a collection for one week, and saved all of my meals right there. A new Pro version is now available for $5 per month that features hands-on cooking shows from famous chefs from around the world.
Meal Planning App That Cost A little Money – Recommended
Mealboard – $9.99 or Free with Ads

Do you love to customize every little detail? I do have to make an honorable mention. With Mealboard you can spend less money every month on your grocery bill.
You can whip your diet and your finances into shape together. (And what's better than a bit of multitasking?) You can add recipes from your favorite blogs and sites (Inspiring Savings, anyone?) into the weekly calendar and then drag and drop specific recipes to the days that you'll plan to make them.
The app will aggregate a grocery list that also shows you the price of ingredients if you shop at one of the stores utilized in the app. This app is free with ads (lots of ads) but costs of $9.99 for the full version.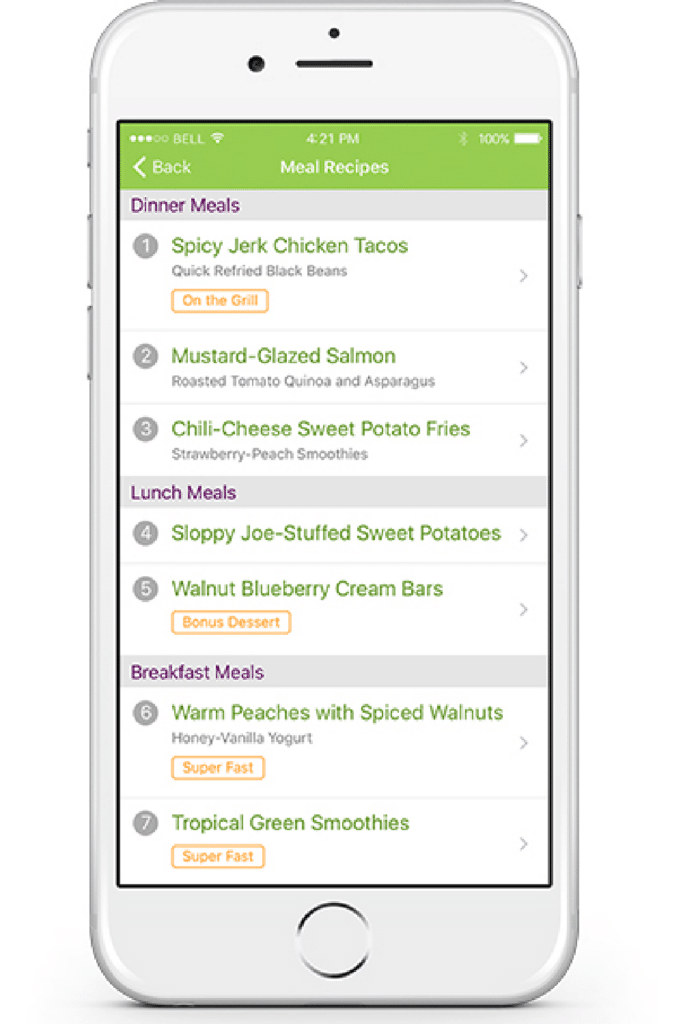 eMeals – Price Varies Based on Use
With eMeals, there are over 15 options to choose from, including vegetarian, vegan, keto, paleo, gluten-free, diabetic, 30-minute meals, and slow cooker meals.
Perhaps most importantly, eMeals also includes a budget-friendly meal plan option, so if you're cooking at home to save money, that's the place to start. Membership includes access to a wide range of recipes, which you'll sort through to plan your meals for the week.
The app automatically provides you with a grocery list — you can shop for yourself or use the in-app shopping feature to arrange a pickup or delivery.
The Cost – eMeals starts you off with a 14-day free trial. After the free trial ends, membership costs range from $9.99 per month (for a 3-month subscription) to $4.99 per month (for a 12-month subscription).
You'll pay additional charges if you order your groceries through one of the app's partnered pickup or delivery services.
Do you have a FAVORITE Menu Planning app? We would love to hear all about it.
Drop us a comment below.
To Read More About Menu Planning
Other Grocery Saving Articles
Save More Money By Eating at Home & Become Healthier Too
How Much Should I Be Spending On Groceries