Meal Planning Saving You Time and Money
Spending too much time planning dinner each night? Busting your food budget? Meal planning and shopping once a weekly or monthly based on your family's needs will save you precious time and money! Cut your Grocery Bill in Half. Meal Planning Saving you time and money.
Meal Planning Saving You Time and Money
Menu Planning is another option that can help drastically reduce your weekly grocery expenses. Most don't even think twice about it and a menu plan to help organize their busy days. For me, it eliminates the "what is for dinner" question and helps to reduce our grocery budget.
SALES, SALES, SALES
It pays to menu plan based off of that week's sale flyer. Think of using those loss leaders to your advantage. What are the loss leaders?
Loss leaders are marketing tactics that grocery stores use to get you in the door to shop. They place select items on sale for the cost it pays them to put it on their shelves. Often, the sales price won't even cover the costs of the product — advertising, overhead, cost of the goods, etc. They will take a loss on the sale, hence "loss leader."These sales are advertised on the front of the sales flyers.
Pork chops & apples are on sale. Guess what?
I plan on making a pork chop apple bake for supper. I typically sit down on Sundays and plan my family's meal plan. Plus I am purchasing more to stock up on. I will make applesauce or freeze pork chops for a future meal.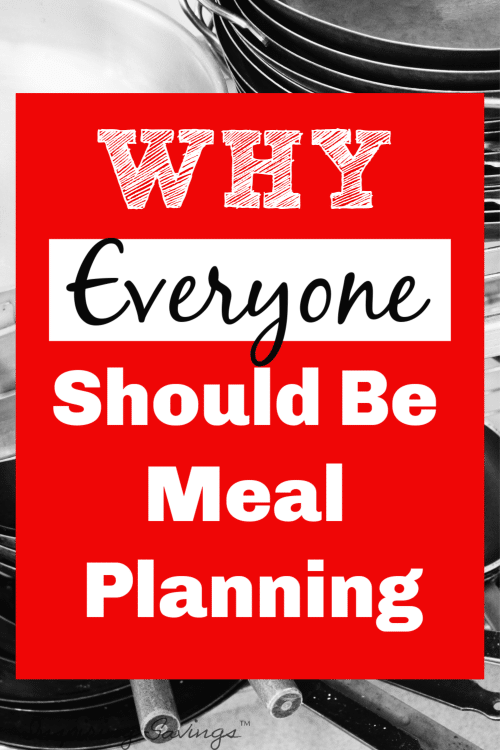 The Benefits to Meal Planning
Save Money
Who doesn't like to have a little extra in their wallets at the end of the week? I found that by planning our meals I spend less time at the grocery store. I shoot for one store a week. However, sometimes those loss leaders will pull me to a few different stores (not often does this happen). Plus, one store a week means less travel time and gas savings.
"By failing to plan, you are planning to fail."

-BENJAMIN FRANKLIN
Better Planner
I am a list writer. List are great when you can stick to them. I like to write a list of the items I need for that week's meals. I also keep a record of the items we are getting low on. This helps plan for the week and keeping my stockpile up to par for our family's needs.
Overall each month, I would save an average of 70 to 90% off our grocery bill by shopping loss leaders, using coupons & meal planning.
Better Cook
Menu planning has forced me to be a better cook. My meals taste better because I put more time planning them out in advance. I have learned many new dishes to cook and I even have fun doing it.
YES, I said fun while cooking!
I usually try to experiment with a new recipe twice a month to change up the pallet a little. This has made me a better cook and it makes me enjoy cooking. I am working on the cleanup part. That is never fun for me. I love that the kids are getting old enough to start helping out more.
Save Time
By planning out my weekly menu for the following week it saves me many hours of planning. It is all done in one day. I love that meal planning will eliminate the "what's for dinner?" question every day. If you end up having a busy day and don't have time to cook that week's planned meal I keep 3 fast meal ideas and the items I will need in my pantry.
My fast meals are quick dinner ideas that I can make in 15 to 20 minutes. Such as taco night, Spaghetti and meatballs (I make and freeze meatballs ahead of time), etc
Save Your Sanity
I have very little patience when I am starving. All I can think of is, " what can I eat right now?" It feels like I am wearing horse blinders and I can't see past the moment of starvation. Planning my menu has saved my sanity. You can always count on dinner being served at 5 pm (In our house).
You know why? I have become organized. I know exactly what I am supposed to cook on any given day. This is a great benefit when you have a million and one things going on in that brain of yours.
Women by nature are great at multitasking, but let us not overdo it. Save your sanity, time and make a menu plan. Meal Planning Saving You Time and Money
Are you a menu planner?
To Read More About Menu Planning
Other Frugal Living Articles
Save More Money By Eating at Home & Become Healthier Too
How Much Should I Be Spending On Groceries
6 Food Purchases That Kill Your Budget