Six Ideas For Living A Healthy Lifestyle For Less
 Living a healthy lifestyle and getting fit doesn't have to break the bank. Don't miss our 6 Tips To Get Fit For Less!
Living a healthy lifestyle includes fitness right along with your better food choices.  This can be a huge expense with gym memberships, but we have gathered up our top tips and products to help you get fit for less.  A small expense up front is sure to save you tons of money over time!
Six Ideas For Living A Healthy Lifestyle For Less
Getting fit doesn't always have to be expensive. Yes, it can be nice to have a state of the art gym membership or top of the line fitness equipment, but unfortunately, it doesn't always fit into everyone's budget, especially when times get tough. Budget fitness is possible and figuring out how to start living a healthy lifestyle for less money is something anyone can accomplish.  Below are some ideas to get you started working out in your home or outdoors so that you can get in shape without breaking the bank.
One way to get fit for less is to buy equipment that is inexpensive and has more than one purpose. Many popular items such as abdominal or thigh machines only work one part of the body, can fill up a lot of space, and can get costly. So when looking for equipment to use find items that create variety and can work the entire body;
Products That Are Inexpensive & Will Help You Get Fit
Stability balls can be used for a variety of exercises from abs to legs to arms. They also make great benches for a variety of exercises such as a chest press and can even be used as a seat at your desk.
Resistance bands are inexpensive, small, and lightweight. These are one of my personal favorites because they are easy when you are on the go. Take them along when you travel or when you are taking a walk.  Living a healthy lifestyle is always easier when you have things like this that can go wherever you go easily.
Dumbbells will never go out of style. They are great for working out at home. They are less costly than larger fitness machines and they don't use as much space.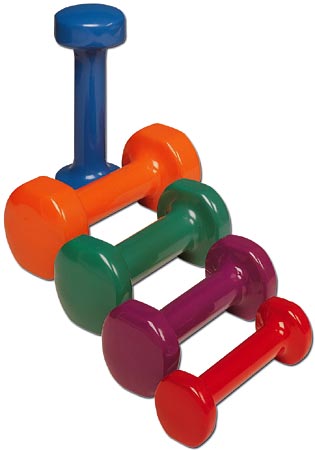 Such equipment can be easily found at your local department or fitness store or online.  Start with 1 and 5 pounds weights and graduate to heavier dumbbells as your strength increases over time.
Other low-cost ideas for living a healthy lifestyle outside the gym:
Buying, renting or borrowing workout videos. There is a large variety of workout videos on the market from strength training to cardio dance to kickboxing. This is a fun way to exercise right in your living room and get fit for less. Check out your local store, library, or video rental spot to find some great DVD's.  You may even find exercise videos on Youtube or via Amazon Prime.
FitTV or ExerciseTV. Most cable packages will have one or both of these available with your package. This is another great way to get a variety of workouts right in your home.
Take it outdoors. When the weather is nice use the outdoors to run, walk, bike, or partake in an outdoor sport with your family or friends. Use picnic tables or benches to do step-ups, push-ups, or triceps dips.  Or you could even join a running or walking club.
I don't want to hear any excuses! Living a healthy lifestyle is possible by utilizing inexpensive equipment, videos, and more. These fitness items can be just as effective as the more costly ones, so get out there and get fit for less.  Let's Get moving my friends!!!
More Fitness Tips:
5 Tips That Help You Save Money By Investing In Your Health
Tips To Buying Organic Food On A Budget
Green Living Tips That Save You Money