Estimated reading time: 2 minutes
Show your support and get this free diabetes awareness Necklace. It is easy to sign up. Raise diabetes awareness. Get your free diabetic bracelet now.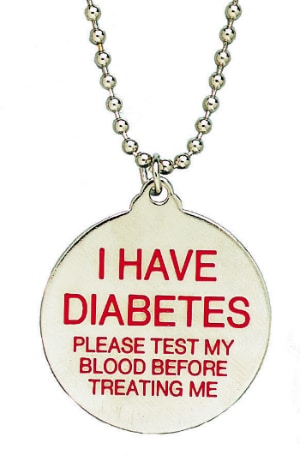 FREE Diabetes Awareness Necklace
Wearing a medical ID bracelet or necklace will alert others in an emergency that you have diabetes and may require medical treatment. In reality, both men and women can get diabetes. It is important to identify yourself as having diabetes in case of an emergency.
Right now, you can request a FREE Diabetes Awareness Necklace. You can request the FREE Diabetes necklace -with a self-addressed and stamped envelope sent to DRWF or you can order online. By wearing this life-saving ID each day, you are in effect educating and sharing your knowledge of diabetes.
The diabetes identification necklace reads "I Have Diabetes, Please Test My Blood Before Treating Me."
Description of Diabetes Awareness Necklace
This personalized medical ID Necklace is hypoallergenic. Made to last and can be worn at all times.
Get Your FREE Diabetes Necklace
To receive your FREE Diabetes Necklace, click here to fill out the Diabetes Necklace Coupon and mail your self-addressed, stamped (and $0.70) request to the address below.
FREE Diabetes Necklace
1834 Connecticut Avenue, NW
Suite 420
Washington, DC 20009
Please Note: You will need to register an account with Quality Health in order to get this great freebie. If you have any questions about DRWF's necklace program, please email them.
More Diabetes Resources
In addition, you can get more information you need to live well with diabetes. Here are some extra tips for eating well, physical activity, weight loss, medication & treatment. Great books!
Read More on Inspiring Savings