Estimated reading time: 5 minutes
Baked or grilled peach yogurt curry marinated pork chops are just delicious. This is a quick and easy summertime meal. Can use boneless or bone-in pork chops. Plus, save some of the Peach Yogurt Curry Marinade to baste pork chops when grilling.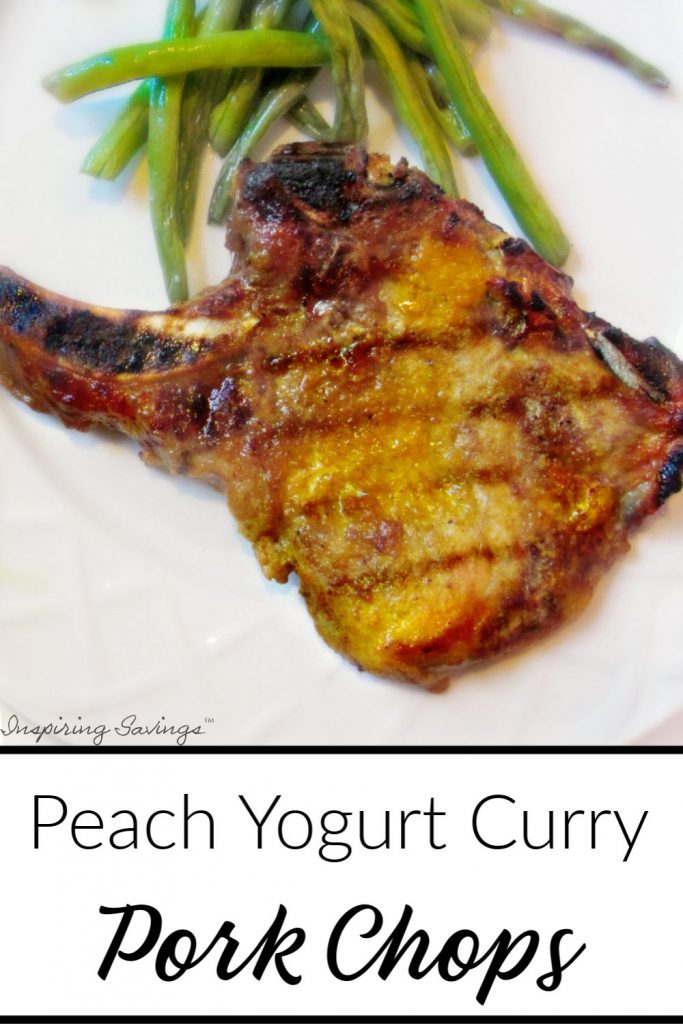 Baked Yogurt Marinated Pork Chops
Yogurt is a versatile cooking ingredient. Just walk by the dairy case and there are all kinds and brands. It is proof that we eat a lot of it. I like making simple and quick meals for my family and I am sure you do too.
This marinated pork chops recipe actually stems from my almost expired peach yogurt in the fridge. I had one left, and I needed to use it. So, for that reason alone, I made a marinated with it.
Peach compliments pork very nicely and I figured I would add in some of my favorite spices. I purchase my curry powder from our local Asian market. I was once told by an Indian friend that there is a big difference in American-made curry powder.
Personally, I have never purchased a brand-specific kind and get most of my spices from our Asian Market as they sell them in bulk and I have found them to be inexpensive.
Or you can make my homemade version of curry powder. Taste just as good.
There is nothing wrong with being frugal. Every little bit of savings help.
After choosing the best curry spice
After hearing there may be a difference, I searched the web for more information. Here is what I dug up. Sure enough, there are, and they all factor into the taste of your food.
My family enjoyed this meal and as a result, I even received a two-thumbs-up from my then-six-year-old.
If you are looking for a few other great pork chop meals, you may want to try my Salt & Pepper Pork Cutlets Recipe or my Easy Parmesan Crusted Pork Tenderloin recipe. All delish!
Let's Get Cooking
Please scroll down for a full list of ingredients and a printable recipe card. Here is another great recipe to try – Crock Pot Smothered Pork Chops.
Ingredients for pork yogurt curry recipe
One pound center-cut pork chops
1 – 5.3 oz cup Peach Greek yogurt
1 tsp Onion powder
2 tbsp Curry powder
1 tbsp Extra virgin olive oil
1 tsp Salt
A quick marinade will come together in seconds when you start with a flavorful base like yogurt.
If you aren't familiar with cooking using yogurt, it is actually a commonly used marinade ingredient as well as a thickener in many Indian dishes. This just seemed to be a great idea to throw together, and the result was amazing.
To add a bit more flavor to your marinated pork chops, you can seal this in a bag for up to 24 hours in the refrigerator before grilling.
Allowing those flavors to seep into the meat will result in a much moister pork chop, as well as a richer flavor. 
I like to use my vacuum seal machine for marinades as it helps to really pack the flavor into meats.
While I grabbed these pork chops on sale with the bone in, you can easily use a boneless pork chop for this recipe.
Marinated pork chops are ideal for going alongside a nice bed of steamed rice and vegetables or as a special upscale treat on the grill to replace classic burgers and hot dogs.
Even with a bit of flavor kick from the curry powder, this is super kid-friendly.
If you prefer more heat, you can add in some red pepper flakes, but this recipe really doesn't need anything else to be amazing.
Peach Yogurt Curry Marinated Pork Chops Recipe
Add this marinated pork chops recipe to your menu plan for a great spin on a classic dish. You can even make a quick freezer meal out of this by adding the pork chops and marinade into a well-labeled freezer bag and then thawing overnight before throwing it on the grill!
Yield: 4 serving
Peach Yogurt Curry Marinated Pork Chops
Baked or grilled peach yogurt curry marinated pork chops are just delicious. This is a quick and easy summertime meal. Can use boneless or bone-in pork chops. Plus, save some of the Peach Yogurt Curry Marinade to baste pork chops when grilling.
Ingredients
1 cup peach Greek yogurt
1 tsp onion powder
2 tbsp curry powder
1 tbsp extra virgin olive oil
1 tsp salt
1 lb center cut pork chops
Instructions
Mix all ingredients in a shallow pan. Add in pork chops. Cover completely with yogurt mixture.
Refrigerate for 4 to 8 hours.
Grill or broil pork chops until cooked through
Nutrition Information:
Yield:
4
Serving Size:
1
Amount Per Serving:
Calories:

325
Total Fat:

16g
Saturated Fat:

5g
Trans Fat:

0g
Unsaturated Fat:

10g
Cholesterol:

95mg
Sodium:

665mg
Carbohydrates:

9g
Fiber:

2g
Sugar:

6g
Protein:

34g
If you made this recipe, we would love to hear all about it. We get so excited when we learn that you have chosen to make one of our recipes featured on Inspiring Savings.
Please leave us a comment below.
More Great Recipes:
Shepherd's Pie Stuffed Bell Peppers Recipe
Chicken Fajita Rice Skillet Meal Recipe
Fresh Spinach & Ricotta Stuffed Shells
Eating out is easy, and it usually tastes delicious, but it's expensive. Making this meal at home will save you money. Add this recipe to your weekly meal plan.