Chicken Bacon Ranch Pasta Salad
Ranch Pasta Salad is kicked up with the addition of chicken and bacon. This Chicken Bacon Ranch Pasta Salad is a meal in itself! It is cool and refreshing with a delicious, creamy Ranch dressing, making it a summer staple for outdoor picnics and parties.

I love ranch pasta salad recipes because they include two of my favorite things on Earth.  Adding in chunks of chicken, crumbled bacon, and some diced green onions create this mouthwatering Chicken Bacon Ranch Pasta Salad that will be the hit at all of your upcoming weekend barbecue gatherings, parties, and potlucks!
Chicken Bacon Ranch Pasta Salad
This is a very flavorful ranch pasta salad. Do you love the combination of Chicken Bacon Ranch? Not only are you going to love the taste, but you are going to thank me for saving you money. Pasta meals and sides are typically cheaper meals to make.  This is a great alternative to buying the pre-packaged boxes of pasta salad.
If you're looking for a new and delicious side dish to have at your next get together or to feed your family then please give this one a try! Especially on a night when you're all about that quick and easy meal.
This stuff is super tasty! My kids ate their portions in a matter of minutes! You don't know how happy this makes me. They are pretty easy to please but it's nice when I get a reaction like this one. And you know I will be making this side again and again
You start with some simple grilled chicken.  You can use leftover chicken from grilling the night before, or do what I do, and batch grill a bunch of chicken breasts, cube them and freeze in portion sizes for things like this.  It helps to make a super easy and delicious meal come together in minutes instead of hours!
Let's Get Cookin
Add in a bit of green onion, cucumber, and tomato for flavor and crunch.  You could really add any veggies you want into this ranch pasta salad, but these are my favorites.  I think it would likely work well with frozen green peas or even edamame if you prefer!
Did you know that cooking bacon in the oven works great for saving time and keeping cleaning to a minimum?  I love cooking the entire pound of bacon right away when I buy it, then I seal it in freezer bags with my Food Saver for future use.  Some can be crumbled to go into recipes like this, and frozen until needed.  You can separate slices in waxed paper and freeze, or keep in the refrigerator for up to a week! Just pop into the microwave wrapped in paper towels for a few seconds to heat through!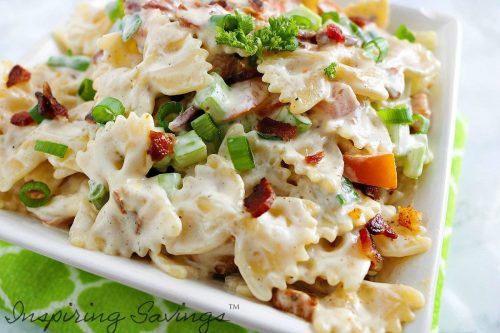 Chicken Bacon Ranch Pasta Salad Recipe
Chicken Bacon Ranch Pasta Salad
Author:
InspiringSavings.com
Ingredients
1lb box bow tie pasta
1 boneless skinless chicken breast
4 strips bacon, cooked crispy
½ cup ranch dressing
1 small tomato, diced
1 stalk celery, diced
2 green onions, chopped
½ cucumber, diced
Instructions
Bring a pot of salted water to a boil, add pasta, drizzle with olive oil and stir. Cook until pasta is done.
Rinse with cold water, let drain. Set aside.
Grill or saute the chicken breast until cooked through, season with salt and pepper. Cut into bite-sized pieces. Crumble the bacon into bits.
Add the ranch dressing and chopped vegetables to a large bowl.
Stir in the pasta, chicken, and bacon.
Season with a pinch of salt & pepper.
Throw together this chicken, bacon, and ranch pasta salad in no time for your next gathering!  Make sure to make a large batch so you can pack some away to have the next day!
More Great Recipes:
Cheesy Buffalo Chicken Pinwheels
Sweet & Sour Hidden Veggie Meatballs