Estimated reading time: 5 minutes
This creamy strawberry fruit dip has only four ingredients. If you want a simple dip, that's the perfect complement to fruit, especially strawberries. Try this one! This strawberry dip is made with cream cheese & cool whip.
Easy Creamy Strawberry Fruit Dip
This fruit dip is not fancy. It's not complicated…..it's just plain delicious.
This Creamy Strawberry Fruit Dip is made with cream cheese, cool whip, and strawberries. It is simple, quick, and yet SO GOOD!
With all the summer barbecues coming our way and potluck meals, life is always moving, but we never have enough time to make something classic and homemade.
This fruit time is simple, easy, and quick.
You just need a few ingredients to make this Creamy Strawberry Summer Fruit Dip.
Any fruit combo under the sun would work. Anything cut up and in-season is fair game. Sweet, whippy, and impossibly creamy, this fruit dip is unlike anything – EVER. And I really mean it.
My kids love this recipe and I dare say finger-licking good. I feel as if they could totally skip the fruit and grab a spoon and go to town.
The best part? The recipe only contains four ingredients. Yes, just FOUR ingredients.
You could prepare an enormous bowl or tray of fruit to pair with the dip or make super-cute fruit kabobs for dunking. Either way, you do it will be yummy!
Ingredients Needed
1 box of cream cheese
10 crushed strawberries
1 tub lite cool whip
1 tsp coconut extract
How to Make Strawberry Fruit Dip
Please note that a full list of ingredients, as well as a printable recipe card, is listed below.
The first thing is, first, you are going to want to crush up your fresh strawberries. You can often substitute for frozen strawberries. I have done this in the past.
Just make sure you let them sit out on the counter until completely defrost, then crush them.
Easy ways to crush strawberries
I prefer a potato masher or a rigid pastry blender to crush strawberries.
If using a food processor, pulse lightly to still have a nice amount of chunkiness, with small bits of fruit. Do not puree.
Next, you will want to whip your cream cheese with an electric mixer until smooth.
Now you are ready to add in cool whip; Make sure you fold in until incorporated. Then add your crushed strawberries, extract, and blend until smooth.
It is okay to lick the beaters. This is the best part. I can remember doing this when I was a kid. Now I let my kids do it all the time.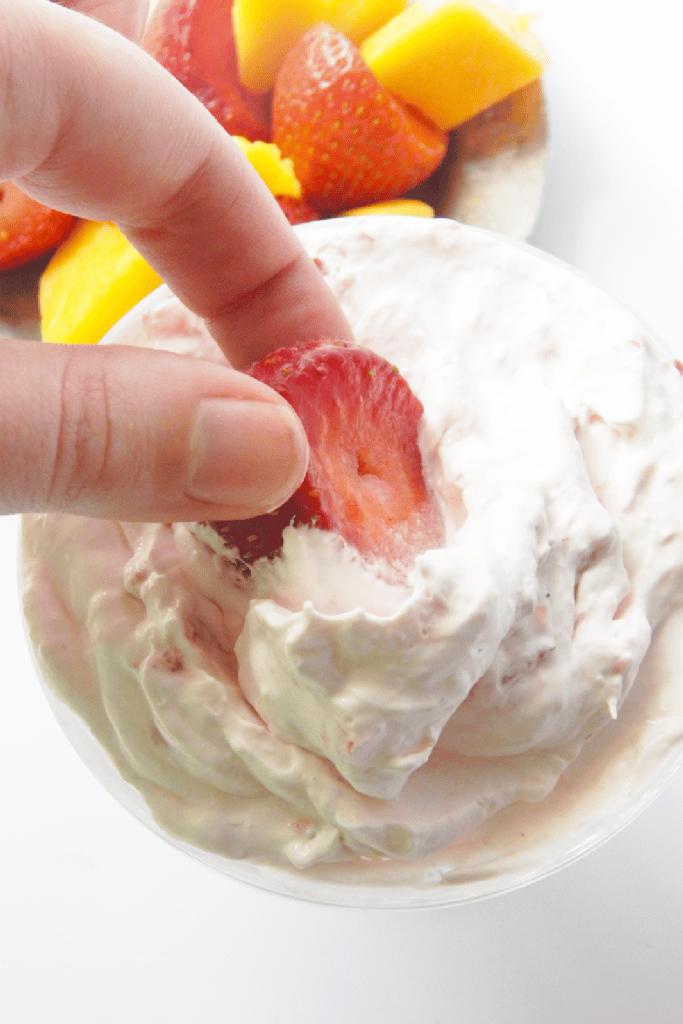 Lastly, cut up some fresh tropical fruit and serve it with the dip.
HECK!
Just grab a spoon and enjoy without the fruit. I won't tell.
You can't really go wrong with this super simple creamy strawberry fruit dip. Hello Summer!
Easy Recipe Tips for Fruit Dip
Let the frozen whipped topping thaw in the fridge until you can easily be folded.
Serve immediately. This dip can be mixed together and stored in the refrigerator, covered, for up to 1 week.
You can also freeze the dip in a freezer-safe container for up to 1 month. then Thaw in the refrigerator.

Fruit Dip Variations
While this is the one and only fruit dip I have ever made because it's delicious and addicting. I like to adhere to the whole, "if it isn't broke, don't fix it" mentality.
But there are approximately a billion and one other ways you can make fruit dip.
Swap out strawberries for any kind of berry. Crush the same as noted above.
Can substitute plain cream cheese for a fruit-flavored one.
Instead of using coconut extract, try almond or vanilla extract. Customizing your flavor to your taste is easy.
Do you make any other variations of fruit dip? Share below!
Fruit Tray Ideas
It's time to select our fruits for dipping! The good news is that you can rarely go wrong! However, I do suggest staying away from bananas.
They just get mushy if not served immediately. I have listed some of our favorites below. But really, the list is endless.
Strawberries
Peel orange slices
Blueberries
Pineapple
Watermelon
Apple slices (toss with pineapple or lemon juice to keep from browning!)
Red grapes
Cantaloupe
Kiwi
Simple Creamy Strawberry Fruit Dip Recipe
Did You Enjoy Making This Recipe?  Please rate this recipe with ⭐⭐⭐⭐⭐ or leave a comment. It helps other wonderful people connect with our crafts.
Yield: 4 cups
Simple Creamy Strawberry Summer Fruit Dip!
This creamy strawberry fruit dip has only four ingredients. If you want a simple dip that's the perfect complement to fruit, especially strawberries, try this one. This strawberry dip is made with cream cheese & cool whip
Ingredients
1 box cream cheese
1 tub lite cool whip
1 tsp coconut extract
10 crushed strawberries
Instructions
Crush up fresh strawberries. You can substitute for frozen strawberries. Just make sure they are thawed first before adding in. Set aside.
In a medium-sized bowl. Whip cream cheese and coconut extract together with an electric mixer until smooth.
Fold in cool whip.
Slowly fold in strawberries mix until smooth.
Use immediately or place in fridge.
Serve dip with fresh fruit. Goes well with Pineapple, oranges, apples, etc.
Nutrition Information:
Yield:
4
Serving Size:
1/4 cup
Amount Per Serving:
Calories:

47
Total Fat:

3g
Saturated Fat:

2g
Trans Fat:

0g
Unsaturated Fat:

1g
Cholesterol:

7mg
Sodium:

26mg
Carbohydrates:

5g
Fiber:

1g
Sugar:

3g
Protein:

1g
If you made this Strawberry Fruit Dip recipe, we would love to hear all about it. We get so excited when we learn that you have chosen to make one of our recipes featured on Inspiring Savings.
Please leave us a comment below.
Other Delicious Summer Time Recipes
No Churn Cookie Dough Ice Cream Recipe
Summer Time Watermelon Salad Recipe
Chicken Bacon Ranch Pasta Salad

Eating out is easy, and it usually tastes delicious, but it's expensive. Making this meal at home will save you money. Add this recipe to your weekly meal plan.