Estimated reading time: 7 minutes
Hard water stains, greasy food deposits, or drainage issues affecting your dishwasher? Deep Cleaning Your Dishwasher can be preventive maintenance.
DIY Guide To Deep Cleaning Your Dishwasher
In a perfect world, cake would have zero calories and dishwashers would be self-cleaning — after all, they're a cleaning appliance, aren't they?
But the reality isn't so kind, and dishwashers need to be maintained so they can function properly. You and your family eat off those dishes — you want them to be properly cleaned!
And while the occasional wipe-down keeps things looking tidy, every month (or every few months, at most), you need to deep-clean your dishwasher to keep it working smoothly.

Did you know if your dishwasher isn't clean, neither are your dishes?
It's true. While it may seem ridiculous to clean an appliance that is meant for cleaning, it is actually a useful tool to prevent your dishwasher from breaking down.
Just like any small appliance, it needs maintenance.
Over time, your dishwasher can develop a smell from excess food built up. And it may even look filthy. This may even prevent your dishes from getting a proper wash. On top of that, it becomes a breeding ground for bacteria.
GROSS!
In theory, your dishwasher should be constantly cleaning itself — but sadly, it isn't.
When it comes to grease and grime, it can also stop your dishwasher from draining properly.
Dishwashers need to be maintained to function properly.
And while the occasional wipe-down keeps things looking tidy, every month (or every few months, at most), you need to deep-clean your dishwasher to keep it working smoothly.
Why clean your dishwasher?

We shouldn't need convincing, but there are several reasons to clean your dishwasher. Accumulated dirt and debris could damage the internal mechanisms of your appliance.
Limescale buildup also ruins the quality of the water running through the dishwasher.
Leftover food debris poses health risks. And a poorly functioning machine will take more energy to clean, and will shorten its lifespan.
If you're short on time or want to be reassured of thorough cleaning, you can get a professional cleaner to handle things.
But if you'd rather go DIY, roll up your sleeves and empty the rack —it's cleaning time!
While you are doing all this heavy cleaning, you may find this mixture to Clean Kitchen Cabinets And Degrease All Naturally – super easy.
Benefits of Cleaning Your Dishwasher Yourself
As with anything, maintenance is cheaper than replacement and is the best prevention. Extending the life of your dishwasher.
Saves money
Prevents bacteria from growing. Keeping your dishes (actually) clean.
Prevents smells away
Prevents drainage clogs

Supplies Needed

No need to purchase anything — to clean your dishwasher. All you need are products you
already have it at home! Items include:
Baking Soda or Borax – Will help remove food, build up and eliminate odors
White vinegar – Helps to remove grime, dissolve mineral deposits, and sanitize your dishwasher. 
Microfiber cloth or old cleaning cloths
A toothpick or similar pointy item
An old toothbrush
Screwdriver – if needed to remove small parts that are filthy
A few containers – to hold and soak loose small parts
Your favorite music playlist for the company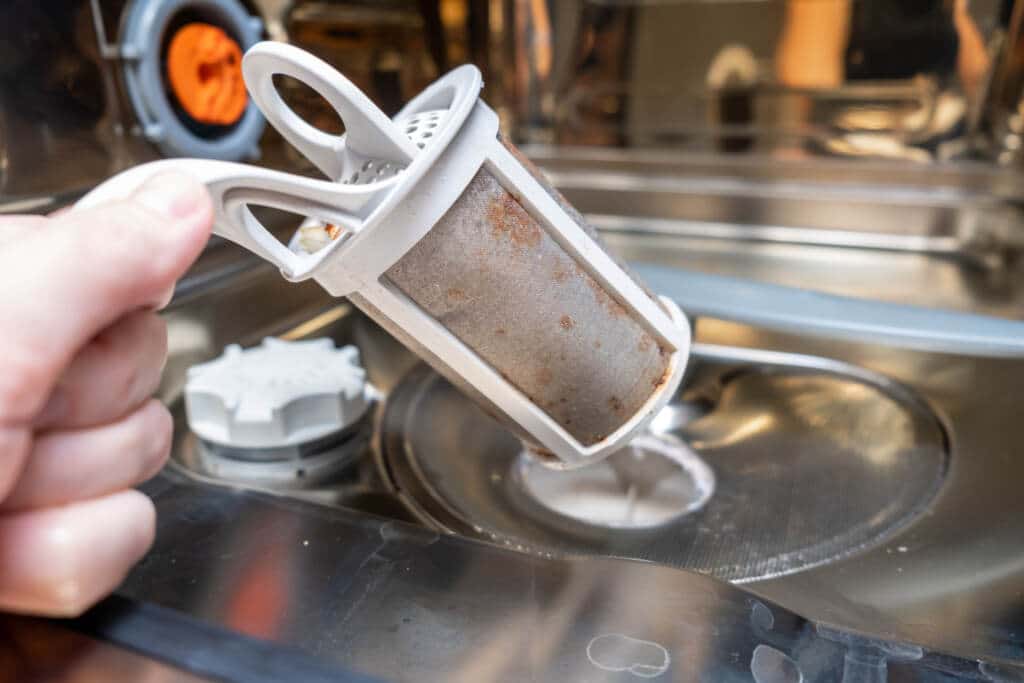 How to Clean Your Dishwasher
Important note! Never mix vinegar with bleach when cleaning your machine—or anything else. Doing so will release toxic chlorine and chloramine vapors.
1. Gather your supplies
Being prepared is always helpful. I like to gather all my supplies around the dishwasher as I work.
2. Remove trays
Remove your dish racks, including the utensil holder. This will allow you better sightlines for inspecting your dishwasher.
3. Inspect your machine
This is the time to give your machine a good once over. Note parts that need to be removed. At this point, feel free to pick up and dispose of loose food particles.
4. Clean all removable parts
Removing any small parts, such as your filter or catch drays. You may notice a build-up of staining or even mold. Wash with warm soapy water.
You may even have to consider soaking these parts in a large bowl with a mixture of vinegar and water to remove scale build-up. Have the manual on hand for reference (or look it up online if you "misplaced" it!). The most important things to remove are the filters, grates, and spinning arms or discs (optional).
5. Clean the interior
I like to start first with the "heavier" cleaning first.
Replace all the parts that you removed initially and then run a vinegar rinse cycle.
Simply place a dishwasher-safe bowl filled with one cup of distilled white vinegar on the top rack and run a normal (hot) cycle without detergent or dishes. You can opt to pause the cycle halfway through to let the vinegar sit for a while.
Afterward, sprinkle some bicarb soda over the bottom of the dishwasher, then run a short, hot cycle again.
You can also use borax to clean your machine. The beauty of borax is that it can be applied while there are dishes in the machine. Simply load your dishwasher, as usual, add 1/4 cup of borax to the bottom, add normal detergent to the dispenser, and run as usual.
I think many of us will opt for this option.
6. Clean the exterior
Using your microfiber cloth wipe down the front of your dishwasher. I personally like to you Sprayway glass cleaner. This stuff is amazing. Removes all fingerprints and works great on stainless steel too.
How Often Should You Clean Your Dishwasher
Ideally, we should be cleaning our dishwashers regularly. But sometimes life doesn't allow us to do it all in one shot.
If you can clean your dishwasher monthly, that would be best to prevent a buildup of germs and maintain the efficiency of the machine.
If you can't here are our suggestions:
Once a month or so, pull out the bottom rack and remove the filter system (if you have a manual one), which usually consists of several interlocking parts. Clean with warm soapy water in the sink. You may need a small toothbrush to dislodge any stuck food or grime.
It is also important to check the owner's manual or manufacturer's website to find out how frequently you need to clean the filter.
Daily check for loose food and remove it.
Once a week, inspect for staining, built-up grime, and loose food partials. If need be, wipe down the inside of your dishwasher using a soft cloth saturated in white vinegar. Pick up loose food and place it in the trash.
Once a week or as needed, clean the outside. If you have small toddlers, you may just give up on this part. As tiny hand smudges are a daily occurrence.
We would love to hear from you. Tell us if this Deep Cleaning Your Dishwasher DIY guide helped you. Leave us a comment below.
Other Helping Cleaning Articles:
The Best Way to Clean Your Front-Loading Washing Machine
10 Kid Safe Homemade Cleaning Products
How To Clean Kitchen Cabinets And Degrease All Naturally