Estimated reading time: 3 minutes
A great way to save money is to take advantage of seasonal savings. What is in Season for June can help you save all month long. June is a mixture of summer berries and stone fruit, with a few vegetables thrown in too. Find out all about June Seasonal Produce — What's In Season Guide.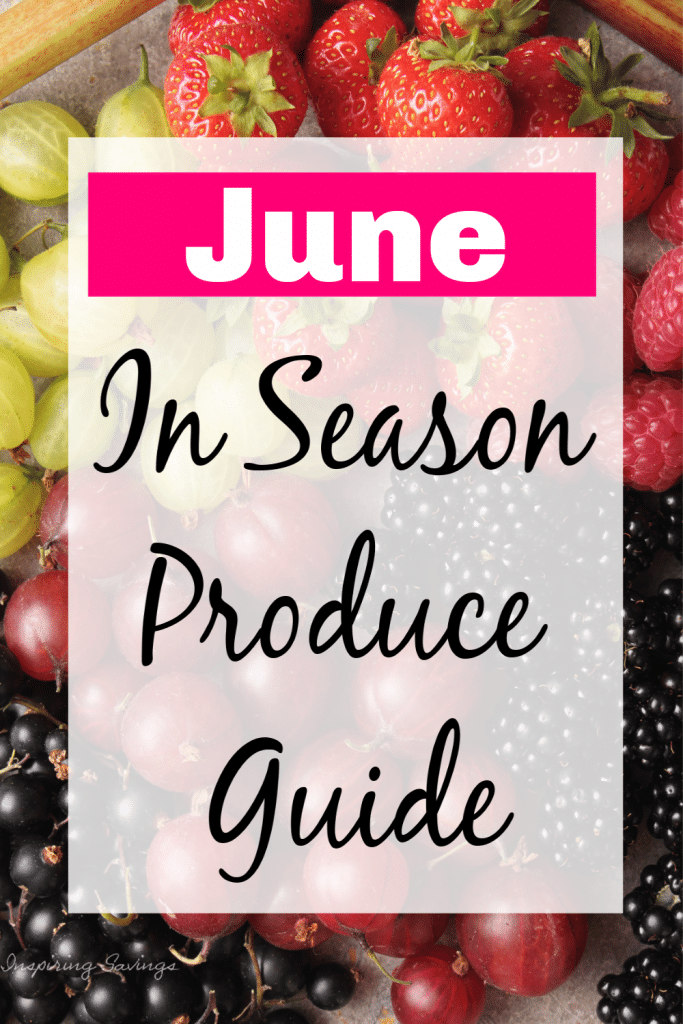 What's in Season? June Produce Guide
Want to eat more healthy fruits and vegetables without blowing your budget?
Ever feel you'd do a better job at eating well if the "healthy" foods were just less expensive?
A great way to save money is to take advantage of Seasonal Savings.
Of course, when your family is on a budget, it can be hard to justify spending $4 on a pint of blueberries. Especially knowing that you can feed your kids a full meal at McDonald's for basically the same price.
Sad, but very true.
First, let's do it right by planning your weekly shopping trip based on in-season food items.
Since these items are in season, they will be much cheaper than those that are not. Time to take a look at "What's In Season" for your area for June.
Not sure what is in season for your area? Be sure to check the "What's in Season Map".
I often buy up extra in-season items to freeze for when the prices are higher.
Plan ahead, making dinner tonight, and purchased extra. Make double and freeze for another dinner idea later on in the month.
Getting the Best Deals on In-Season Produce
To get the best deals, you just need to remember what produce will be in season this month. This will ensure you will stay within your budget.
It also is a good opportunity to buy extra of these items and preserve them for future use. You may want to bookmark this article or read it now,
The Benefits to Home Canning. I go over ways that canning will save on your budget, keep your family healthy, and provide you with better-tasting foods.
Seasonal Savings – What Is in Season for New York:
Avocados
Beets
Asparagus
Broccoli
Cabbage
Cherries
Peas
Radish
Rhubarb
Spinach
Strawberries
Summer squash
These are just some of the items you may see at a discounted price in the grocery stores.
Don't forget your farmer's markets. If you haven't been to a farmer's market yet, you can use Local Harvest to see if there's one near you.
Some of my favorite things to pick up at ours are eggs, honey, in-season veggies, and glorious bread items found in our local bakery.
What have you been finding seasonal savings on right now? (And it doesn't have to be just food!)
Other Seasonal Saving Articles
How to Start your own Herb Garden
Natural & Organic Coupon Round Up
Must-Have Money Savings Smart Phone Apps