Easy No Bake Mummy Haystack Cookies
Have no Fear. These No-Bake Mummy Haystack Cookies are made with Chinese noodles, butterscotch, white chocolate, and optional peanut butter. Perfect Halloween treat, sn
Easy No-Bake Mummy Haystack Cookies
It is almost time for Halloween. Do you have a simple recipe that will make your little goblins & ghost happy? I love this Easy No Bake Mummy Haystack Cookies. They take the pressure off of having to present a complex dessert that looks amazing.
You can now let the fun begins with spooky spiders, cobwebs, tombstones, easy to make cookies and eerie laughter. As with any party or get together, the food is ALWAYS the main attraction, so you should make it as deliciously creepy as possible. After this recipe, you will find a list of some of my other favorite treats to make.
Just a side note; if you have kids with allergies you can simply omit the peanut butter, but make sure you add in more butterscotch morsels to make up the difference. Get ready to have a blast with your kids making these Easy No Bake Haystack Cookies.
Let's Get Started
These No Bake Mummy Haystack Cookies really come to life once the eyes are placed on the cookies. "I see you" I purchased these Candy Eye Balls to create these cookies.
Instead of using a sandwich bag, you can also use a piping bag with tip #3. You will miss out on the convenience of just tossing away the mess. Unless of course, you are using a disposable piping bag. I used the Wilton White Candy Melts which can be purchased online or at your favorite craft store.
Have no FEAR. Each cookie will be similar, yet unique looking. I just love Halloween. These no–bake Halloween treats that are so easy to make it's scary
Easy No Bake Mummy Haystack Cookies Recipe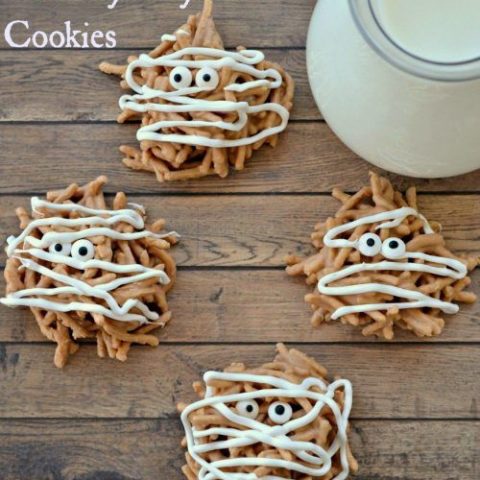 No Bake Mummy Haystack Cookies
Have no Fear. These No Bake Mummy Haystack Cookies are made with Chinese noodles, butterscotch, white chocolate, and optional peanut butter. Perfect Halloween treats, snack or party food.
Ingredients
1 package Butterscotch chips
½ cup peanut butter
2 tablespoons marshmallow cream
1 bag lo mein noodles
Instructions
Pour the bag of butterscotch chips into a microwave safe bowl. Add the peanut butter and microwave, stirring every 30 seconds until melted.
Add the marshmallow cream and stir well. Microwave for 30 seconds more if needed to get it to a smooth texture.
In a large bowl, pour in the bag of lo mein noodles.
Pour the butterscotch mixture on top and stir coating all of the lo mein noodles.
Tear a piece of parchment paper and line the counter. Parchment paper is important because it will keep anything from sticking.
Drop spoonfuls of the haystack mixture onto the parchment paper.
Working quickly, add two candy eyes to each stack.
This is the hardest step! Allow to sit and harden.
Once the haystacks have set, melt the white candy melts. Pour into a plastic bag and cut a small hole in the corner of the bag.
Make several motions creating the mummy look.
Allow until candy coating has set.
Other Fun Halloween Recipes
Halloween Nutter Butter Bat Cookies
Spooky Spider Oreo Cookie Recipe!