Mini Pumpkin Pies – Made with Cheese & Crackers
Surprise your kids or guest with these adorable mini pumpkin pies. These savory appetizers will be a hit at your next get together. Quick & easy tutorial

Mini Pumpkin Pies – Made with Cheese & Crackers
Surprise your kids or guest with these adorable mini pumpkin pies. Completely made from cheese & crackers. You can use them as your next April fools joke or use them as little savory appetizers. Believe me they will be a hit at your next get together. I love creating super cute foods. These Mini Pumpkin Pies Snacks are just that!
It's the perfect fall party finger food. The best part of all is creating your little pies. You can get your kids involved. Easy, cheesy and sure to please.
Ingredients
Extra sharp cheddar cheese (I used Cracker Barrel)
Whipped Cream Cheese
Triscuit crackers or another triangle shaped cracker
Instructions
1. Cut your cheddar cheese into thick slices.  
2.  Place a slice of cheese on the Triscuit cracker.  
3. Slice the cheese to form a triangle that will fit the Triscuit cracker.
4. This is the trickiest part!  Cut approximately ⅓ of the Chicken in a Biskit cracker.  I found it's easiest to make sure to use even pressure and make a quick cut.  
5. Place in a ziploc bag a few spoonfuls of whipped cream cheese.  Cut a very tiny hole in the corner of the bag.  
6. It's time to put your 'pies' together!  Place your cheese slice on the Triscuit.  Using a thin line of cream cheese attach your larger Chicken in a Biskit cracker on the back of the pie slice.
7. Again, using your cream cheese, attach the smaller piece of the Chicken in a Biskit cracker on top of the cheese where it meets the cracker.  This forms your pie's 'crust'.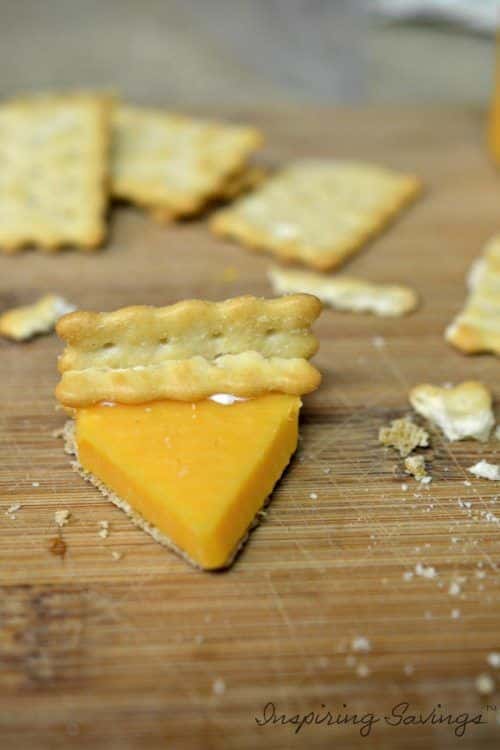 8. In the center of the cheese, squeeze a dollop of cream cheese.  It will look just like you topped your pie with whipped cream!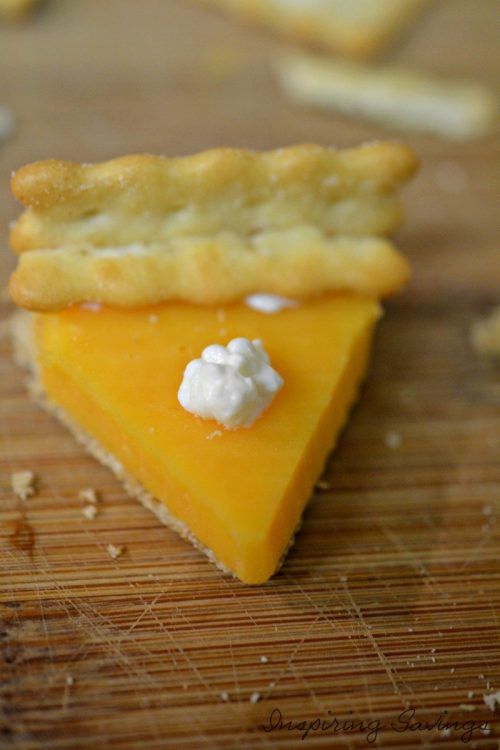 Easy right? Your guests are just going to adore these Mini Pumpkin Pie snacks. You can mix up cheese to your favorite kind. Getting creative is what it is all about.
Other FUN Holiday Recipes
Baked Ham Sammies – Left Over Make Over Dinner
Cranberry Turkey Flatbread – Thanksgiving Leftover Makeover
Homemade Gingerbread Coffee Syrup Recipe