Estimated reading time: 6 minutes
A simple recipe for Homemade Apple Butter that you can make in the slow cooker. Use as a spread, a syrup or in your fall recipes! This is a large batch apple butter recipe.
Homemade Slow Cooker Apple Butter
Is it officially fall yet? It must be if we are looking to make Apple Butter. Who needs an official date or it to be considered fall?
Fall is my favorite season. Filled with apples, pumpkins, cinnamon, hot apple cider and so much more.
Apple butter is one of my favorite things to add to my morning toast or bagel.
It is also autumn's sweetest sensation, stealing the show as a condiment that can be used alone or in addition to your meal.  My favorite fall-time condiment goes great with my homemade pumpkin pie, pork chops, baked chicken, and more.
Your freshly picked apples are chopped up and slowly cooked in the crock pot with sugar and spices. Then they become this beautiful caramelized sweet thick dark apple butter.
Making slow-cooked apple butter is great for preserving apples, using the canning method. It's hard to find good apple butter in grocery stores, especially one that has no added preservatives or artificial additives, so homemade is the way to go for a great-tasting and nutritious apple butter.
And if you are a bug fan of apples you will also want to check out this Apple Cinnamon Crumb Cake Recipe.
What is the difference between Apple Sauce and Apple Butter?
Both apple sauce and apple butter can be created in the slow cooker.
The biggest difference is the time need to create each.
Apple sauce requires very little time to complete. Apple butter is cooked much longer, which creates a thick, smooth, intense apple-flavored spread.
What do you do with Apple Butter?
The quick answer. Use it on everything! Spread it on toast, pour it over vanilla ice cream as a treat, or use it as a condiment and serve with your favorite pork chop recipe.
My kids love it on their pancakes in the morning. The list of uses is endless.
Apple butter consistency is like a thick gravy. However, the longer you cook down the thicker it will get. But be careful you can burn apple butter.
How to Make Apple Butter
It is no secret how easy it is to make apple butter.
It is as simple as adding some apples to a crockpot with apple cider, brown sugar, white sugar, vanilla, cinnamon, clove, and a dash of salt. Let it sit there all day, stirring occasionally, and BOOM! 
After many hours of you doing nothing, you have apple butter.
Below is the printable version of this recipe 😉 with the actual measurements.
Let's Get Started Making this Cinnamon Apple Butter
Ingredients Needed
7 lbs of Apples (your favorite variety – I used a mixture of Granny Smith & Fuji)
1 cup light brown sugar
1 cup granulated sugar
1 1/2 tbsp cinnamon
½ tsp nutmeg
1 cup apple cider
¼ tsp cloves
1 ½ tbsp vanilla extract
½ tsp Salt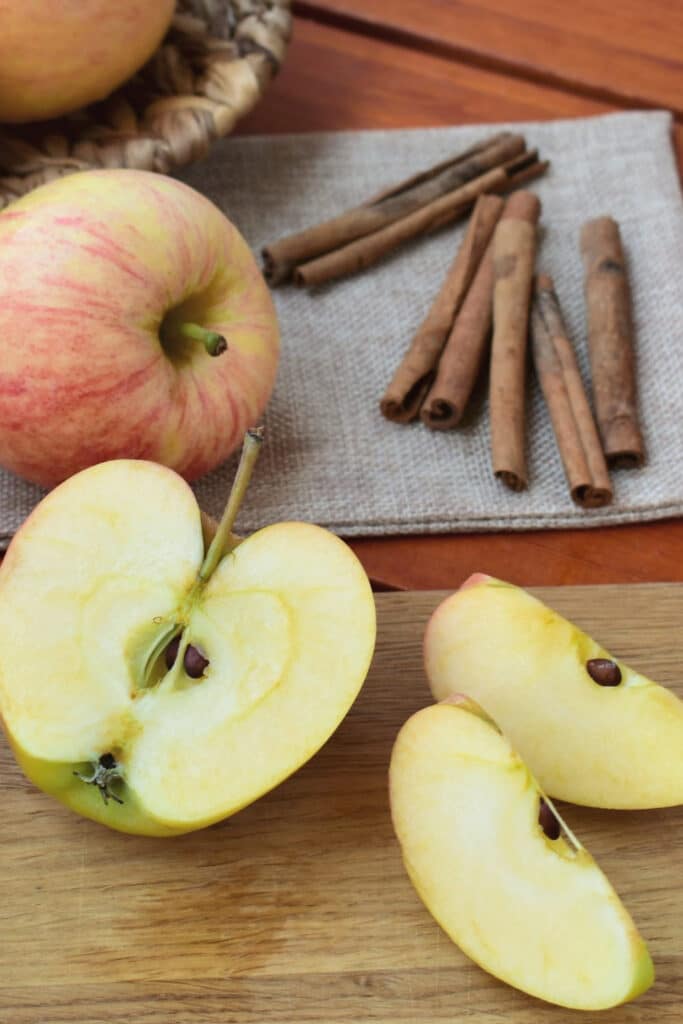 This recipe is very simple and easy to follow. The hardest part is peeling those apples.  But thanks to this apple peeler and my slow cooker it went a lot smoother.   
This peeler allowed me to peel, core, and slice 7 pounds of apples in a matter of minutes.
Simply toss everything into the slow cooker, set the timer for 10 hours, and went about my day. VIOLA! It really is that simple. (but see my note below). You will want to take sneak peeks throughout the day.
Just a note: If you are not preserving your apple butter by canning method (Please follow your pressure cooker instructions or Ball Canning book) then refrigeration is the next best thing.
Your apple butter will keep for a month or longer in your refrigerator.
If you love making pantry staples at home, you will want to try making your own homemade bisquick mix too.
What Apples Are Best For Apple Butter?
I personally like to use a blend of sweet & tart apples such as Honeycrisp, Empire, or any in-season apple for that matter.
If you are not from the Northeast, you may have a hard time getting each. 
Macintosh, Red Delicious, or Gala are easily accessible and just as delicious. If you choose to use a sweeter apple, you may want to consider decreasing the amount of sugar used.
Easy Homemade Apple Butter Recipe
Quick Note Before Starting
In my experience, this easy homemade apple butter is not a precise science.
It is one of those things you have to check on every so often.  Make sure the apples are not watery, or for that matter too watery.
Too much water will lead you to make applesauce. Continue cooking down until you notice a nice concentrated thick spread (like a good jam).
An Emersion Blender …
This will be your best friend in creating the smoothest Apple Butter. When nearing the end of completion, take out your Emersion Blender (aka hand blender) and puree.
You can of course leave it chunky. Just like peanut butter, some before chunky vs smooth.
Yield: 6 pint jars
Easy Homemade Apple butter
This slow cooker recipe makes one of the easy homemade apple butter I've ever tried. So delicious on waffles, muffins, french bread- a perfect gift idea. Inexpensive and easy to make and so delicious!
Total Time
12 hours
45 minutes
Ingredients
7 lbs of Apples (your favorite variety - I used a mixture of Granny Smith & Fuji)
1 cup light brown sugar
1 cup granulated sugar
1 1/2 tbsp cinnamon
½ tsp nutmeg
1 cup apple cider
¼ tsp cloves
1 ½ tbsp vanilla extract
½ tsp Salt
Instructions
Peel, core, and dice all the apples into cubes then combined with the brown sugar, granulated sugar, cinnamon, nutmeg, apple cider, cloves, and salt in a bowl until well combined.
Place all combined ingredients into your crock pot on the low setting for 10 hours, stirring it every couple of hours or so and break up large chunks as it cooks.
Once you have reached ten hours add in your vanilla and continue to cook for an additional 2 hours.
If your apple butter is at your desired thickness use your immersion blender to puree it until it's completely smooth and lump free.
After it's cooled, place it into containers that can be stored into the refrigerator or freezer.
Nutrition Information:
Yield:
192
Serving Size:
1
Amount Per Serving:
Calories:

17
Total Fat:

0g
Saturated Fat:

0g
Trans Fat:

0g
Unsaturated Fat:

0g
Cholesterol:

0mg
Sodium:

7mg
Carbohydrates:

4g
Fiber:

0g
Sugar:

4g
Protein:

0g
And there you have it – Easy Homemade Apple Butter. If you made this recipe, we would love to hear all about it.  And tell us about the variety of apples you used. Leave us a comment below. 
Other Fall Favorite Recipes
Pumpkin Spice Mini Cake Doughnuts with Pumpkin Spice Glaze
Mini Pumpkin Pies – Made with Cheese & Crackers
Pumpkin Pie Bread Pudding Made in The Crock-Pot
Homemade Gingerbread Coffee Syrup Recipe
Eating out is easy, and it usually tastes delicious, but it's expensive. Making this meal at home will save you money. Add this recipe to your weekly meal plan.