Estimated reading time: 10 minutes
If you love rustic farmhouse decor but your budget is limited, you can still have that Fixer Upper look! Check out these Easy Ways to add Farmhouse Style to your home on a Budget!
Get a Farmhouse Home Style on a Budget
Growing up I always loved decorating.
My Mom always kept a nicely decorated home and very clean to boot. 
She took great care, pleasure and love in making the house a home and gave everything her special touch.
It was a hard task do when especially in the military.
Each home the same as the next, all white walls and the same tile throughout.
But she did it. This is how I learned to decorate.
Now we have many great resources to give us ideas.
The Farmhouse style is the latest trend that is not fading away. In fact, it is just adorable. 
 Its distinctively chic and simple look has a special place in the heart of interior designers.
Plus, it is a great way to make your home look expensive on a budget!
Are you ready to change out our summer style for a more cozy farmhouse feel?
One of the biggest complaints I hear about styling your home or choosing your decor is just not having the money.
And, I totally get that. But first I want you to think that Rome was not built in a day.
So, there is no need to rush out to buy everything at once.
I started this list Budget Friendly Fall Farmhouse Decor to help you gather a few pieces to help decorate your home.
AND BONUS – All of these pieces can be used year-round.
I encourage you to be creative. Put on your thinking design hats and let's get going.
I want you to understand that decorating your home doesn't need to be expensive. 
We can find farmhouse decor items at any store, garage sale, or even at a local free curbside pickup.
Decorating can be fun and oftentimes the best decor ideas come from your DIY imagination.
I absolutely love the Farmhouse Style from Joanna Gains on the show Fixer Upper.  

But it can be expensive to buy new Farmhouse-style furniture and Home Decor.  This post features the best ideas for Farmhouse Decor on a budget you can totally do yourself!
Get the Coziest Look Out There – RUSTIC FARMHOUSE DECOR
We all love the trendy farmhouse style, but some pieces are just so expensive.
However, I have great news, no matter your level of decoration experience or your budget, I how found some pretty stylish pieces that will help you on your way.
Tip #1 for creating your DIY Farmhouse look
Start simple and work your way up. As your confidence grows, you'll be tackling by adding smaller pieces to your home first.
Just until you learn the direction of style you want to go.
Soon you may start to create your own DIY projects, this adorable wood tote from Refresh Style this super cute paint stick basket from build basic.
This attractive wall clock boasts a sleek design that blends with a variety of decorating styles.
Crafted from iron with a distressed gray finish and featuring an open pass-through design.
This large wall clock fits seamlessly into any home.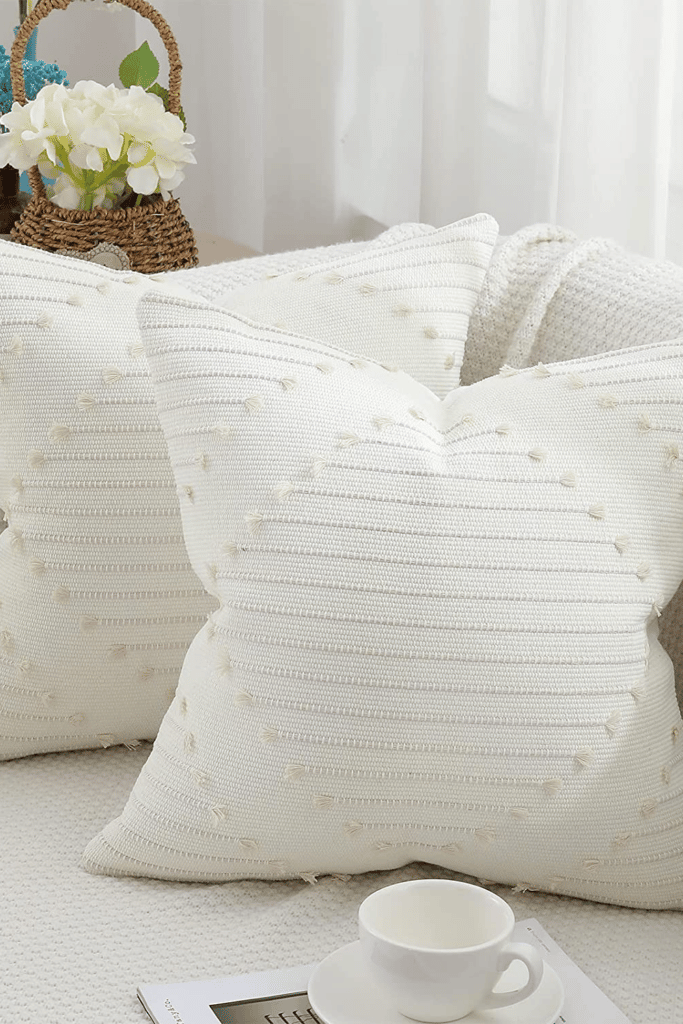 Delighting with handwoven details, this exceptionally versatile accent Mecatny Throw Pillow in cream is indeed a dream.
The removable, zippered cover makes cleaning a breeze.
This run is the perfect union of tasteful design and understated multi-colored motifs power loomed in Turkey of high quality, long-wearing synthetic fibers.
Even in the busiest areas of your home, these rugs will last for years with proper care for long-lasting beauty.
A gorgeous blanket to use as a decor piece or throw.
Comes highly rated and in multiple color options. Comfort and softness are among one of the qualities.
Use it to dress up the living room for fall.
This Better Homes & Gardens wood tray is both decorative and functional, on either side of this tray, there are cutout handles that make for easy carrying when entertaining friends and family.
If you prefer to use this tray as a decorative piece, this tray features a smooth bottom, so it is safe to display on a tabletop surface.
This farmhouse HomeKaren Eucalyptus Wreath is a beautiful & elegant addition to any front door, porch or entryway.
Looks great, hanging over mirrors and on fireplaces.
Place around a lantern for a stunning centerpiece.
It is Vintage and will give a shabby chic touch to your wedding table, shower, party, farmhouse or any occasion.
It a one of a kind of decorative bowl.
Use it to hold your burlap pumpkins or fresh-picked apples.
Handmade from natural wood.  Works well for your Fall Farmhouse Home Decor or any season. 
The perfect "Brighten Me Up" adornment for any room, these mini potted faux plants also make a perfect gift for that sunny person in your life.
Dress up your tablescape, window sill, or kitchen countertops with this wonderful farmhouse addition. 
This 3-Tier Serving Tray is an efficient way to set out appetizers, desserts, and more at your next get-together or to decorate with your favorite farmhouse-style items.
A sturdy little vase.
Great for adding a decorative accent to your room's decor. They also make great gifts for a wedding, or housewarming and can be used for parties.
They can be used for almost any season, not just fall. 
 I just love this 3 pack sign.
It says it all family, crazy-loud-love. Sounds just like our home.
It would be a great addition to your home behind a couch or as the focal wall for your dining room.
Simple, elegant design makes the pillow a perfect match for any room.
With a special Embroidery design, the cushion cover is sure to add vigor, warmth, texture, and depth to your home.
They are most commonly used as staging for wreaths and home decor but can be hung on the wall as-is.
These tobacco baskets are pictured with a cotton wreath for a Farmhouse Decor style, but any wreath, boxwood, magnolia, or floral, would look nice framed in a tobacco basket.
You can also use them to flank a bigger piece of furniture.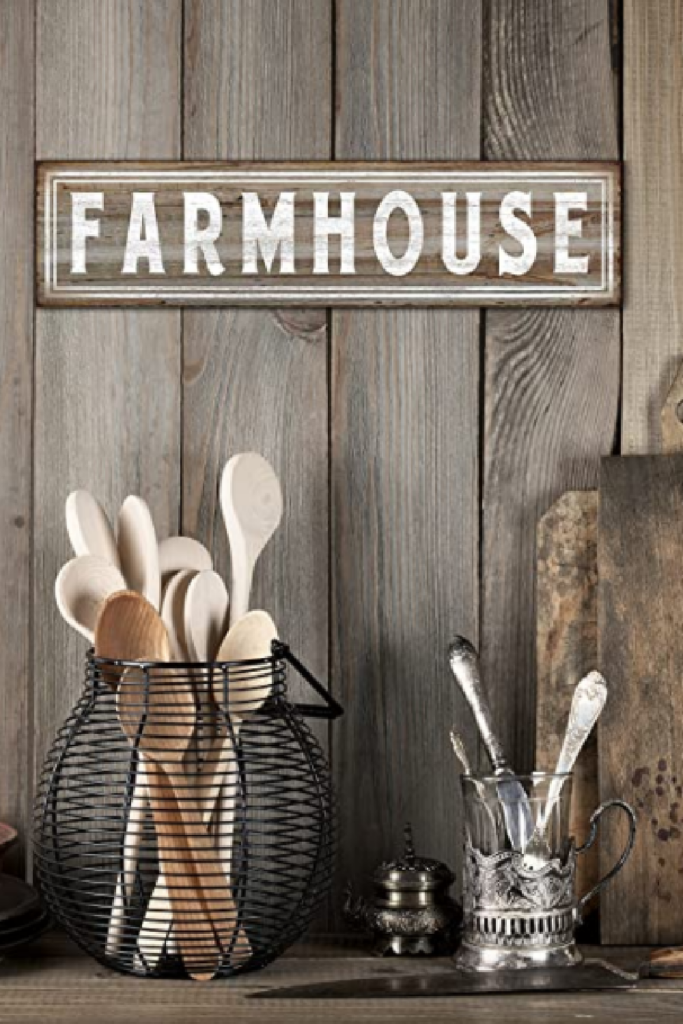 Tastefully designed and crafted tin sign made to add a vintage flair to your home decor. It includes a built-in bracket for easy hanging.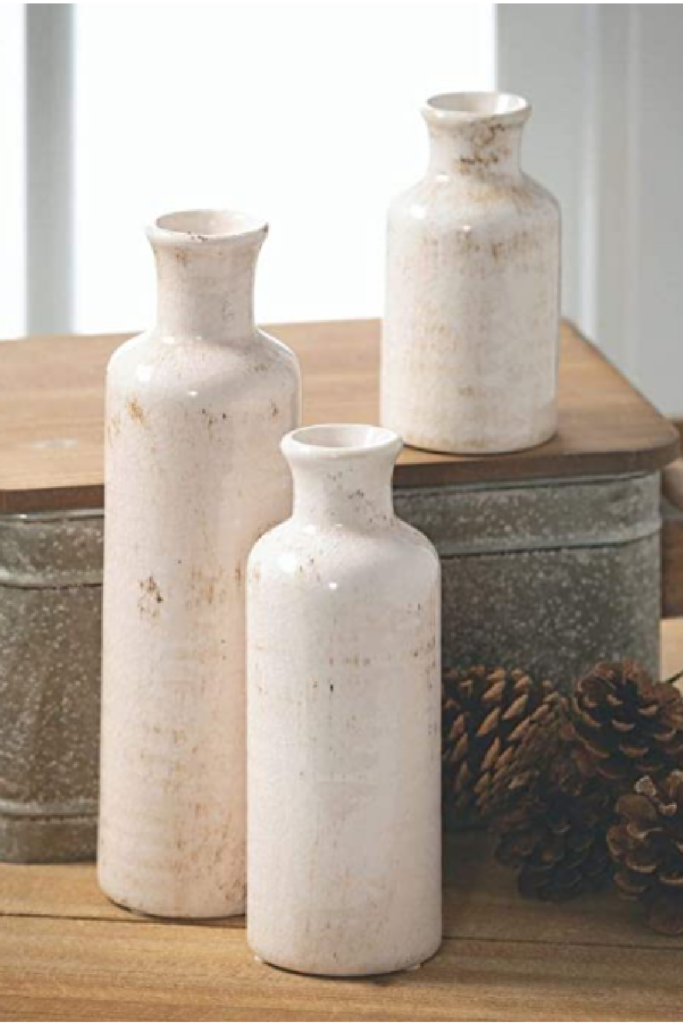 Perfect set of three solid vases. Dress up your mantel or bookcase. You can even think of adding in flowers for an added touch.
Perfect for your Fall Farmhouse Home Decor.
This Metal Caddy helps you stay organized with its separated compartments.
It has six compartments to hold your many items.
Fill it with tools, crafts, cleaning supplies or a variety of potted plants. If you want to use it in the bathroom.
Place hand towels rolled up in the 2 larger compartments and washcloths rolled up in the smaller ones.
Farmhouse Home Decor
Lastly, the nice part about these pieces is their simplicity. You can mix and match most of them. You can find more great Farmhouse decor items here.
What's your favorite piece from this Decor lineup?
Other Fun Fall Ideas
Homemade Fall Decoration: Altered Wood Block Letters
Homemade Fall Centerpiece – Decorate Your Table