Decorating For Fall On A Budget – Keeping Your Home In Season
Decorating for fall season, but worried about the expense? These creative tips & ideas to spice up your space without spending a bundle.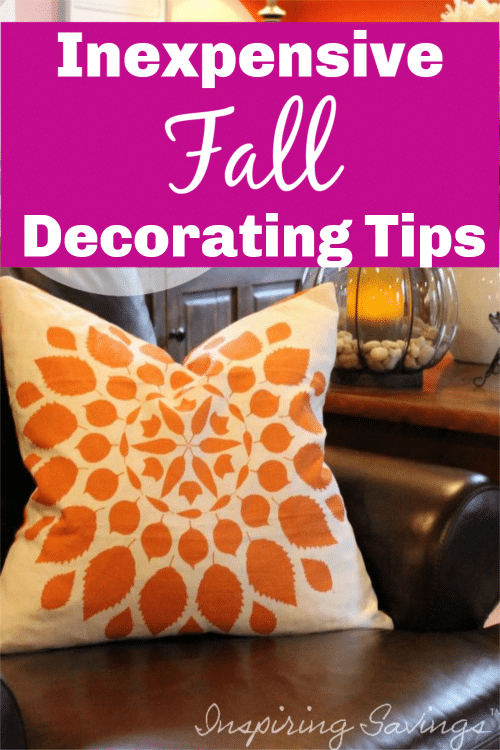 Decorating For Fall On A Budget
I know many of you are starting to transition your home from summer to fall decor. Personality, I'm all about simplicity when it comes to my decor. I tend to keep things pretty low-key, but this is especially true when it comes to seasonal decor.
Call me crazy, but I don't think you should run out to buy all the things and completely re-decorate your home from one season to the next–that's definitely not what I do. It's just not practical, and no way do you need to go over budget just to decorate your home. It is simply not realistic.
Interior decorating doesn't have to be a painful, expensive process. With a few key choices and a little direction, it can be fun! Decorating for fall can be very simple & easy.
Small decorating projects can freshen up your home and be inexpensive.
We will show you how to spend less and get more when decorating your home. Boost your home's style with DIY decorating projects from repurposed items, or use what you already own to create a brand-new look for the fall season. Keeping it all very simple.
Make your Home Shine on a Budget
What does your home say about you? Does it say, "I don't care," or "I know how?" Or does it say, "I want to but I don't think I can afford it."
Bring The Outside In
Nature provides a splendor of beautiful decorations this time of year. You can really make your home shine on a budget. Pinecones from the yard, a few branches cut from the trees, apples from your apple tree (or produce section), or amazing nature walk finds scatter on a table or shelf can really make the house feel in season.
Decorating For Fall On A Budget can be very simple.
Think dried Japanese lanterns (pictured above), acorns, cherry blossom branches with berries, bittersweet vine, and pine-cones can help transition your summer décor into fall absolutely free. Bittersweet vine wrapped around doorways, porch columns and mailbox posts can soften the hard lines and make a welcoming entrance.
You can usually find these at farmers' markets, nature walk with your family or stopping along any country road and cut some for free.
To create a beautiful fall bouquet that will last long into the spring, remove the leaves from Japanese lanterns and they will eventually dry to a crisp orange.
Fill galvanized buckets and ironstone pitchers and place them in bathrooms, on hall tables and living room mantels (remove them before starting up the fireplace).
Add Some Color
After this long summer, it's kind of nice to start thinking about the warm colors of fall. If you're on a budget, an easy way to do this is to change out pillow covers, throw blankets, rugs, and lampshades. I do often find great pillowcase covers on sale through Jane.com.
Now, I know you're thinking, "Budget?
That's going to cost a fortune!" but it doesn't have to. There are lots of budget-friendly places to pick up inexpensive accessories. Target, Home Goods, OverStock, and many others offer lots of great choices that are easy on your wallet.
And pillowcases are reusable. Simple take off, wash and store for next year. It isn't a big investment and you will get years of use out of them. Especially, when it comes to decorating for fall.
Decorate With The Unexpected
In my home, nothing is off-limits from a little makeover. The toilet tank regularly has a flower posy in an antique ointment or Mason jar, and my office has an ever-changing assortment of containers for post-it notes, paper clips, pens, and flowers.
Milk glass containers are my favorite, followed by little ironstone pitchers and dishes.
Your dining room table probably has the standard-issue vase of flowers but try something new by adding a new runner (burlap is a great, inexpensive fabric), sprinkle it with brightly colored fall leaves, and intersperse tiny gourds and votive candles for a sophisticated, budget-friendly makeover.
Check Thrift Stores Year-Round
Thrifting can be so much fun. You just never know what you will find. Even in the dead of summer, I have seen items that can be used for Halloween, Thanksgiving, and Christmas time.
I find the best seasonal decor at my local thrift store at the most random times of the year. That is what makes thrifting exciting. You can find an amazing fall wreath in the dead of summer and pay just a few bucks for it, instead of paying an arm & leg.
You can check out all of my Do's & Don't to Thrift store shopping. This will make decorating for fall on a budget simple.
I hope that these Inexpensive Fall Decorating Tips have helped you prepare your home. Remember it can be pretty easy to make your Home Shine on a Budget.
Often times it just starts with a few good ideas. I recently made this Fall Altered Block Letters for my mantel and this pretty fall centerpiece for Thanksgiving.
Are you ready to decorate for fall?
Other Seasonal Fall Articles
Budget-Friendly Fall Farmhouse Home Decor
TEN Great Items You Should Be Purchasing at Dollar Tree for Halloween
Pumpkin Pie Bread Pudding Made in The Crock-Pot
DIY Frugal Frankenstein Mason Jar Beverage Cups