Estimated reading time: 7 minutes
It is the start of fall time fun. Halloween is our favorite holiday. Make your next Halloween party SPOOK-tacular with this easy to put together Frankenstein Mason Jar Beverage Cups. This is a fun craft to do with the kids.
DIY Frankenstein Mason Jar Beverage Cups
Pumpkins, apple picking, corn mazes, trick or treating,…… the start of fall time fun. Everywhere I look it seems Fall is here in full force. Make your next Halloween party SPOOK-tacular with this easy-to-put-together DIY Frugal Frankenstein Mason Jars.
If your kids are anything like mine…they enjoy dressing up and putting on a good time.
I get a kick out of making each holiday special for my kids and I am sure you do, too.
Frugal crafts are simply the best. If you already own a few mason jars you are off to a brilliant start. You will need to gather or collect a few more supplies to put together these jars.
It literally took me less than 5 minutes to create each jar. Clever and inexpensive.
The best part of all… When you are done using, simply pull off the balloon and you have your mason jar back for preserving your applesauce.
Follow the easy steps below to make your own with your little one today.
What supplies you will need:
Here is how to make the cutest cups for your next Halloween party! A few simple (and very inexpensive) supplies are all you need to make these cute Frankenstein cups. You can purchase most of these supplies from the dollar store.
Please note the items needed will be based on how many jars you would like to make. The items below are needed for one Frankenstein mason jar beverage cup.
Making Your Frankenstein Mason Jar
STEP ONE: First, wash and dry your jars so they are ready for serving.
You want to make sure that all dirt, grease, and grime have been removed.
Since we are using balloons, there is always a possibility that they can rip if pulled over on a small piece of dirt.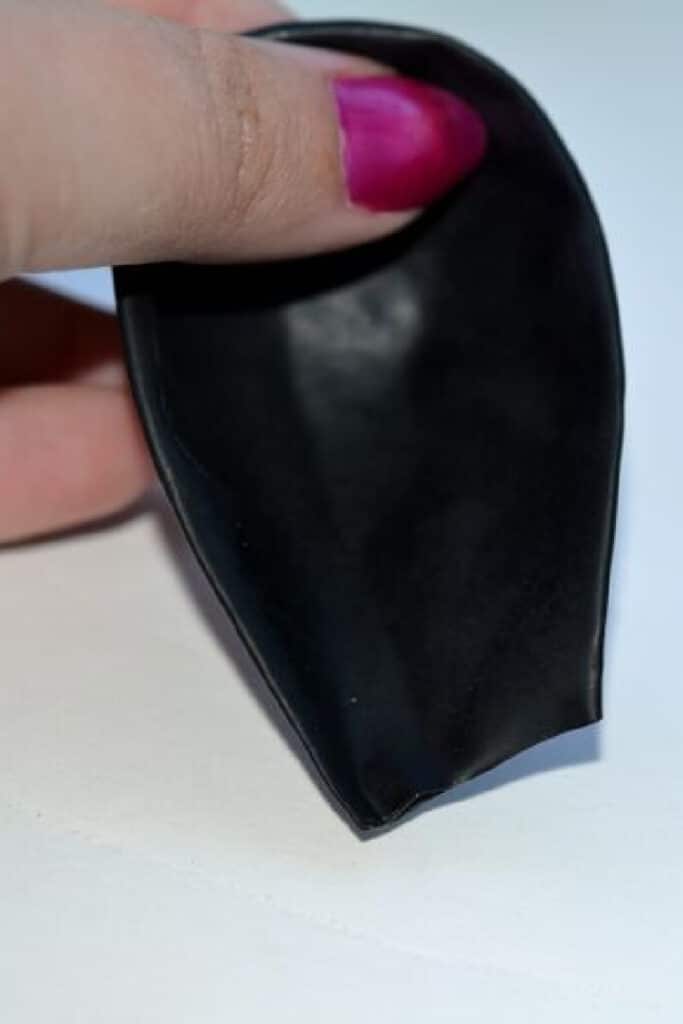 STEP TWO: Then cut off the long skinny part of the green balloon and cut part of the other end of the balloon as well.
 You want there to be a hole on each end of the balloon.
My picture looks like I am working with the black balloon, but really it is the green one.
STEP THREE. Now you are ready to stretch the balloon over the bottom half of the cup. This is the trickiest part.
Using both hands, open the inside of the balloon and carefully stretch it over the jar.
STEP FOUR: Cut the black balloon as you did with the green. On one end, you can cut out a bit of angle for Frank's hairdo. You only need a few cuts.
You will see in the next few step pictures how these cut angles turned into more waving whims on your jar.
It is time for more stretching
STEP FIVE: Stretch the balloon over the top half of the balloon.
This may be the trickiest of all the steps. The reason being is that if your balloon is too small, it will be very hard to cover.
Above, on the supply list, I provided the balloons that work best.
STEP SIX: Now lift one end of the balloon on the jar and make a tiny slit in the green balloon for the mouth.
It will stretch and form an 'O' shape on its own.
Try hard not to make a big slit, unless, of course, you want a big mouth. See the mouth image below.
STEP SEVEN: Hot glue two googly eyes onto the green balloon that is currently offering your mason jar.
Just a quick tip when gluing. Put a dab of hot glue on the back of each eye, then place it onto the balloon.
This will give it enough cooldown time and will prevent it from melting the balloon. 
STEP EIGHT: Using a Sharpie, draw on stitches. One creepy stitch will be needed on the same side of the right eye and another below the mouth to the left.
Now aren't these DIY Frugal Frankenstein Mason Jar Beverage Cups ADORABLE?
This project will surely kick off your next party or kids' snack time with a BANG!! You can get creative and change out the balloons in different colors and different eyes to create scary monsters or funny-looking creatures. The possibilities are endless.
Don't forget the very last step…..add in a great straw and have some fun (ok two last steps).
Tips for using your Frankenstein Mason Jar Cups
You can easily reuse these cups. They are not dishwasher safe. They will need to be gently washed by hand.
Please consider using old mason jars. No need to buy new.
You could make DIY mason jar cups with quart-sized jars as well, as long as your straw is long enough and your balloons are large enough
If you made this craft, we would love to know all about it. How did your Frankenstein Mason Jar Cup turn out?
Did you make a bunch for a party or just a few for decoration? Leave us a comment below. 
Other Fall Time Crafts & Treats
Fall Craft: Leaf 3D Glitter Drawings
Making Magical Wands – Upcycled Chops Sticks