Homemade Fall Centerpiece – Decorate Your Table
A beautiful homemade Fall centerpiece is the perfect way to celebrate the season and any DIYer's dream. Make a beautiful fall centerpiece for your home. Using colored burlap, glass candle holder and round candles your tablescape will be ready.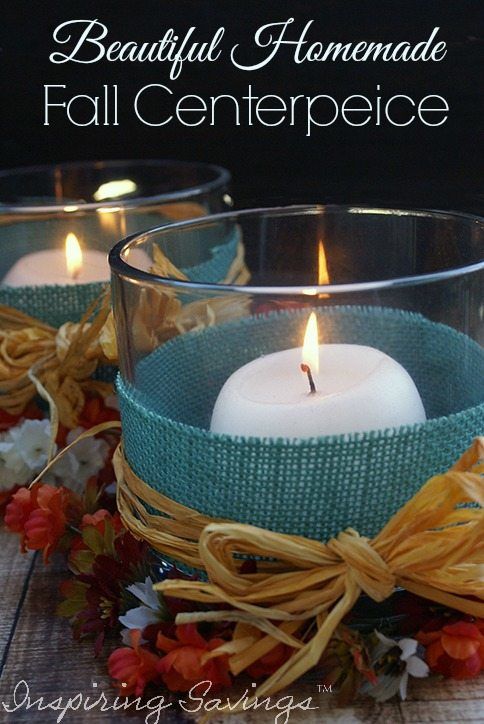 Homemade Fall Centerpiece – Decorate Your Table
As we snuggle into fall (my favorite season), we take a small turn from spending hours on end playing outside to spending more time inside. I enjoy decorating for fall and sprinkling the scent of pumpkin spice in the air. This year I made this super simple Homemade Fall Centerpiece.
I got my inspiration from nearly passing out at my local home decor store. You heard that right! The floral arrangements and centerpieces are just so beautiful, but the price tags will literally take your breath away. I know there are some who will pay that price, but not this girl.
Frugal is my middle name.
Make your own arrangement and save money
This year skip the florist and craft this pro-looking centerpiece yourself with fall flowers, burlap from your favorite local craft store.
Making Your Homemade Fall Centerpiece
Materials Needed:
A mixture of fall-themed flowers & white flowers, preferably one with smaller flower heads on them as shown in the photo. You will need approximately 5 bunches of flowers for one centerpiece flower ring
Bag of yellow raffia
1 Roll of Ashland burlap roll – wide (4″) I used a Teal color, but any color would be great!
Hot glue gun
Glue stick
1 Ashland round ball-shaped candle
Libbey 4 1/2 Cylinder glass vase
Roll of 32 Gauge beading wire
Pair of wire cutters
Homemade Fall Centerpiece Directions
1. Cut the roll of burlap down the middle lengthwise to create to proportion sized widths. Measure around your glass vase (you can use any glass vase you wish!) with the burlap. Add an extra 1 inch on cutting your strip. You will need a little overlap to use with the hot glue gun.
To make life easy, use a pencil to make your mark on the burlap of where you want to cut the burlap.
2. With wire cutters, cut off the flower stems from the main grouping of flowers. Try to leave at least leave a 1 1/2″ – 2″ (tops!) stem area.
3. Once done cutting the flowers, it's now time to join them together! Grab 3 different variety of colored flowers. With wire cutters, cut a 24″ piece of beading wire for the starting process. Wrap the wire tightly around the stems of the grouping of flowers (at least 6 – 7 times).
Then, by alternating your colored flowers, add a grouping of two flowers beneath your beginning bunch.
Please NOTE:
Make sure that the flowers are pretty flush against the starting point. You don't want to see a ton of greenage from the stems. The more flowers, the better it looks visually! Make sure you wrap the wire twice around.
Continue this pattern until you have enough length to wrap around the base of your glass vase. You will need to add wire along the way to add more flowers. No Worries! Your flowers will be locked into place! You want the flower wreath to be slightly loose fitting at the base.
4. With a hot glue gun, tack burlap into place around the glass vase. You don't necessarily have to glue the burlap to the vase itself. I didn't because I change it up seasonally with different colors.
5. Take my 3-4 strands of raffia and wrap around the middle the burlap ribbon on your vase, and tie it in a bow.
6. Place the vase into your flower ring, and you're all done!
It's so super simple and easy to do. What's even better is that you can use different color ribbons and flowers for different holidays and seasons of the year!
Other Fall Inspired Articles
Fall Craft: Leaf 3D Glitter Drawings
Homemade Fall Decoration: Altered Wood Block Letters
Creative Crafts With Fall Leaves For Kids