Estimated reading time: 8 minutes
Looking to dress up your home, kids, or have a great party for Halloween? Check out this article 10 Halloween Items to buy at The Dollar Store. Decorate your home with a budget.
Dollar Tree Halloween Decorating Ideas
Expensive decor is hocus pocus.
Spooky season is upon us, and that means bargain-priced Halloween decorations are on sale at Dollar Store. If your house is totally bare, there's still time to get into the spirit. All you have to do is make a trip to the holiday prep bargain store: The Dollar Store.
The Halloween season is perfect for those that want to spook, scare, and of course, have fun! Have you looked at the prices of Halloween decorations, though? They can be incredibly expensive! Luckily, with a bit of deal hunting, you can still spookify your home and keep your budget intact!
To figure out which seasonal decorations are worth buying, we cover these 10 Halloween items to buy at Dollar Store. They are both perfect in price and holiday spirit.
The Dollar store fits right into the budget because everything is $1.00, both in the store and online at their website — DollarTree.com! You usually have to buy in bulk when you shop at Dollar store online but you can get Free Shipping to your Local Store.

Spooky Plastic Spiders and Webs
Nothing says "Halloween" like a thick coating of cobwebs. Dollar Store usually carries very scary-looking fake spiders and their webs. Drape these over bushes or hang them from the corner of your porch to get a great effect! Put your everyday decor to work this spooky season with this hair-raising hack.
Dollar Store's 2-ounce packages of spider webs can be applied in fine layers for a more realistic look, or be draped in denser swathes across doorways and mantels. Finish with a few plastic spiders for an extra creepy look.
Halloween Party Supplies
The Dollar Store usually carries everything from black, and orange paper plates, and plastic silverware to Halloween serving trays.
While you're there, don't forget to pick up the Halloween-themed napkins too. You will be more than ready to plan your next monster mash party.
Halloween Totes, Treat Bags, and Plastic Pumpkin Buckets
Need to grab a few spooky tote bags or treat bags and buckets for the kids to use? Head to Dollar Store. By now I think you realize which store I keep mentioning.
You can even find individual treat bags for just a dollar. Thinking of some out-of-the-box ideas to create great decorations.
Simply purchase some white paper bags, and draw a jack-o-lantern face on the front. Use scissors to cut out the faces, then add a battery-operated tea light to create Halloween-inspired luminaries for your walkway. The perfect walkway for your trick-or-treaters.
Dollar Tree Pumpkin Carving Kits
Forget digging out pumpkin seeds with your kitchen utensils — special tools are the way to go.
And don't even think of paying $3.00 or more for a pumpkin carving kit. Just swing by your local store and grab one for just a dollar instead. So affordable enough that every member of the family can get their own set of tools.
While you're there, you can also pick up battery-operated tea lights to give your jack-o'-lantern the finishing touch.
I also like to have these tools on hand when I am making homemade pumpkin puree. The tools make it easier to saw through the pumpkin.
Halloween Tablecloths
 Finish your party décor with just a dollar tablecloths or just bring some whimsy to your kitchen table with Halloween tablecloth options from the dollar store.
I am sure you will find one that will fit into your home. Best of all, you will not be breaking the bank.
Think outside the box by using netting, burlap, or other fabric pieces.
Dollar Store Halloween Village and Knick Knacks
Grab individual homes and decorations for a Halloween village display and more.
You can even buy coffins, monsters, and more too that fit with the theme to create the perfect village display for your home.
If you love a good Christmas village, then you will absolutely love a Halloween village. You can create one with a spooky Halloween twist using birdhouses or toy houses from the dollar store. Give everything a coat of matte black paint for an eerie look.
Plastic Skeletons
What would Halloween be without a hanging skeleton or two? Grab yourself one or two at the Dollar Store and let your imagination run wild!
You can pick up a few and paint them gold or silver and place them on your mantel. Or cage them in and make them look trapped.
You can even dismantle them to create an extra spooky candle holder or place the pieces in between candy to scare the kids.
Who doesn't love a little skeleton fright when it comes to Halloween?
Halloween Craft Supplies
Could DIY Halloween decorations be any better? One way to save money and not break the budget is to find a Halloween decorating idea and make it yourself.
Believe it or not, you can grab everything from plastic eyeballs to black roses to tombstone cutouts and more at the Dollar Store for only a buck.
They're PERFECT for any Halloween craft ideas you might have! The ideas are endless and so are the craft supplies. And if you decide to pick up some popsicle sticks you can easily create these super adorable witches hats.
Need some inspiration, check out our Pinterest Halloween board.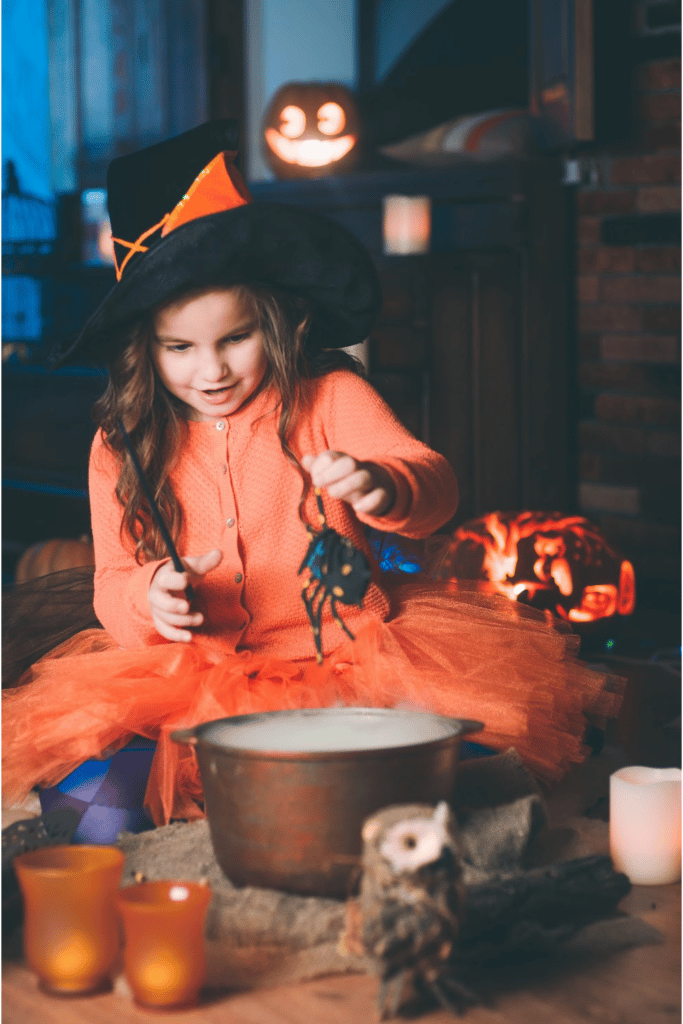 Halloween Costume Supplies
The Dollar Store is FANTASTIC for DIY Halloween costumes! You can grab anything from vampire makeup kits to princess tiaras and more! You may not be able to find your entire costume here, but you can certainly save it when you're putting things together!
It doesn't take a lot of money to look expensive. You can scope out this post from My Life and Kids. You can find some great last-minute and inexpensive costume ideas from the Dollar store.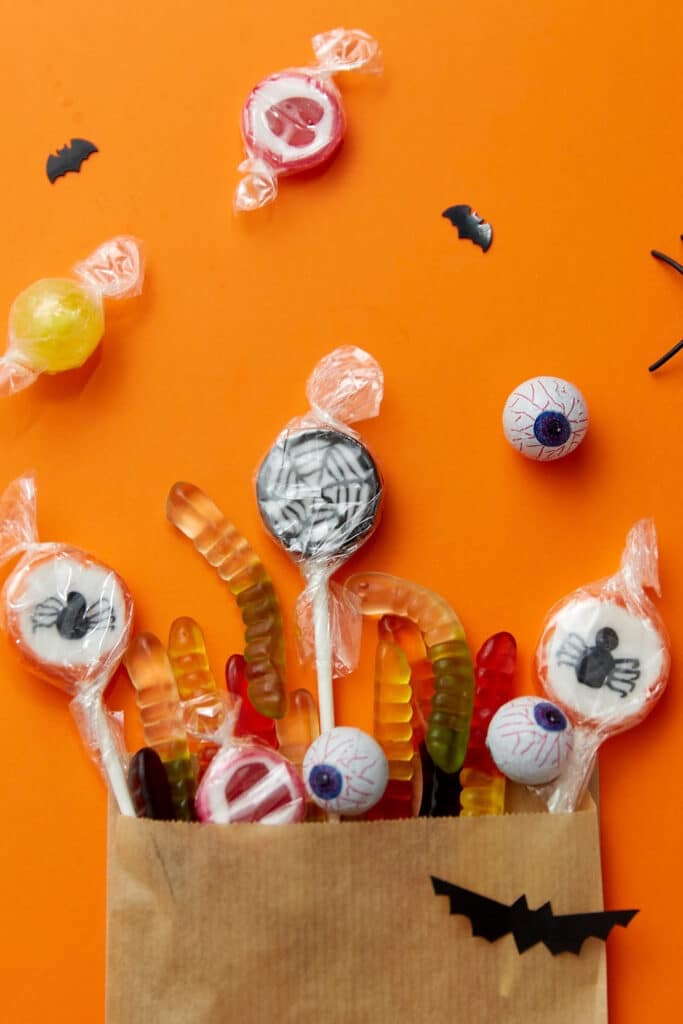 Halloween Candy
Of course, you'll need Halloween candy if you passing it out and the best place to grab it?
The Dollar Store of course. For a dollar a bag, you can afford to pick up a few extras for any little ghosts or goblins that might make their way to your door! I like to have two candy bowls at Halloween, one for the kids who have peanut, and milk allergies, and a bowl for the kids who do not have allergies.
One last thing to remember when you're shopping for Halloween supplies here is that each store carries different items. If you have more than one in your town and can't find what you need at the first one, you stop? Always check the other locations near you. You never know what you'll find!
What are some great Halloween items you have purchased from the Dollar Store? Leave us a comment below and let us know.
We love to hear your ideas.
Other GREAT Halloween Articles
10 Ways to Use Your Leftover Halloween Candy
Kids Eat Free Offers on Halloween
DIY Frugal Frankenstein Mason Jar Beverage Cups