Estimated reading time: 6 minutes
Pillows! This DIY No Sew Outdoor Tassel Pillows will add flair to your home and will not take all day to make. Make your own Super Easy No Sew Pillow Cover. Here is how to make these outdoor pillows.
DIY No Sew Outdoor Tassel Pillows
On a budget, but would love your porch or outdoor deck to pop with color this summer? You've come to the right place! I have always had a weakness for brightly colored outdoor items. Bright colors just shout the words, "Summertime is here". Who is ready for summer? I sure am.
Pillows make spaces fun. They add so much personality to the different rooms of our homes, but sometimes they get overlooked as an outdoor addition because we can get a little nervous about making pillows for outdoors. We are going to break that feeling.
Please keep in mind, if you have an old set of pillows from years past that has not weathered well, you can reuse the poly-fill to make new. If no mold is present. You can easily check this by using your nose. Once you open up those old pillows, you will be able to smell whether it will be reusable or not. 
Making new pillow covers will make your outdoor furniture look brand new again! Here is a 6 step project to make yourself some beautiful DIY No Sew Outdoor Tassel Pillows for a little money. I love a good frugal project.
My Recommendations for this project
I recommend getting this from Amazon!! Hobby Lobby sold them for $10+ a yard. Amazon has them typically for sale for $8.99+ for FIVE yards. You can buy them multicolored as I did or solid colors so your links will vary (or you can just link to pom-pom trim) Here are a few multi-colored poms.
Rainbow Pom Pom Ball Fringe Trim Ribbon Sewing(5 Yards)
Rainbow C Pom Pom Ball Fringe Trim Ribbon Sewing(5 Yards)
This is a really easy DIY No Sew project that takes just a few minutes. But they look amazing and the possibilities are endless.
Items Needed To Make Your No Sew Outdoor Tassel Pillows
Pillow Covers (I used 18×18. If you wanted to, you could easily make these yourself too!)
Pom Pom Trim – You can use multi-colored or solid colors to match a particular color theme. (I used 2 yards of Pom Pom Trim for the pillow shown.  You can use more or less based on how many you want on the pillow.)
Tassel Trim (I used 3 yards of trim on this pillow.)
Pillow form or Poly-fill if you want to stuff it yourself
Sealant (optional but recommended!)
This is a no-sew project! There are several ways you can attach the fabric. All three work well, so it is based on your preference! You can choose between the following options below:
Steam a Seam (This is like an adhesive 'tape' that you iron on and it adheres.)
Hot Glue
Instructions To Make Your No Sew Outdoor Tassel Pillows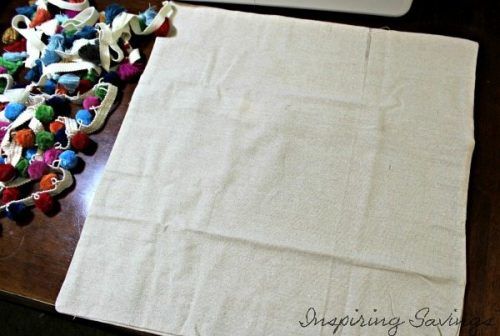 1. Before you begin, you will want to Wash and dry your pillow cover as instructed.
2. Now begin to lay your pillow cover flat and measure out all your trims. Cut to your desired length. Two yards gave me 4 rows and 3 yards gave me 6. How much you decide to put on your No-Sew Tassel Pillows is all about personal preference! I went with 6.
3. Next, arrange your rows of trim on your pillow cover. You will want to leave a few inches between the top of your pillow and your first row, as well as a few inches from the bottom of your pillow to the last row.
4. Using your choice of adhesive/glue you can now attach your rows to the pillow form. You can use Steam a Seam (just follow the package's instructions) and your iron or you can use glue. I did one pillow in fabric glue and another in hot glue. Both came out great!
5. The edges of the trim will unravel a bit. I like to use liquid seal sealant on my edges, but if you are using glue, then you can always dab a bit of glue on the edges, and that will work too.
6. Let dry. Insert your pillow form or fill with Poly-fil.
Update: Over the years, I have learned that having a waterproof insert makes all the difference with these No Sew Tassel Pillows. I have found one that I really like and have switched from poly-fil to this waterproof resistant. 
And that is it. You are all set to show off your latest project. Bring new life to your outdoor space.
If you made this craft project – Now Sew Tassel Pillows – we would love to know about it. Leave us a comment below. Tell us how they worked out for you.
Other Frugal Craft Ideas
How to Make Frugal Plant Holders Out of Old Pans
Fun Birthday Party Game – Painted Rock Outdoor Tic Tac Toe Set
Easy Shower Jelly DIY Recipe – Get A Spa Experience At Home