Fun Birthday Party Game: Painted Outdoor Tic Tac Toe Set
Make this DIY Tic Tac Toe Game for outdoor fun this summer! It is perfect for birthday parties or an activity to do with your kids. Get the kids involved.

Fun Birthday Party Game – Painted Rock Outdoor Tic Tac Toe Set
Here is a project where kids can wear their creative hats and paint their own Painted Rock Outdoor Tic Tac Toe Set. This activity is perfect birthday party game. And let's not forget that it really isn't just for parties, you can make it for your next together or just some backyard fun.
Tic Tac Toe is a great game that not only teaches sportsmanship, but also strategy to young minds. Plus, one of my favorite parts is that it is very little cost involved. You may even have some of the supplies need to make in your home right now.
This is a project I've had in mind since late December. I am so glad the weather is warming up and that I could get it going.  My kids actually had a great time going on nature rock hunts to find their perfect round rocks. It kept them busy and we were enjoying our time together.
See complete instructions below. Enjoy my friends and Happy Summertime to you.
Supplies Needed:
10 Smooth rocks (about the size of a golf ball)
Martha Stewart craft paint:  Below are the colors I used and purchased through Joann.com
2- 1″ foam paint brushes
1 Small flat paint brush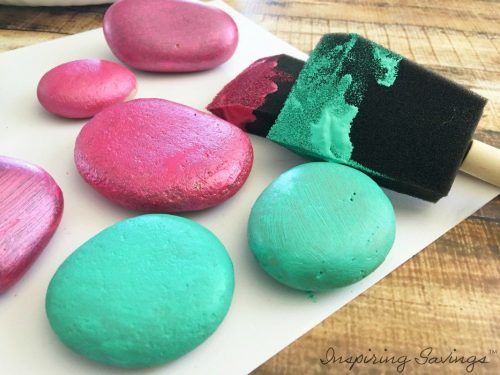 Directions
1. Wash and dry your rocks if they are dirty
2. Using a foam brush, paint five of your rocks pink and let dry
3. Using another foam brush, paint the other five rocks teal and let dry
4. Now paint them each with a second coat of paint and let that dry
5. Use your small flat brush and paint all your teal rocks with an "X"?and all of your pink rocks with an "O" and let dry
6. Once your rocks are dry, use your chalk to draw a tic tac toe board, then instead of drawing X's and O's, use your rocks!
I can't wait to get to use the game this summer, I love how fast the games go!
Other Summer Time Kids Craft Projects
How to Make Frugal Plant Holders Out of Old Pans!
Paper Cup Hanging Seedling Planter
Edible Play Dough – Easy, FUN & Yummy!