Estimated reading time: 6 minutes
Make this DIY Painted Rock Tic Tac Toe Game for outdoor fun this summer! These are some adorably painted rocks. It is perfect for birthday parties or an activity to do with your kids on a nice summer day. Great kid's craft. Time to enjoy making some painted rock art. Simple, fun, and using what you will already have at home.
DIY Tic Tac Toe Rocks – Fun Outside Kids Activity
Here is a project where kids can wear their creative hats and paint their own DIY Painted Rock Tic Tac Toe Set. 
This activity is the perfect birthday party game.
And let's not forget that it really isn't just for parties, you can make it for your next together or just some backyard fun.
Tic Tac Toe is a great game that not only teaches sportsmanship but also a strategy for young minds. Plus, one of my favorite parts is that it is very little cost involved.
You may even have some of the supplies need to make in your home right now.
This is a project I've had in mind since late December.
I am so glad the weather is warming up and that I could get it going.  
My kids actually had a great time going on nature rock hunts to find their perfect round rocks. It kept them busy, and we were enjoying our time together.
See the complete instructions below.
Enjoy my friends and Happy Summertime to you.
DIY Painted Rock Tic Tac Toe Set Supplies Needed:
10 Smooth rocks (about the size of a golf ball) – Let the outside adventure begins
Martha Stewart craft paint:  
Below are the colors I used and purchased through Joann.com You can use any paint. I just really like these colors.
2- 1″ foam paint brushes
1 Small flat paint brush
Directions
Step 1 – it is time to go on an outdoor adventure with your kids. Take them on your favorite hiking path or just for a nice walk.
Grab a reusable bag or backpack to store your rocks. You are looking for about 10 smooth river rock. Bonus if you can find them all around the same size.
Step 2 – Wash and dry your rocks if they are dirty.
I would honestly wash them anyways, even if you didn't find them to be dirty. The paint will stick better to a clean surface and not peel. Plus, I am a clean freak.
Step 3 – Using a foam brush, paint five of your rocks pink and let dry thoroughly. If you are outside on a hot day it will dry extremely fast.
Don't throw out that foam brush.
Place in a place grocery bag and wrap up. We will be using it again to apply a second coat.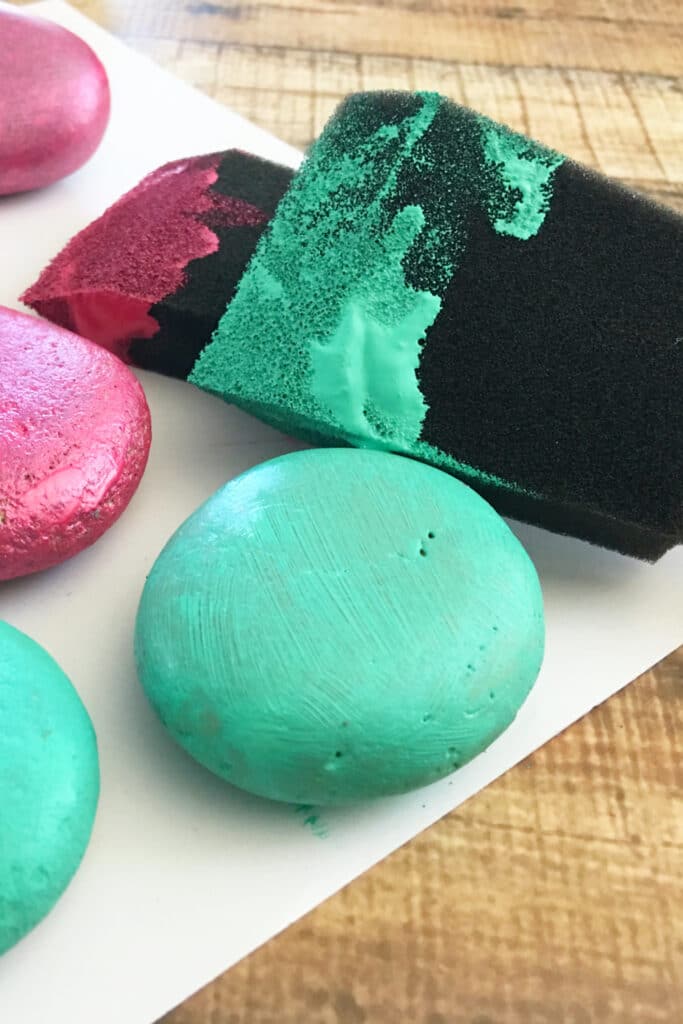 Looking Pretty Good
Step 4 – Time to paint your other rocks.
Using another foam brush, paint the other five rocks teal and let dry.
You can't do the next step without your painted rocks being completely dry. If outside and in the sun again this step will go by fast.
Step 5 – Get out your previously saved foam brush and get ready to paint the second coat on your pink rocks. If after painting your pink rocks, move ahead and paint your teal rocks as well.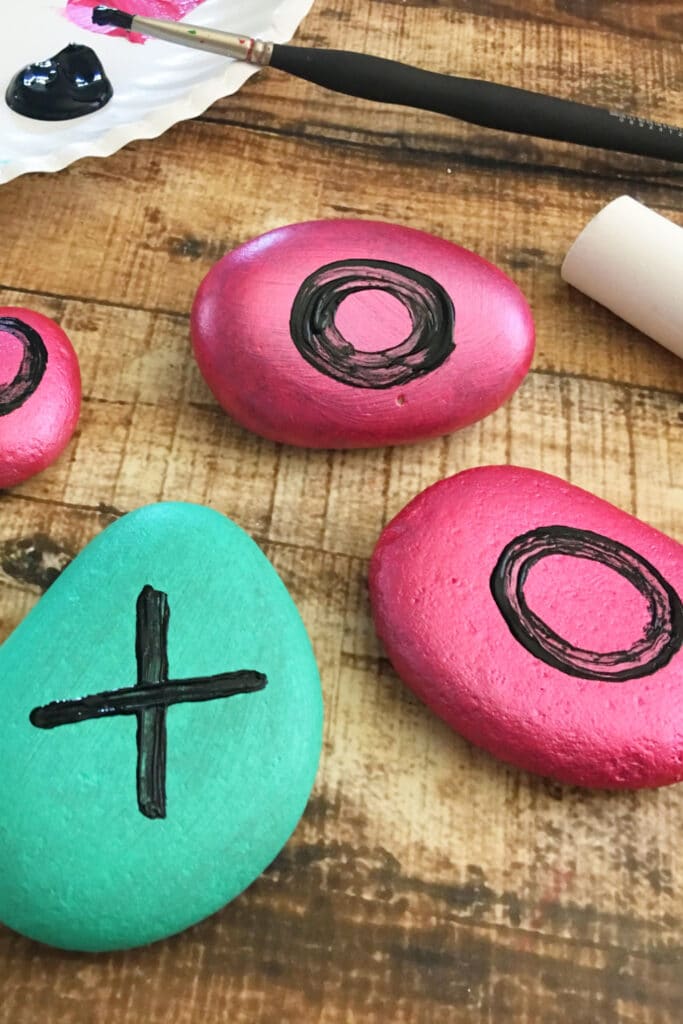 Step 6 – Now use your small flat brush and paint all your teal rocks with an "X" and all of your pink rocks with an "O" and let dry.
Step 7 – Once your rocks are dry, use your chalk to draw a tic tac toe board on the ground.
Now instead of drawing X's and O's (the classic way), use your rocks!
You can simply keep them one simple color or draw smiling faces on one set or silly faces on the other.
There you have it. Your DIY Painted Rock Tic Tac Toe Set is all ready to go. Let the games begin.
If you have a fun little bag or even a shoebox, you can store them in a safe place for your next game. Hey! The kids can even decorate that show box too.
Bring Tic Tac Toe With You
Place your painted rock Tic Tac Toe set in a to-go bag and you are ready to set up in a pitch. Perfect for taking with you on your camping trip or just a date to the park with good friends.
I can't wait to get to use the game this summer, I love how fast the games go!
If you made this craft project, I would love to hear how yours came out. Leave us a comment below.
Making memories with the kids is just the best.
Other Summer Time Kids Craft Projects
How to Make Frugal Plant Holders Out of Old Pans!
Paper Cup Hanging Seedling Planter
Edible Play Dough – Easy, FUN & Yummy!
DIY Patriotic Fireworks Binoculars – Made From Toilet Paper Tubes