Estimated reading time: 5 minutes
These vanilla cupcakes with fresh blueberry filling, just bursting with flavor. Fresh blueberries are used to make the tastiest homemade blueberry filling. Perfect use for fresh summer blueberries! Light, fluffy, and amazingly delicious!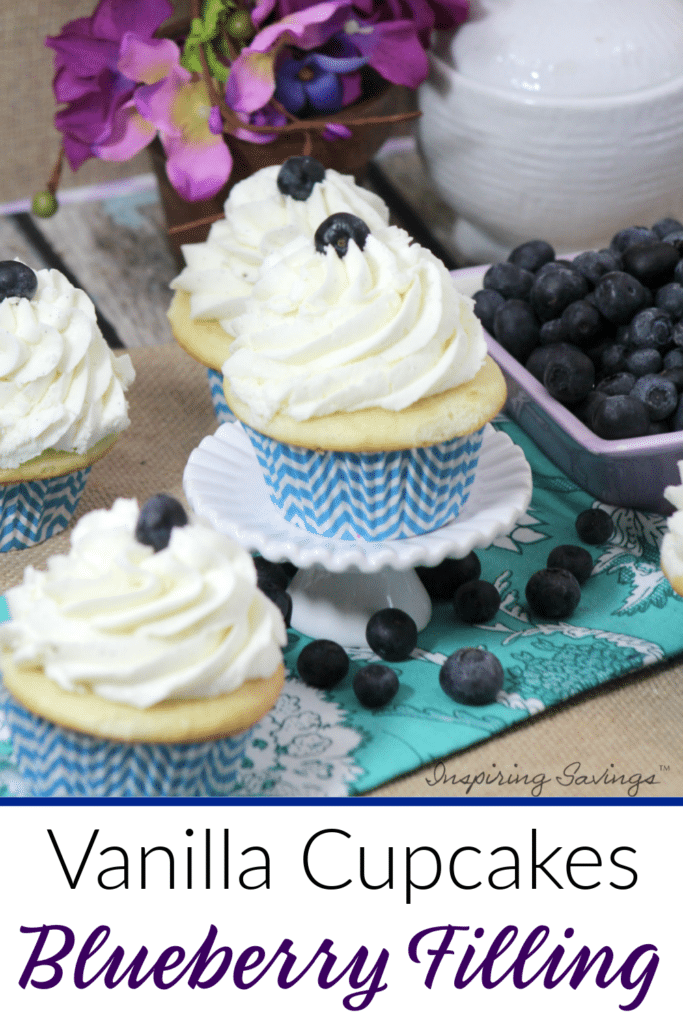 Vanilla Cupcakes with Fresh Blueberry Filling
These Vanilla Cupcakes with Fresh Blueberry Filling are just bursting with flavor. Topped with a light and lush whipped frosting and they'll be a new favorite!
What better way to celebrate summertime with in-season fruit. There is nothing more imperative in a baker's recipe collection than a basic, delicious vanilla cupcake recipe. In fact, I say exactly the same when it comes to cake baking.
I have my favorite "base" that can be adjusted to any kind of flavoring.
Though by using frozen blueberries you could make them year-round! Trust me, after one taste – you'll want to make them every chance you get. I find it easier to use fresh blueberries for texture purposes, but the taste will be exactly the same.
Please note that you can print the recipes for the vanilla cupcakes with fresh blueberry filling and frosting below. Full list of ingredients included as well.
Plus if you are a big fan of vanilla flavored cake you will want these deliciously creamy No-bake vanilla Cheesecake Cake pops.
Let's Get Started – Making Vanilla Cupcakes
The combination of sweet blueberries, sweet vanilla, and buttery cake is out of this world! They are the perfect place for my favorite whipped frosting. If you love the light and airy frosting, this is a recipe you need.
How amazing does this fresh blueberry filling look? AND yes, you can just gobble it up with a spoon all by itself. This is one of my favorite blueberry filling for cupcakes.
It is super easy to make.
Homemade Fresh Blueberry Filling for Cupcakes Recipe
The jammy blueberry filling is a sweet surprise inside each cupcake. Delicious and easy to make. This homemade blueberry filling recipe doesn't have to have the fuss to be AMAZING.
Ingredients Needed
2 cups fresh blueberries
1 cup of water
1 cup of sugar
4 tbsp cornstarch
1 tbsp lemon juice
Instructions
In a large pot add blueberries, water, sugar, cornstarch and lemon juice. Bring to boil and stir. Reduce to heat to medium and constantly stir until blueberries are cooked and mixture is thick and clear. Fill cupcakes with cooled filled.
Tips for Filling Cupcakes
A filled cupcake may seem out of your league or to gourmet for a home baker, but in fact, filling cupcakes is a simple process that does not take a lot of effort or time.
Bake your cupcakes and let them cool completely. If you fill the cupcakes while they are still warm, the filling will melt and turn the cupcakes gooey.

Insert a decorating tip into a piping bag. Snip off the bottom of a piping bag first, then insert a decorating tip into the bag. A small, sound tip will work the best, but you can use a larger star-shaped tip as well.
Fill the bag with half way with homemade blueberry filling. Remember filling must be completely cooled.
Insert the tip into the top of the cupcake. Push it into the cupcake by about an inch or so. You should be in the middle of the cupcake. You do not need to cut a hole into the cupcake first.
Time to Squeeze the filling into the cupcake. Depending on the size of the cupcake, you should be able to squeeze 1 to 2 tablespoons of filling into it. Using slow and steady pressure fill your cupcake. Now if the filling starts to leak outside of the hole, stop; you have filled the cupcake as much as possible
And to top off your cupcakes with blueberry filling
Garnish with a single, fresh blueberry – and you've got yourself one delicious cupcake. You can make these for just dessert at home (as a special treat) or your next get-together. Either way, you make them, they will be a big hit. 
If you need a fun carrier for transporting these cupcakes, this one is my favorite. You can carrier tall cakes, multiple cupcakes, and more. It is collapsible for easy storage as well. Get an A+ in my book. I have this exact one in blue.
Vanilla Cupcakes Recipe
Moist and fluffy vanilla cupcakes, perfect for parties, celebrations or just because. An easy dessert idea!
Yield: 12 Cupcakes
Vanilla Cupcakes Recipe
These vanilla cupcakes with fresh blueberry filling, just bursting with flavor.  Fresh blueberries are used to make the tastiest homemade blueberry filling.  Perfect use for fresh summer blueberries! Light and fluffy and amazingly delicious!
Ingredients
1/2 cup butter, room temp
2 egg whites, room temp
2 eggs, room temp
2 cups all-purpose flour
1 tsp baking powder
1/2 tsp salt
1/4 tsp baking soda
3/4 cup buttermilk
1 1/2 cups sugar
1 tsp vanilla
*****For Frosting*****
1 cup soft unsalted butter
4 + cups powder sugar
4 tbsp heavy whipping cream
Instructions
Preheat oven to 350 degrees. Line cupcakes tins with paper liners.
Whisk flour, baking powder, salt, and baking soda in a medium bowl.
In another bowl, beat butter on medium-high for 30 seconds.
Add sugar and vanilla to the butter, beat until combined.
Add egg whites and eggs, one at a time, beating well after each one is added.
Alternate the flour and buttermilk mixture, beating on low speed until everything is mixed together.
Scoop the batter into the lined cupcake tins until they are 2/3 rds filled.
Bake at 350 for 20-25 minutes or until a toothpick inserted in the center comes out clean.
Remove from oven and allow to cool for 10 minutes.
Remove from cupcake tray and place on wire racks allowing to cool completely.
Using a small spoon or a cupcake scoop make a small hole in the center of each cupcake. Don't make the hole completely through the cupcake bottom
Fill the hole in the cupcake to the top of the baked and cooled cupcake with the blueberry filling
******FOR FROSTING******
Cream the butter and powder sugar until it looks light and creamy. If it doesn't cream add several drops of the heavy whipping cream until it creams.
Test to see if the frosting can form and hold a stiff peak by taking a spoonful of frosting and turning the spoon upside down. If the frosting stays on the spoon it is ready if not then.
Add more powder sugar 1/2 cup at a time.... mix well. Test to make sure that the frosting can make and hold a stiff peak. If ready scoop the frosting into a pastry bag with a large tip.
Twist the open end of the pastry bag to push the frosting to the #15 tip.
Start by frosting on the outside edge of the cupcake working to the center of the cupcake.
Nutrition Information:
Yield:
12
Serving Size:
1
Amount Per Serving:
Calories:

687
Total Fat:

27g
Saturated Fat:

16g
Trans Fat:

0g
Unsaturated Fat:

9g
Cholesterol:

98mg
Sodium:

286mg
Carbohydrates:

111g
Fiber:

1g
Sugar:

95g
Protein:

5g
If you made this recipe, we would love to hear all about it. We get so excited when we learn that you have chosen to make one of our recipes featured on Inspiring Savings. Please leave us a comment below.
Other Tasty Cupcake Recipes
Banana Cupcakes With Salted Caramel Frosting
Eating out is easy, and it usually tastes delicious, but it's expensive. Making this meal at home will save you money. Add this recipe to your weekly meal plan.