Estimated reading time: 4 minutes
International Talk Like A Pirate Day is a parody holiday annually held on September 19. Join in on the celebration by enjoying these fun activities and free offers. Get your Pirate Day Stuff.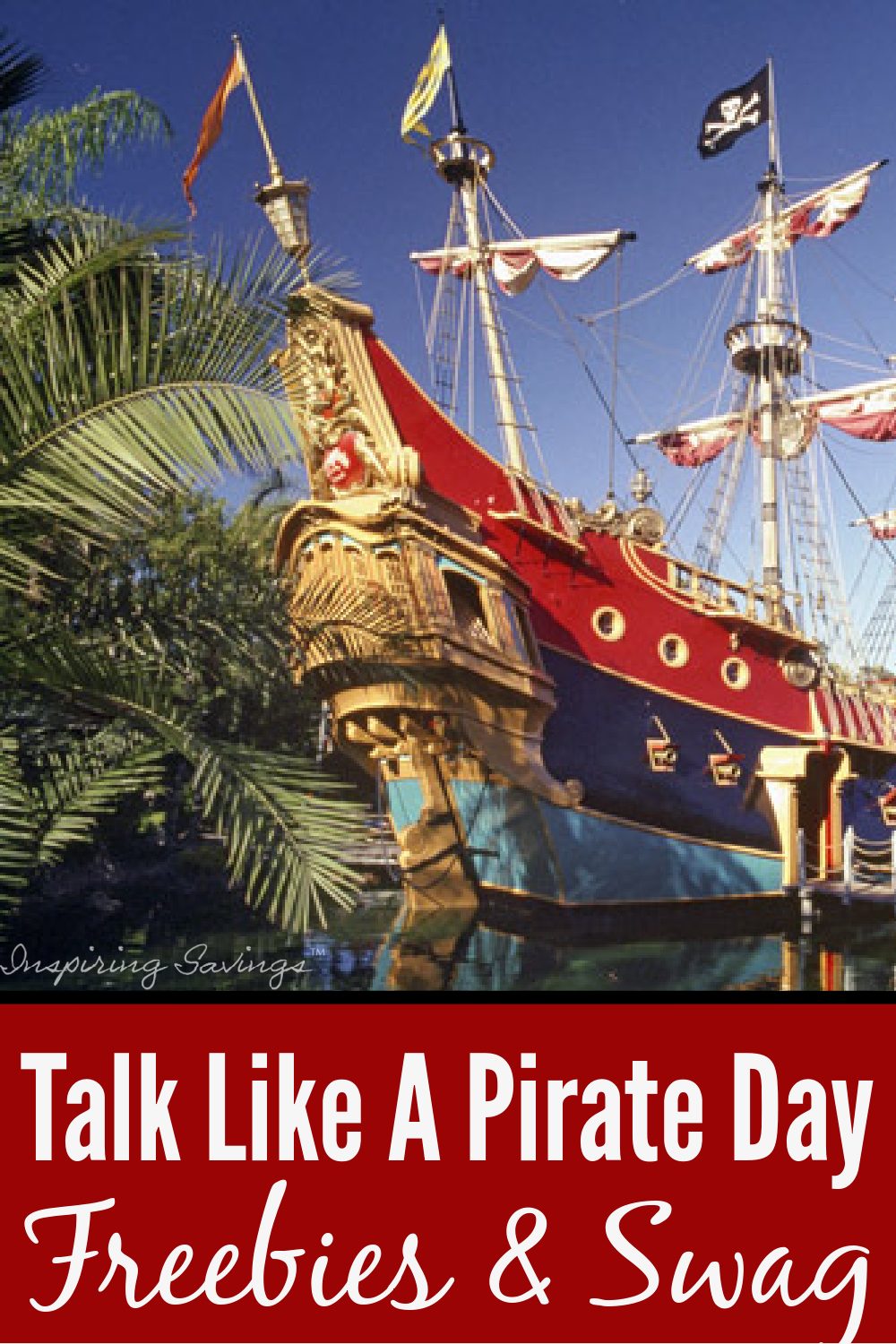 International Talk Like a Pirate Day – September 19
Arrrr…. Ahoy Matey, TODAY IS, is Talk Like a Pirate Day…
If ye didn't know. Ye can get the following booties today. Shiver me timbers, we're in fer some fun day mateys!! Talk Like a Pirate Day celebrates the history and speech of the Golden Age of Pirates.
How you take advantage of some of these FREEBIES or I will have ye all walk the plank.
Make sure you grab yourself an eye patch, bandana, baggy shirt, and a little toy parrot or monkey.
Make sure you use awful grammar and jump right into that accent.
How it all began
International Talk Like a Pirate Day is a parodic holiday created in 1995 by John Baur (Ol' Chumbucket) and Mark Summers (Cap'n Slappy), of Albany, Oregon, who proclaimed September 19 each year as the day when everyone in the world should talk like a pirate.
They celebrated it quietly for a few years, sharing the joke with a small group of friends.
One day in 2002, they wrote to humor columnist Dave Barry asking him to be the spokesperson for National Talk Like a Pirate Day.
Thank you, guys, for this creative way to spice up the month of September.
How to Celebrate?
Don't miss these Talk Like a Pirate Day activities your kids will love! Choose from this collection of crafts, books, and hands-on pirate activities!
Host a pirate celebration in your home. We welcome everyone to dress up like a pirate.
Watch a few great movies with pirates in them. My personal favorite is: "Pirates of the Caribbean"
Dress up like a pirate, of course. No party is needed.
Talk like a pirate all day. Call your friends "matey" and intentionally use bad grammar. "Ahoy, me hearties!"
Brush up on Pirate history knowledge
Enjoy the following listed activities & freebies
and don't forget you can change your Facebook language to "pirate."
Get "Talk Like a Pirate Day" Freebies
Yo ho! It's a Pirate's Life for all today. Before you start partying with your fellow shipmates, make sure you know your way around the deck. All you have to do to score the free eats is get in the pirate mood.
Long John Silvers: FREE piece of fish to anyone who "Talks Like a Pirate" when ordering or Free 2-piece basket of fish to anyone who dresses like a pirate. At participating locations only. Please call your store ahead to confirm.
Moe's Southwest Grill: Moe's is having their FREE Queso Day on September 19th – absolutely nothing to do with Talk Like A pirate day. But who doesn't love free?
Sonic Drive-In: Half-price Grilled Cheeseburger or one Half-price Grilled Cheese Double Burger. – in app exclusive deal
Wendy's: Free 6pc Nuggets with Purchase – new app downloads (mobile order only).
And if you love freebies as much as I do you will love this list of products you can get just for being born.
Family Fun for Pirate Day
Pirate Math and Literacy Activities
Find – Printable Pirate Scavenger Hunt
Create – Pirate Ship Cake
Bake – Pirate Face Cookies or walk the plank with these Homemade Cinnamon Sticks.
Read – FREE or Cheap eBook about Pirates on Amazon HERE
Laugh – Family Fun Pirate Jokes
Don't forget to get your Talk Like A Pirate Day Mug (Not Free), but still very cute.
International Talk Like a Pirate Day Booty
Yo ho, yo ho, it's a pirate life for us.
May your Talk Like a Pirate Day be full of treasures.
Read More on Inspiring Savings