Estimated reading time: 5 minutes
ShopRite has announced its FREE Turkey or Ham Holiday promotion for the 2022 Holiday season. Find out the details here and start earning for your Easter feast.
ShopRite Free Turkey or Ham Holiday Promo
If you're looking to get a head start on your 2022 Easter dinner preparation, we've got you covered. Let's first start with dinner preparation. And what is better than getting the protein portion of your Thanksgiving feast for free?
Pretty much everyone can agree that hosting Thanksgiving dinner can be stressful. Let's remove some stress.
Discover how to get your turkey or ham for Thanksgiving absolutely free. Plus you may also want to read 10 Secrets You Don't Know About ShopRite!
ShopRite's Free Holiday Promotion
At ShopRite, you could get a free frozen ShopRite All Natural frozen Turkey (any size up to 21 lbs.) OR $1.49/lb. off any fresh, frozen, or Kosher turkey (up to 21 lbs.) with your Price Plus club card when you spend $250 -$ 400 (price range depends on your region, this can be completed over multiple transactions).
If you don't want a turkey, you might be able to opt for a free Ham, Turkey Breast, Kosher Roasting Chicken, Stouffer's Party Size Lasagna, or a frozen 56oz Tofurkey.
It's Your Choice!
(Offer may vary by store. See circular for store specific offer.)
Pick up your Free item from April 3 to April 16th
Choose from the following: Limit 1 per family
Cook's Shank HALF Smoked Ham or Save $1.89 lb. Off any other smoked ham.
or Pay $0.10 per lb Cook's Butt HALF Smoked Ham
or Pay $0.99 per lb Cook's Spiral Sliced Ham
ShopRite Frozen All Natural Hen Turkey
ShopRite Frozen Grade "A" or Shady Brook Turkey Breast
Kosher Frozen Roasting Chicken
Stouffer's Family & Party Size Lasagna or Baked Ziti
Tofurky
 Gardein Free Plant-based turk'y roast
Why does ShopRite offer such a great Holiday Promotion
When it comes down to it, the truth of the matter is marketing. Supermarket retailers often sell turkeys at or below cost or hold special giveaway promotions at Thanksgiving to lure consumers in the hopes of getting their full holiday food order.
Holiday Ham & Turkey Promotion Details at ShopRite
This week is the start of ShopRite's Free Turkey or Ham Holiday Promotion for SPRING 2022.
In order to qualify, you must have acquired 250 – 400 points (depending on your region) from March 6 to April 16th.
Please keep in mind that this threshold requirement varies depending on your region. You can check your local ad flyer or contact customer service at your local store.
How ShopRite's Free Turkey or Ham Holiday Promo Works
Use your Price Plus club card every time you shop at ShopRite from March 6 to April 16th.
Price Plus club membership is required to participate. If you are not a member, sign up today to get your Free Price Plus card and start saving right away. You can sign up online or visit customer service in-store.
You must spend the required amount to get your Free Holiday dinner favorite. Or you can get the equivalent savings per pound toward the purchase of any other ham, whole turkey or turkey breast.
No need to save your receipts to qualify. The registers at ShopRite will automatically keep a running total of your purchases. This is why it is important you use your Price Plus card every time you shop. This is how the tracking is completed. You will see your current total at the bottom of your receipt. Once you reach the threshold amount your receipt will state you qualify.
Next, get your FREE item. ShopRite registers will automatically deduct the cost of your free item from your shopping order.
To see the available options for qualification, see your local ShopRite ad flyer.
Please NOTE: Qualifying purchases are calculated BEFORE taxes, bottle deposits, and the face value of manufacturer coupons and AFTER ShopRite store coupons, ShopRite Price Plus club deductions, and any multiplied manufacturer coupons.
Fine print. The program excludes prescription medications, gift cards, postage stamp sales, money orders, money transfers, lottery tickets, bus ticket sales, fuel, and Metro passes, as well as milk, cigarettes, tobacco products and alcoholic beverages or any other items prohibited by law. Free turkeys sold as the whole turkey only. No rainchecks for specific brands/weights will be issued if product within the same brand/weight range is available.
To View More ShopRite Deals on Inspiring Savings
Delicious Side Dishes for your holiday meal
Brown Butter & Maple Sweet Potato Hasselback
Delicious Homemade Dinner Rolls
Creamy Pumpkin Pie Dip – Easy No Bake
Cranberry Cream Cheese Crostini – Appetizer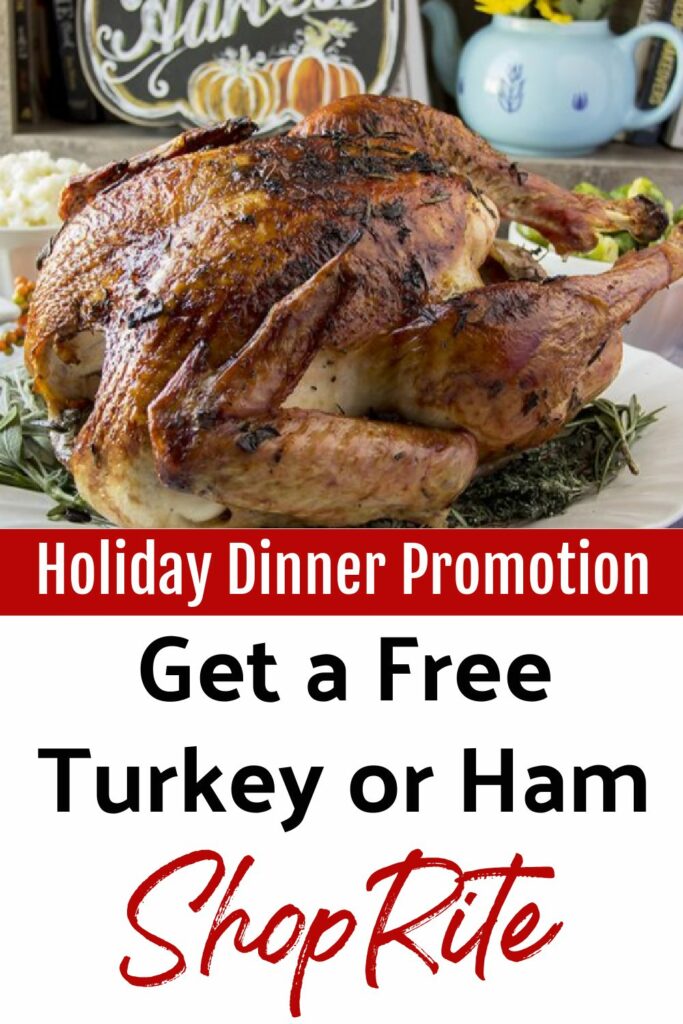 Read More on Inspiring Savings