Estimated reading time: 5 minutes
This Jamaican Jerk Chicken recipe is a great addition to any game-day party. The jerk sauce ensures it's a party in your mouth. You can easily make it as hot as you can handle. The preparation is easy with just a few simple steps and less than 30 minutes to marinate.
Jamaican Jerk Chicken And Seasoning Recipe
For those of you not familiar with a Jamaican Jerk like this Jamaican Jerk Chicken Recipe.
It is a spicy, sweet, tangy, and HOT meal for grilled meat, typically used for pork or chicken.
Looking for great fun recipes to add to our menu plan, this combination of flavors was top on my list.
After some research, I started cooking it up in the kitchen in order to find a great "Jerk" recipe that the whole family would enjoy.
Most recipes call for Scotch bonnet peppers. I wanted a little heat, but not a ton that my kids would completely back away from the table.
Instead of the much more powerful traditional peppers in the seasoning mix, I incorporated cayenne pepper to turn up the heat a bit.
You can certainly adjust this spice level up or down based on your family's taste.
Start by mixing up a marinade for the jerk chicken in a large bowl or dish.
See the recipe seasoning blend below.
I personally like to make my own and I find it easier, as I have most of these spices on hand only.
I love being able to pull from my spice cabinet and not have to run to the store.
Jamaican Jerk Chicken Seasoning Blend
1 teaspoon garlic powder
1/2 teaspoon onion powder
1/2 teaspoon dried thyme
1 teaspoon dried parsley
1 teaspoon paprika
1/2 teaspoon ground allspice
1/2 teaspoon ground nutmeg
1/4 teaspoon ground cinnamon
1/2 teaspoon dried crushed red pepper
1 teaspoon cayenne pepper
2 teaspoons brown sugar
Pinch salt & pepper.
If you like this jerk chicken recipe as much as we did, you can easily double or triple this seasoning blend recipe and store it in an airtight container for up to two months.
I love batch cooking. It is so helpful on nights I am much too busy to cook.
I can pull out an already-made freezer meal.
I did cheat a little and cooked my jerk chicken recipe on an indoor grill.
If you have limited space, live in an apartment without a grill, or the weather isn't great for grilling, you can use this method.
I prefer cooking on our outdoor grill, but sometimes the weather can just get in the way.
You could even broil the chicken in the oven if you prefer.
A traditional grilled method imparts a better texture and smoky flavor, but it is still delicious when cooked in other ways.
So delicious. Perfect for a weeknight meal.
The addition of fresh pineapple chunks, bell peppers, and onions is ideal for serving over rice.
The caramelization on the grill adds tons of flavor!
Serve this jerk chicken recipe with veggies and grilled fruits by itself for a low-carb recipe, or over a bed of savory rice for a more traditional feel to your meal.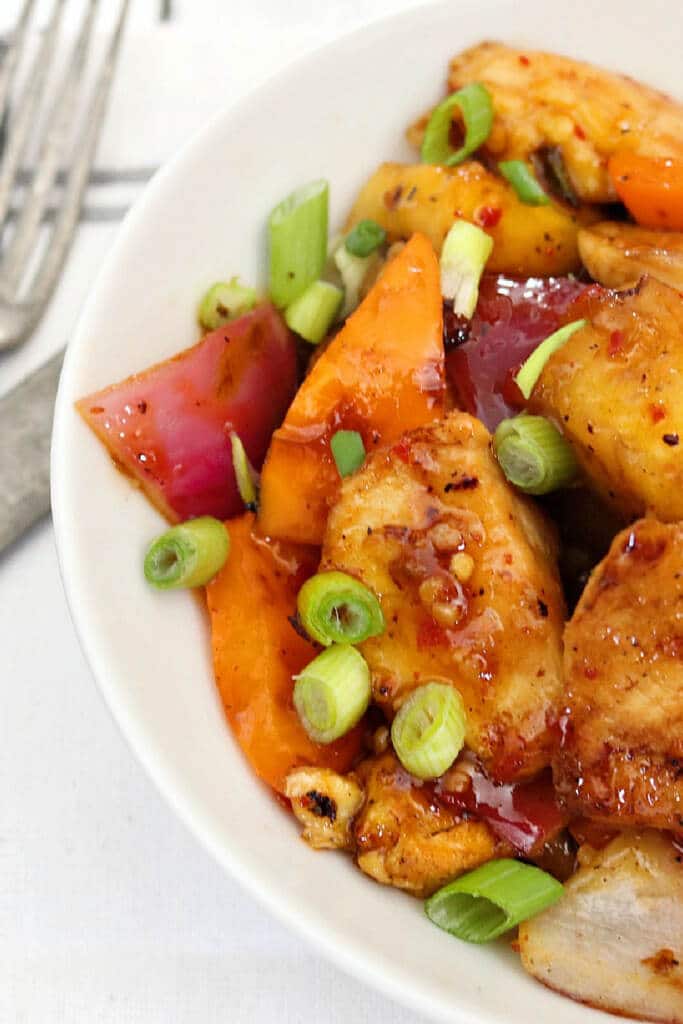 This delicious Jamaican jerk chicken recipe is a great choice for your menu plan.
You can even toss the chicken, vegetables, fruit, and seasoning mix into a freezer bag together, label, date, and freeze for future meals.
It works perfectly for meal planning in advance and letting it marinate longer gives even more flavor!
Jamaican Jerk Chicken Recipe
The fusion of Jamaican island flavors here is most definitely set to impress. It's a meal you'll crave and want to make again and again!
Did You Enjoy Making This Recipe? Please rate this recipe with ⭐⭐⭐⭐⭐ or leave a comment. It helps other wonderful people connect with our recipes.
Yield: 4 servings
Jamaican Jerk Chicken Recipe
This Jamaican Jerk Chicken recipe is a great addition to any game-day party. The jerk sauce ensures its a party in your mouth. You can easily make it as hot as you can handle. The preparation is easy with just a few simple steps and less than 30 minutes to marinate.
Ingredients
1 lb boneless chicken breast, sliced
Half Fresh Pineapple, core removed & diced
1 Red Onion, rough chopped
Bell Pepper (your color choice), roughly chopped
3 sprigs Green Onions, sliced thin
1 cup orange juice, plus 1/4 cup
Olive Oil
Rice or Noodles (optional)
Jerk Seasoning Blend as Noted in post content
Instructions
Slice the chicken, season with a pinch of salt & pepper.
Add it to a bowl with 1 tablespoon Olive oil, a few pieces of the diced pineapple, half of the green onion and the orange juice.
Cover with plastic and refrigerate for 15 minutes.
Heat a grill pan or skillet over medium heat, drizzle the pan with olive oil. Add the chicken, saute for about 3 minutes.
Add the onions, peppers, and pineapple. Continue to saute for about 5 minutes. Reduce to low.
Add the seasonings and the 1/4 cup of orange juice. Mix well.
Cover and simmer until chicken is cooked through.
Eat as is or serve over rice. We have even added this to a soft tortilla!
Nutrition Information:
Yield:
4
Serving Size:
1
Amount Per Serving:
Calories:

358
Total Fat:

8g
Saturated Fat:

2g
Trans Fat:

0g
Unsaturated Fat:

5g
Cholesterol:

96mg
Sodium:

105mg
Carbohydrates:

30g
Fiber:

2g
Sugar:

6g
Protein:

39g
If you made this recipe, we would love to hear all about it. We get so excited when we learn that you have chosen to make one of our recipes featured on Inspiring Savings.
Please leave us a comment below.
More Chicken Recipes:
Creamy Chicken and Rice Soup Recipe
Chicken Fajita Rice Skillet Meal
Slow Cooker Buffalo Chicken Mac & Cheese
Cheesy Buffalo Chicken Pinwheels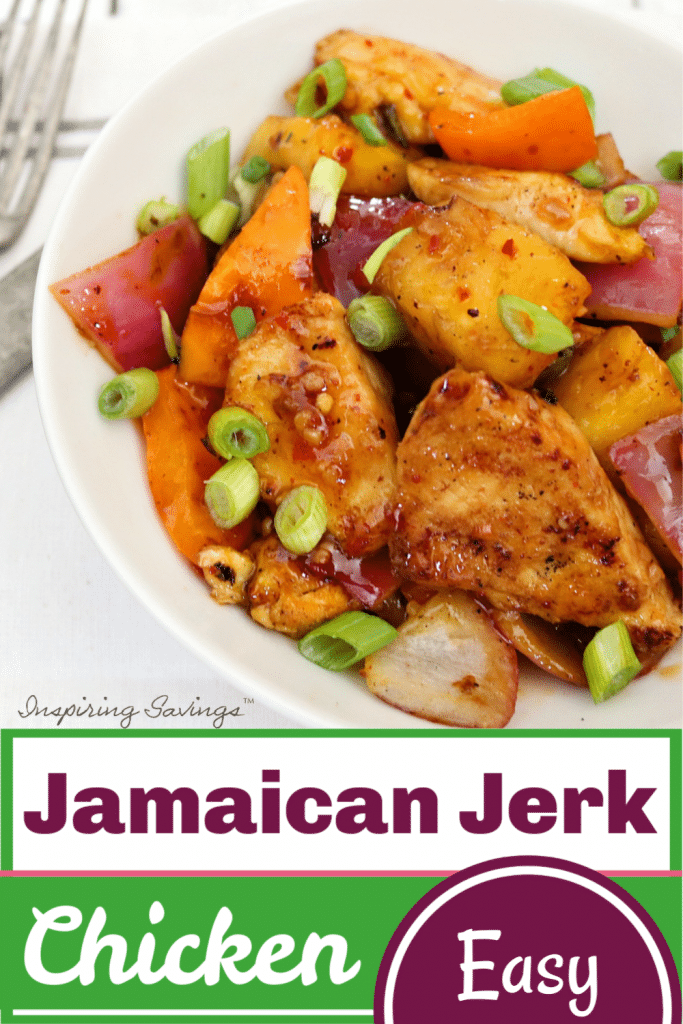 Eating out is easy, and it usually tastes delicious, but it's expensive. Making this meal at home will save you money. Add this recipe to your weekly meal plan.