Gluten Free Homemade Belgian Waffles
These Gluten-free homemade Belgian waffles are just like you would expect from regular waffles. They are soft and chewy on the inside and have an amazing flavor.
Gluten-Free Homemade Belgian Waffles
Waffles are a BIG STAPLE. Come Saturday my husband his batch cooking up waffles for the kids. HE IS THE BEST! You see, he makes enough that the kids can have that morning, freezes the rest for them to have during the week. I love waking up on Saturdays to the smell of homemade waffles.
Please do not be intimidated by this recipe. These waffles are surprisingly easy to make.
Waffles are a little different from pancakes, but they are still made with the same simple ingredients as pancakes, just in different amounts. I promise, once you make these homemade gluten-free waffles, you won't go back to box mixes like gluten-free Bisquick again.
Before we get started. I would like to introduce you to the Belgian Waffle Iron that we like to use. If you already don't own one.
Please do note that a full list of ingredients and printable version of this recipe is available below.
Gluten-Free Baking
When it comes to baking and cooking I am all about it. When my husband and I start to have issues with food that contained gluten we started the process of learning all about it. My kiddos however still continue to eat food with gluten.
In fact, we keep it that way. Eating a gluten-free diet can be expensive to reduce the cost I often only cook gluten-free for my husband and me. My kids are growing like weeds and my word, I feel like our son is constantly on the prowl for food.
To reduce our food budget, I started experimenting with flours and found it more cost effective to make a lot of our own food. As you know, pre-package ANYTHING costs much more for the sake of convenience. Yes, we often find great sales, and when we do I stock up. Our favorites include; Schar's gluten-free pizza dough, Blue Diamond Nut Thins (all the flavors) & Great Value Gluten-Free Brown Rice Spaghetti. Just to name a few.
Tips For Better Homemade Belgian Waffles
Allow your waffle maker to heat up before pouring on the batter.
Cook the waffles for around 5 minutes. Once there is no longer steam coming from the waffle maker, the waffles are ready to remove. Cooking any longer will make them much crispier, but can often dry them out too.
If you're not going to enjoy your waffle straight out of the waffle maker place, them on a parchment-lined baking sheet and put them in a preheated oven to 200°F and keep them warm.
These Gluten-Free Belgian Waffles can be frozen and reheated. Store in a freezer-safe bag or container for up to 3-4 months. We have made them a few ways, but the kids prefer to place them in the microwave for just a minute. The adults like to bake them in the oven on a baking sheet at 350 degrees for 10 minutes or until warm throughout.
Our family prefers to use Cup for Cup Gluten Free Flour. The most convenient way to bake. Messing with different flours and textures can get very discouraging and expensive when experimenting.
To Make These Waffles Dairy Free
If you are looking to create these waffles dairy-free as well. It is as simple as substituting regular cows milk for Almond Milk. And substituting real butter for Non-dairy version. We have tested out Smart Balance. This hands down is our favorite dairy-free spread, and it is reasonably priced. This fits the bill for my frugal minded self.
Gluten-Free Homemade Belgian Waffles Recipe
Fresh berries and delicious maple syrup will take these gluten-free waffles to a whole new level of "waffle heaven!" And you're welcome.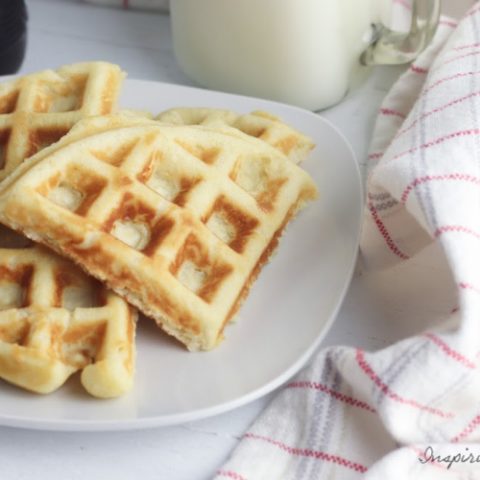 Gluten Free Homemade Belgian Waffles
Ingredients
2 cups gluten-free baking flour
¼ cup sugar
4 teaspoons baking soda
½ teaspoon salt
1 ½ cups milk
2 eggs
1 teaspoon vanilla extract
6 tablespoons butter, melted and cooled slightly
Non-stick cooking spray
Instructions
Preheat the waffle iron.
In a large bowl, whisk together the gluten-free baking flour, sugar, baking soda, and salt. Set aside.
In a separate bowl, beat together the milk and eggs. Add the vanilla extract and melted butter and mix to combine.
Make a well in the dry ingredients and add the wet ingredients to the bowl. Use a spoon to stir the ingredients together, being careful not to over mix. The batter will be lumpy.
When the waffle iron is heated, spray the top and bottom with nonstick cooking spray. Spread the batter over the bottom of the waffle iron, starting in the center and working your way out until the plate is 2/3 of the way covered.
Close the lid and cook the waffle for 5 to 7 minutes. The waffle is ready when the iron stops steaming.
Continue cooking until all the batter has been used.
Nutrition Information:
Yield:

5
Serving Size:

1
Amount Per Serving:
Calories:

411
Total Fat:

18g
Saturated Fat:

10g
Trans Fat:

1g
Unsaturated Fat:

6g
Cholesterol:

117mg
Sodium:

1396mg
Carbohydrates:

52g
Fiber:

1g
Sugar:

10g
Protein:

10g
Did you make this recipe for Gluten-Free Homemade Belgian Waffles? I would love to know. How did they turn out for you?
Other Great Gluten-Free Recipes
Delicious Organic Guacamole Recipe With Hard Boiled Eggs
Summertime Watermelon Salad Recipe
Brown Butter & Maple Sweet Potato Hasselback Recipe