Estimated reading time: 7 minutes
These melt and pour pencil soaps are perfect for your child's teacher. This homemade craft is a fun idea as a Christmas, teacher appreciation, or anytime gift. Made with your favorite essential oils.
Easy Melt & Pour Homemade Pencil Soaps Teacher Gift
Trying to think of a unique and fun gift for your favorite teacher? Grab your kids, because they are not going to want to miss out on this fun craft.
While it looks like high-end decorative pencil soaps from a fancy shop, it's surprisingly easy to make at home.
All you need to do is melt & pour into different soap layers using a pre-made soap base. Super Simple!!! This layering process gives you a beautiful handmade soap that makes for lovely gifts.
These soaps look and smell amazing and will make your kids go "WOW, I just made these!" I let my kids pick out a favorite essential oil that they know their teacher will like. My daughter picked Lavender and my son picked peppermint.
If you are looking to learn how to make homemade soap bars with an easy recipe, then this is the one for you! You can find soap-making procedures and ingredients below for this fun DIY craft project.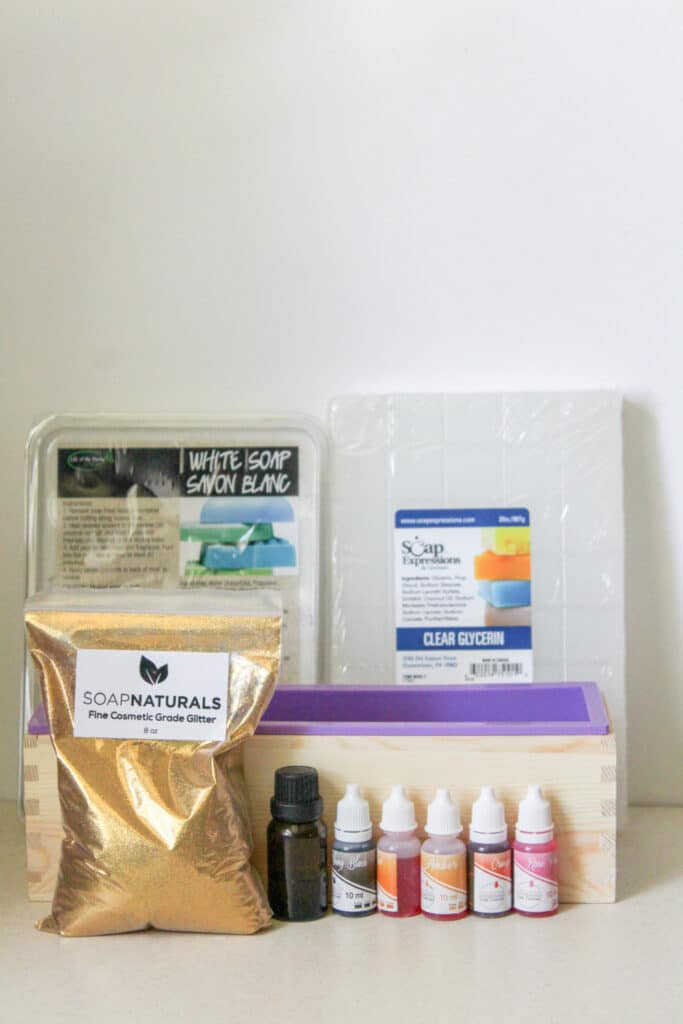 Homemade Pencil Soaps Supplies Needed:
1 package of white soap base
1 package of opaque soap base
Soap colorings – I use a package that has multiple colors. The colors I used were: black, amber, orange-red, rose pink, and sunset yellow
Essential oil – I used lavender, but feel free to use any scent (or no scent) you would like
Cosmetic grade glitter – gold
Soap Mold
Bowls
You can find most of these items at Michael's stores or I have the links for Amazon above.
How to Make Homemade Pencil Soap For Teachers Instructions:
Please Take Note: This is a super easy DIY, but does require some patience! This project focuses on the layers. Each layer must be semi-dried before the next can be poured. The layers for pencil soaps are as follows:
Bowl A: Opaque soap base, 2 rows, dyed black (pencil tip)
White soap base, 2 rows, few drops of amber to form a creamy white (sharpened part of the pencil)
Opaque soap base, 4 rows, a mix of sunset yellow and orange-red, gold glitter (pencil)
White soap base, 1 row, few drops of black to form a grey (metal before the eraser)
White soap base, 2 rows, rose pink (eraser)
First, gather your Soap Making Supplies.
The soap bases come in a grid of squares from the store. You will need to cut along the lines of rows to make melting the soap base easier.
Add the following amounts to each bowl:
– Bowl A: opaque soap base 2 rows
– Small Bowl B: white soap base 2 rows
– Bowl C: opaque soap base 4 rows
– Small Bowl D: white soap base 1 row
– Bowl E: white soap base 2 rows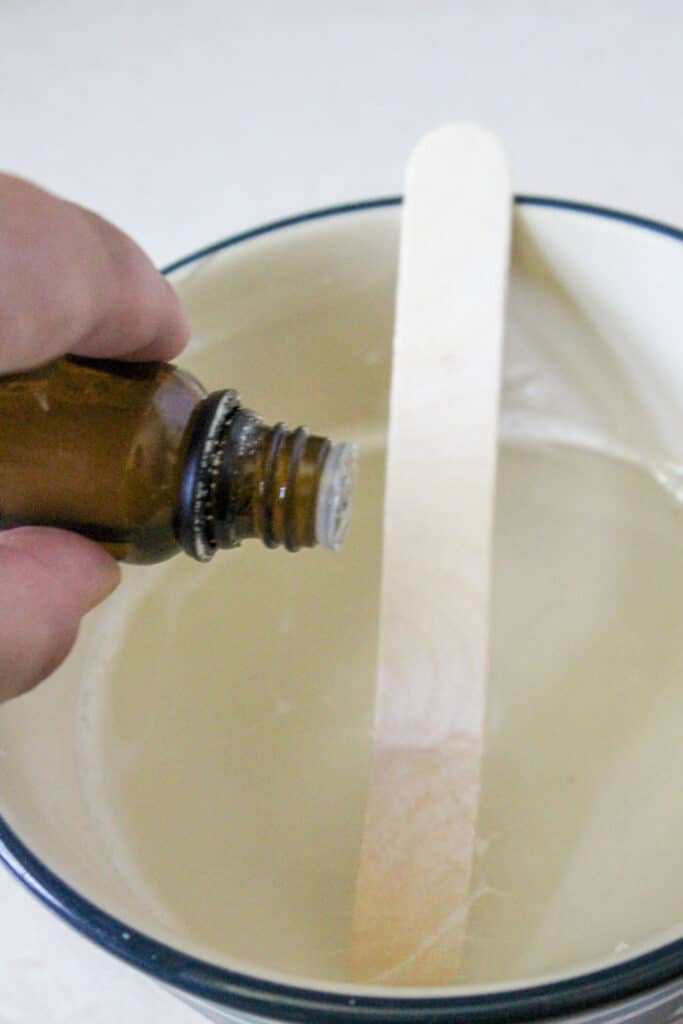 Heat your soap base in the micro in 30-second intervals until melted.
Stir between each interval. You want to work very quickly once the soap is melted, as it will harden quickly. If your soap does harden before you finish, simply put it in the microwave in 15-second intervals until melted again.
Carefully remove it from the microwave.
Add black coloring and stir. (I like to use craft sticks to stir. They are easy and you can toss them when you are done!) You are going for a graphite color. 
If you are adding essential oils, this is the step you will want to do so.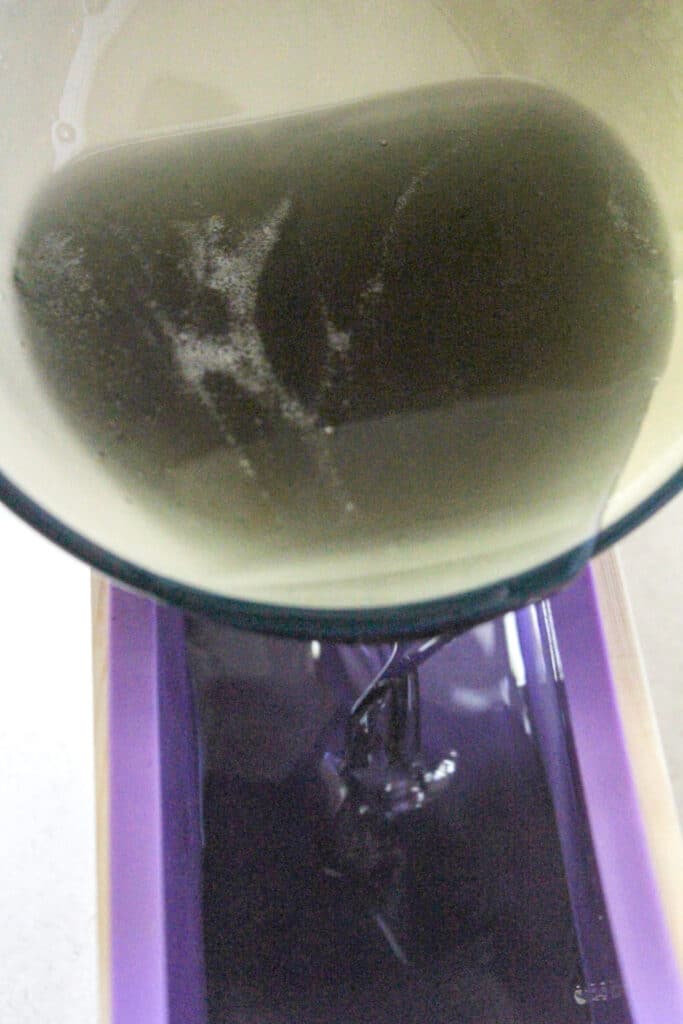 Once your color is made, pour it into your soap mold. 
Allow the soap to set (10-15 minutes). This will allow it enough time to set up and be ready to take on the next level.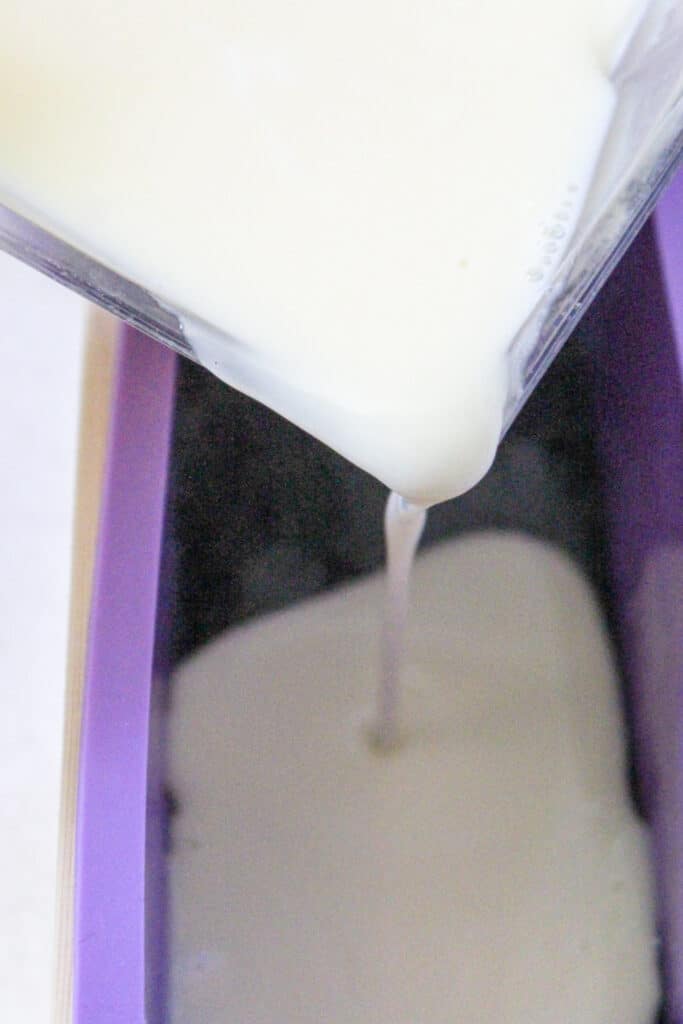 Now it is time to move on to bowl B. After this soap is melted, add a few drops of amber.
Then mixed with the white coloring to form a white cream color. Pour over the first layer of soap and allow to set.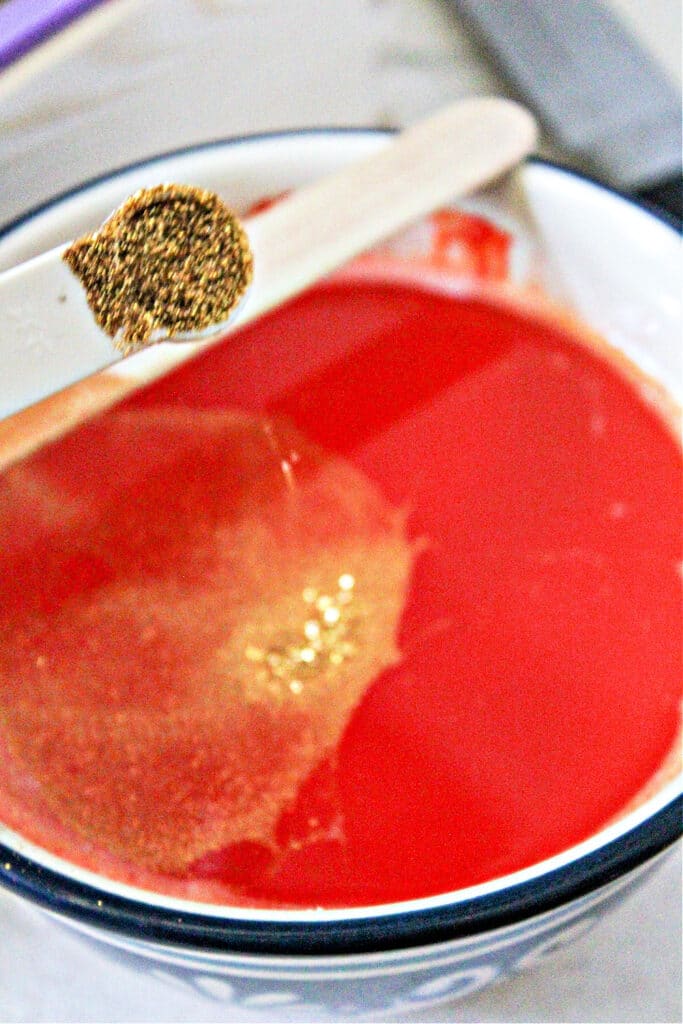 For the third layer, melt again in the microwave. Once melted, color to form a pencil orange color. Dust with commercial-grade cosmetic glitter.
Don't be shy with the glitter! – This is the fun part. Adding in the bling.
This is an opaque soap base so you will be able to see through it and the glitter will make this layer beautiful!
Pour over the other two layers and again let it sit.
Melt bowl D. For coloring, use a few drops of black. 
Mixed with the white soap base it will create a cool grey color perfect for the metal on the pencil. 
Pour over the orange layer and let it set.
Last layer! Melt bowl E in the microwave.
Color it pink for the eraser and pour it into the soap mold.  Using a knife, scrape off any air bubbles that rise to the top. Carefully let it sit out or put it in the refrigerator.
Be patient! 
(This is the hardest part of the whole thing!) It will need to be fully set.  If you take it out too early before it has hardened fully, the colors will bleed together.
Allow to fully cool for 2-3 hours.
Cut the soap into bars. 
Then cut each bar into thirds. On the bottom layer (the black layer) cut two angles to form a point.
Aren't they, darling?
Don't tell anyone how simple it was to make, and they will be suitably impressed with your crafting skills.
Other Great Homemade Teacher Gift Craft Ideas
Mickey Mouse Mason Jars – Perfect for Holding Treats, Pencils or Supplies
Easy Shower Jelly DIY Recipe – Get A Spa Experience At Home
Easiest Homemade Dishwasher Detergent Tablets With Essential Oils