Estimated reading time: 9 minutes
Camping is a great way to bond with your kids. This summer take a vacation to one of these Kid-Friendly Campgrounds in Upstate New York. They are fun for everyone!
Top Kid-Friendly Campgrounds in UpState New York
Are you looking for a great place to take the family camping this year?
If you really want the family to have a great time, it's always a good idea to make sure that the campgrounds are kid-friendly and that there are plenty of amenities for everyone in the family to enjoy.
That means making sure there are lots of fun things for the kids to do!
For many kids, that means swimming, games, sports or other activities that will keep them having fun even if camping isn't their usual favorite thing to do.
Camping is a frugal family getaway. The cost versus other types of vacations is much less. Savings is always a big plus in my book.
To help you on your search for a fun family camping spot, I have put together a list for you of the top kid-friendly campgrounds in UpState New York: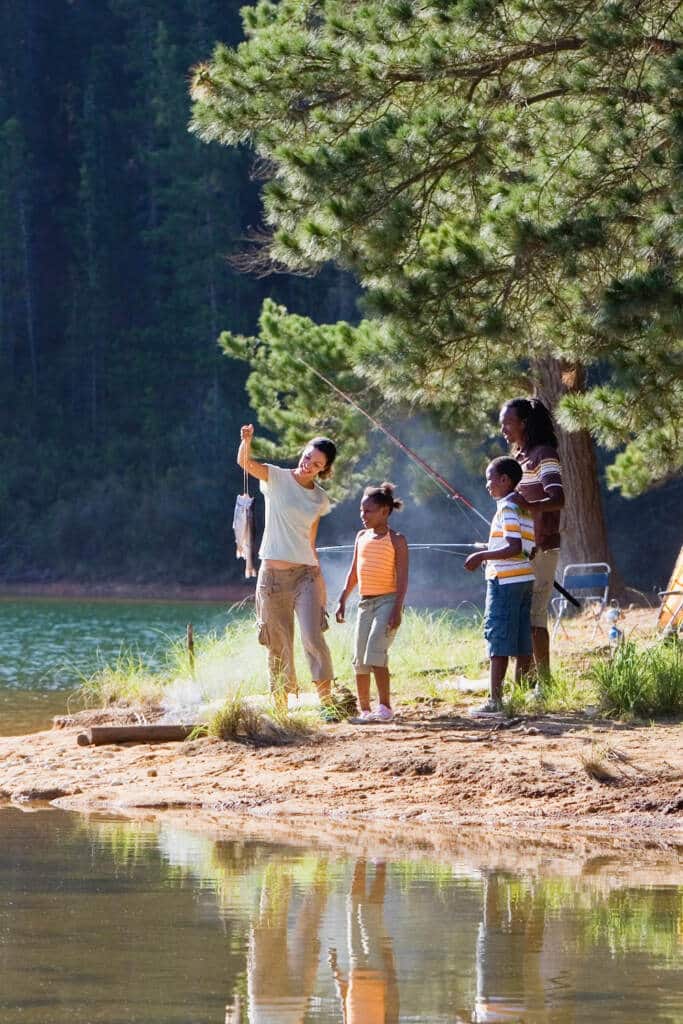 Let's get started exploring the best kid-friendly campsites for upstate New York
North Pole Resorts
If you like to do your camping in the Adirondacks, then North Pole Resorts are for you! This family ran resort is a camper's paradise located right on the edges of the Ausable River in the Adirondacks.
For all of you water recreation lovers, don't fret, in addition to being on the banks of the river, this campground is also located near Lake Placid.
Bring your tents, and RVs, or rent a cabin at this awesome resort. For the kids you will find two swimming pools, two playgrounds, mining experiences (both gemstones and fossils), biking, an arcade, mini golf, boat rentals, and more!
North Pole Resorts is located in Wilmington, New York.
The Woods at Bear Creek
If your family is more into glamping than they are camping, well, this is your spot!  The Woods at Bear Creek is an awesome glamping resort that will keep the entire family having a great time! 
Here you will find fully furnished glamping cabins complete with amenities (listed below), breakfast, toiletries as well as linens and towels. 
If you like more of a basic cabin feel you can skip the morning meal, towels, linens, and toiletries and save a little bit of money, or if you are a real adventurer, you can rent a tent site, or, if you prefer the comfort of home, they will even let you just come for the day (for a fee of course).
The amenities here include such kid-friendly fun as swimming (two pools, one indoor, one outdoor), a pool table, Satellite TV, a fire pit for roasting marshmallows, bike rentals, and more.
The Woods at Bear Creek is located in Franklinville, New York.
Rogers Rock Campground
Rogers Rock Campground was given the distinction of being one of the top 10 most unforgettable family campgrounds in the nation by ReserveAmerica.com.
This campground is located at the northernmost point of Lake George and is just 6 miles from Ticonderoga, which is home to many great tourist spots.
At the campground, the kids will love the swimming beach, bike trails, tubing, and sailing opportunities, a volleyball court and so much more! A fun and Kid-friendly campground. 
Rogers Rock Campground is located in Hague, New York.
1000 Islands/Association Island KOA
KOA is always a great place to camp if you have kids in tow. I don't know that I have ever seen a KOA campground that didn't at least have some fun kids' amenities. This one, though, has a lot!
Here you will find AN ENTIRE ISLAND that is a KOA. With over 300 sites, you know this one will be full of amenities, right?
Yep! Here you will find a Jump Pad, swimming pool, basketball court, pickleball courts, kayak, and pedal boat rentals, and more.
1000 Islands/Association Island KOA is located in Henderson, New York.

Cooperstown KOA
Okay, I know it's another KOA right away, but oh my goodness, this one is worth mentioning for sure!
The Cooperstown KOA has a location that is quite peaceful (it's surrounded by rural farms), however, just 20 minutes away you will find the Baseball Hall of Fame, the foothills of the Adirondacks, and all the many attractions within including historic Cooperstown and Dream Park.
You can find water recreation such as boating, tubing, or fishing at the nearby lakes, and the campground itself has great kid-friendly amenities such as a swimming pool, game room, hayrides, and even a bounce house!
Cooperstown KOA is located in Richfield Springs, New York.
Moose Hillock Camping Resorts
What is there not to say about Moose Hillock Camping Resorts? This campground features the Northeast's Largest Heated Swimming Pool.
Aloha Beach, as the pool is called, has some super cool water features, fountains, a Caribbean-themed beach entry, water slides, waterfalls, caves, LED lighting, surround sound and even a cafe next to the beach! 
That's not all, though. At Moose Hillock, you will also find volleyball and basketball courts, horseshoe pits, and an arcade.
And of course, there are hiking and biking paths, a playground, live entertainment twice a week, and more!
Moose Hillock Camping Resorts is located in Fort Ann, New York.
Adirondacks Jellystone Park
The Adirondacks Jellystone Park in 2018 received the honor of being named the Best Campground in the Adirondacks. If your family likes to visit the lake, don't worry, Adirondacks Jellystone is not far from several!
Schroon Lake, Lake George, and Lake Placid to be exact. Adirondacks Jellystone Park makes it easy to rent with friends or loved ones because they have buddy sites available!
Plus, you will find so many kid-friendly amenities like swimming pools, lake swimming, river tubing, and rafting.
You can also have a ball playing shuffleboard, basketball, and volleyball.
Also included are playgrounds, mining activities, a library, horseshoes, hayrides, and more!
Adirondacks Jellystone Park is located in North Hudson, New York.
Cheerful Valley Campground
Cheerful Valley Campground has more than just a fun name.
Here you will find lots of fun stuff for the kids to do! Like fun fishing, lawn games, basketball, swimming pool, and shuffleboard.
You will also find a camp store for those snack runs, and fire truck rides, keep your eyes peeled for an occasional DJ'd dance or ice cream social in the pavilion!
Cheerful Valley Campground is located in Phelps, New York.
Lake George Escape Camping Resort
Lake George Escape Camping Resort has been named one of the "10 Best Campgrounds for Families" by the Travel Channel, and for good reason!
The kids are going to love the swimming pools, water slides, wagon rides, mini-golf, arcade, tubing trips, laser tag, volleyball, and basketball.
Also expect to find pedal car rentals, s'mores at the fire, and more. You won't run out of fun things to do here!
Lake George Escape is located in Lake George, New York.
Lake Placid KOA
I couldn't do this list without adding the Lake Placid KOA to the list. Not only will the kids love the playground.
But you will want to check out the pool, mini-golf, and snack bar located right at the campground. The surrounding things to do are once in a lifetime type of stuff! 
Because Lake Placid was the home of both the 1932 and the 1980 Winter Olympics, you can head on over to the Olympic facilities (which are nearby)!
Here you can watch world-class athletes training or join in yourself and experience bobsledding or other great winter sporting events.
Lake Placid KOA is located in Wilmington, New York.
We would love to hear from you! Have you camped with your family at any of these campsites?
And are there any Upstate New York campgrounds would you add to this list?
Other Kid-Friendly Activities
Adventures from your Local Library – Free Activities & More
Why You Should Be Playing Pokémon GO With Your Kids
The Best No Spend Weekend Activities for Kids and Families
Budget-Friendly Things To Do In The Capital District – Over The Summer