Estimated reading time: 5 minutes
Price Chopper offers us the latest in technology with eCoupons. How do Price Chopper's AdvantEdge Card eCoupons (better known as Price Chopper Digital Coupons) work? Find out how to use Price Chopper eCoupons.

How Price Chopper's AdvantEdge Card eCoupons Work
Price Chopper/Market32offers us the latest in technology with digital eCoupons. In fact, we are slowly seeing paper coupons being replaced by digital means.
More and more people are learning that digital (or electronic) coupons save time and money.
If you aren't familiar with e-Coupons, they are paperless coupons; you load them directly onto your Price Chopper Advantage Card from the store's website or mobile app.
When the cashier swipes your card, the value of those coupons that can be applied to products in your order will automatically be deducted.
I often receive questions asking; "How does Price Chopper's eCoupons (also known as Price Chopper's Digital Coupons) work?". Today I am going to spend some time exploring their coupon policy a bit.
It is simple, really.
If you are already an AdvantEdge member, then you are using the latest in technology at your fingertips.
Let's get started – How to Clip Price Chopper eCoupons
First, you can upload the AdvantEdge eCoupons from here or download the Price Chopper app (google play or itunes).
Make sure you have your AdvantEdge card ready, you will have to enter it in when you sign up.
These are FREE to use and SUPER easy!
Once you have your coupons uploaded to your card, you are set to go. At check out, the cashier will scan your card and within a matter of seconds, the register will deduct the coupons that have been loaded onto your card. If you have your Price Chopper app handy, after checkout you will see them removed.
Please Note: It seems as though you can not immediately add your ecoupons to your card and expect them to come off. I now add them to my card, 24 hours prior to shopping.
However, just like paper manufacture coupons, ecoupons also have expiration dates.
When an unused eCoupon expires, it will drop from "your clipped" coupons on your account. Just be mindful that you use your coupon before they expire.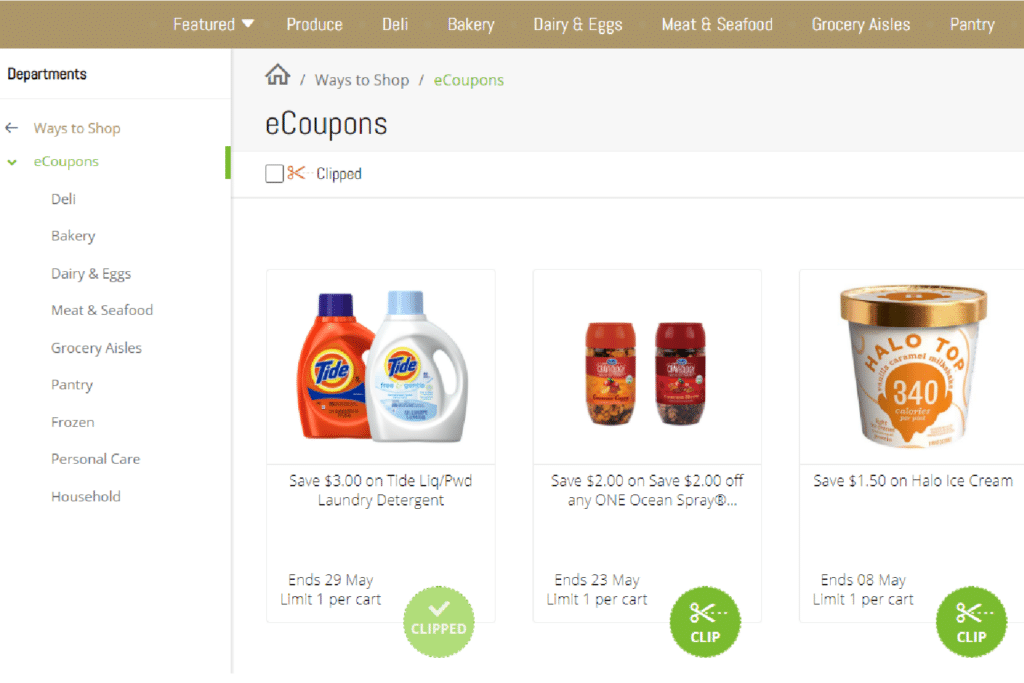 Loading Your Price Chopper eCoupons
To load these e-coupons to your AdvantEdge card, all you have to do is browse through the eCoupon selection and click "Save" on the coupons you want.
You cannot remove eCoupons from your account. These digital store coupons will automatically be removed once they expire if they're not redeemed.
It is important to remember that Price Chopper ecoupons are a limit of 1.
This means that only one coupon will be available to purchase one item at the discounted price. If you are purchasing more than one of the same items, only one coupon will be applied.
The Pros and Cons of Using eCoupons
Digital coupons are convenient. And make it easy to save extra money at supermarkets. But there are some quirks that are sometimes confusing to shoppers.
The Pros
They are eco-friendly. Less paper equals less waste. It also saves customers the extra cost of printing coupons.
They are easy to use.
You don't need to worry about bringing extra bulk to the store.
They are easy to get savings. No need to purchase a newspaper to get coupon inserts.
Cons
You typically can only buy 1 of any item to receive your discount.
If your store doubles coupons, they exclude digital discounts from doubling. They will only deduct at face value or the amount noted.
You may not find coupons for items you normally would buy.
Frequently Asked Questions About Price Chopper's eCoupons
How do I load my eCoupons to my AdvantEdge Card?
You will first need to login into your Price Chopper account or set one up here. Once you have set up your account, you are free to click away. Head on over to the coupons section. At this time, they will ask you to link your current card to your new registration. Once Linked you are ready to load your coupons to your card by clicking the save button.
Does AdvantEdge eCoupon double?
Unfortunately, the answer is no. The discount these coupons provide is the value mentioned. As couponers, say it is the intended for face value use only.
Can I combine a manufacturer coupon with an AdvantEdge eCoupon?
First, let's explore the two types of ecoupons you will find on the Price Chopper Website or app.
Manufacturer Coupons – These coupons can not be combined with other manufacturer coupons and are they are supplied to Price Chopper by the manufacture themselves.

Store Coupons – These are in fact "True" Price Chopper Store Coupons and can be combined with ONE paper manufacturer coupon.
I hope that this article helps you to understand How Price Chopper's AdvantEdge Card eCoupons Work. Happy Savings my friends.
Have any more questions let us know. We are here to help.
Other Couponing Resources
How to Send Expired Coupons to Over Seas Military
Must-Have Money Savings Smart Phone Apps
Natural & Organic Coupon Round-Up
Price Chopper Delivers Your Groceries Through Instacart – Saving Tips
Latest Posts on Inspiring Savings