Estimated reading time: 9 minutes
These tips are great and will save you so much money if you're planning a party soon! Click through to find out how to plan effectively and throw a budget-friendly party that people won't know, didn't cost a fortune to host! These 10 frugal tips will help you save money and give you ideas on how to cut costs.
Brilliant Ways to Plan A Party on A Budget
Let's P-A-R-T-Y!!!
But let's do it on a budget and do it well.
No matter the season, summer, winter, or fall, there is always a reason to celebrate.
Hosting a party can easily become expensive, especially if you're not paying close attention while you shop and prepare.
Throwing a Budget-Friendly Party is easier than you think. Excellent planning and organization ahead of time will help set the mood and the cost for your summertime event.
First and foremost, it is important to set up a plan. Direct your planning based on your set budget and faithfully stick to it. Don't forget to include your food ideas, place, and theme of your party. Once this BIG step is accomplished, everything else will fall into place.
Let's get started on a few of my favorite ways to help you stay on budget for that special party. These are the secret tips for saving more money for your next party.
Have the Party at Home or in Your Backyard
Many venues, even outside state or local parks, can charge a fee for using them.
If you have a great backyard space, use it and if you have room in your home set it up for a party. Not many people use their homes anymore for parties. Bring back the age-old planning techniques.
People love to enjoy your home and spend time with you and your family.
If you have a little wiggle room in your budget, you can hire someone to help in areas of after-party cleanup to bartending.
Keep Your Guest List Small
We all know party planning is all in the details, but not as much as they really do.
You may think that by having a smaller guest list, you will be missing out on all the fun, but that certainly isn't true.
Having a more intimate guest list will let you spend quality time with everyone invited. Pinterest-worthy decorations and a stunning dessert display won't save a party if the guests aren't having fun. You will.
By keeping your list small, you can be a brilliant hostess.
Let Your Guests Chip in and Help
No one wants to show up to a party empty-handed, and regardless of what you tell them, your guests will always want to bring something.
So take up those offers. Asking your guests makes them feel as if they are helping you out.
Which makes us all feel good. Suggest to your guests to bring a small appetizer, dessert, or beverage of choice.
Whatever they bring will be a big help to you financially and reduce some of your stress. And don't worry, your guests won't mind a bit.
Make Your Own Food, Desserts, or Party Cake
The cost of purchasing food or having food catered is crazy expensive. Start slow and make food over the week before your party.
You can even freeze main dishes, such as a 3 bean casserole, and defrost them the day before.
My favorite is making sugary sweets.
I enjoy baking and decorating cakes, but not all of us do. Making your own cake or dessert, instead of buying one, will save you a significant amount of money.  For DIY tips, tricks & ideas, visit BettyCrocker.com, Disney Family, or Kraft.com. 
They have some great ideas for simple and easy party desserts.
Pictured above is my very own Mary Poppins Spoonful of Sugar Birthday Party Cake Pops recipe. Such a fun and creative way to serve cake pops.
Use Coupons & Shop the Sales Ads
Discounts on party food and supplies come in unique ways.
If you follow my blog, you already know that I am a faithful user of coupons. Search out those deals and stack them with coupons, increasing your savings.
Purchasing non-perishable items ahead of time by using coupons will help save lots of money.
Any chance you can use a coupon or shop the sales ad, you are saving yourself lots of money.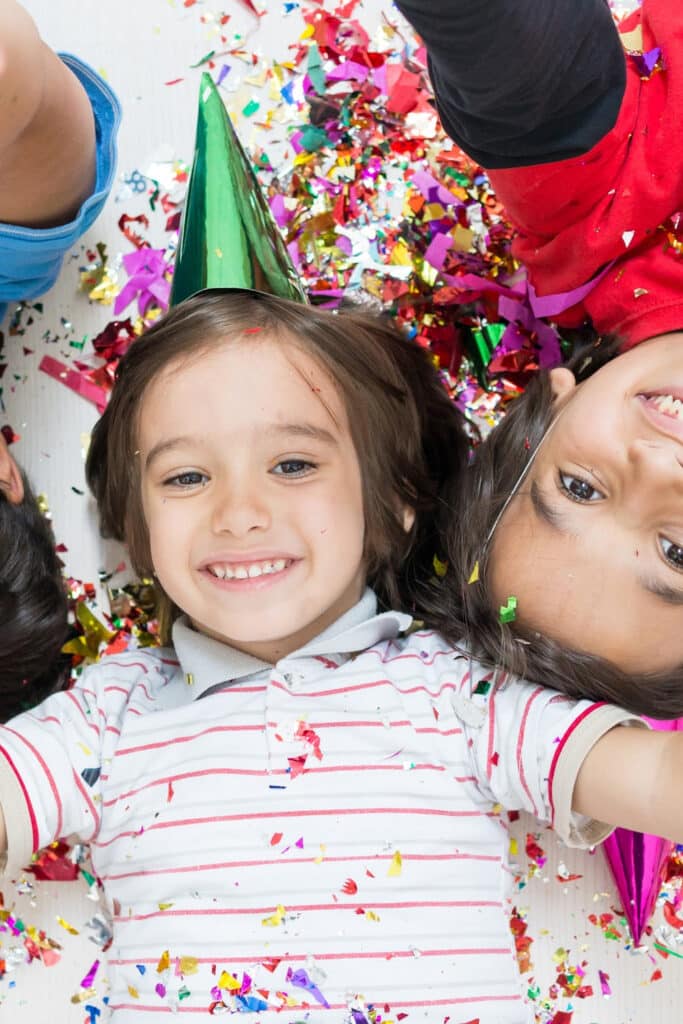 Make Your Own Party Invites
Let your computer work for you.
Party invitations that are super cute do not need to be expensive or store-bought, for that matter. With a little time and effort can print your own designs.  
It is amazing to see how many FREE party invitation downloads for printing are available.
Here are a few of my favorite sites; HGTV.com, Catchmyparty.com, or BNute.com,
Another option for invitations
Create e-invites.
They are simple, easy, and inexpensive. They are sent by e-mail. Also, if you are a Facebook user think "create an event" and invite friends and family who use Facebook.
The downside to Facebook is you can only invite those who are currently on Facebook (Hard to believe that not everyone is using it by now).
On the plus side, you can communicate with your guests through your created event.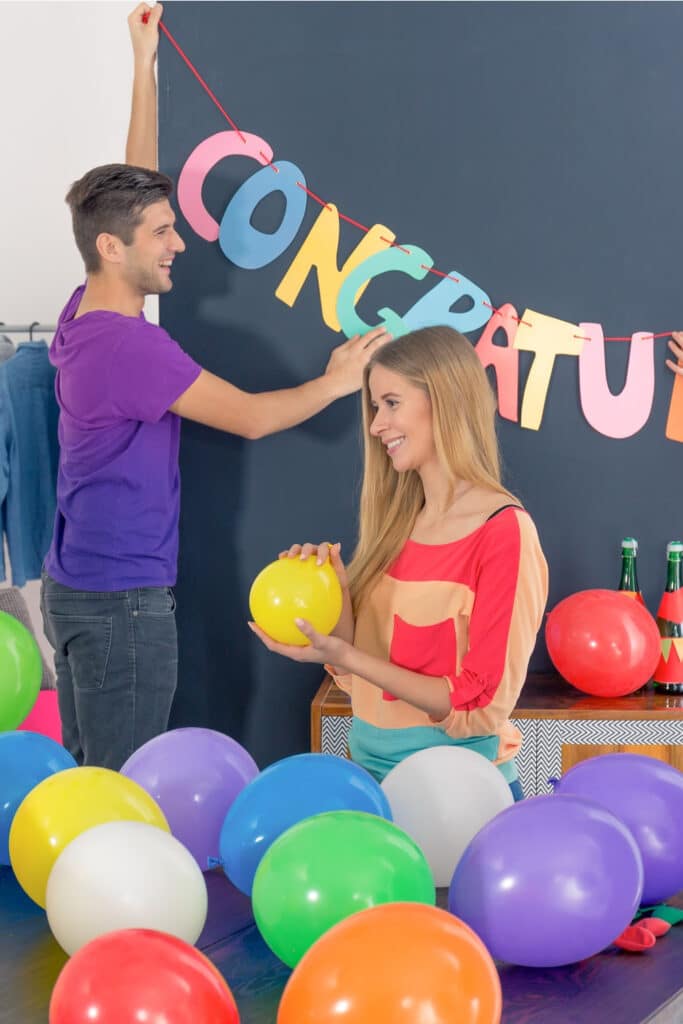 Decorate With What You Have – Get Crafty
Add some lighting to your party by restringing your packed away Christmas lights or use mason jars filled with tea light candles.
Search through your sheets and use them as pretty table clothes or Upcycle old t-shirts into party streamers (cut into triangles and tie them together).
There are so many creative ideas to use the items we already have in your home.
 Just open up those closets and think of the possibilities. Your party budget dollars will stretch much further—and make a bigger impact—if you forgo commercial decorations in favor of ones that are handmade.
Find Budget Decor at Your Local Dollar Store
You can find tons of items at your local dollar store that are perfect for summer entertaining.
You can pick up paper plates, plastic cups, utensils, brightly colored tablecloths, and napkins. Plus, you can find things like bubbles, bouncing balls, or coloring books to keep your younger guests occupied and happy.
Stay away from specialty party supply stores (unless you are looking for something specific), you will definitely pay more.
Before you head out to the Dollar Store, make sure you read this post. 10 Dollar Tree Deals To Avoid – That Are Not Worth The Money
Compare, Compare, Compare
Just don't settle on items because they may be on sale.
Check other stores out first. You may even want to consider shopping on the Internet for party supplies.  
I have a few websites I check out frequently; Oriental Trading Company and Amazon.
Fun is FREE – Games & Activities
Laughing, communicating, and spending quality time with one another are priceless as well as FREE!!
So enjoy your time together. Looking for some more creative birthday party ideas, hop on over to our Pinterest board that specializes in unique ways to throw a party.
No matter the age of your guest, looking up DIY games, crafts, or activities that go along with your theme is going to help you save money on your party! And Pinterest is really the best place to look.
We hope that these tips will help you to Plan A Party on A Budget.
Other Frugal Budgeting Articles
Fun Birthday Party Game – Painted Rock Outdoor Tic Tac Toe Set
Birthday Freebies – Get Some Surprises on Your Special day