Estimated reading time: 6 minutes
Looking for Valentine's Craft Ideas? These Easy Valentine's Day Love Bugs are a perfect non-candy alternative for your little love bugs to make this Valentine's Day! Scroll down for the full tutorial.
Adorable Valentine's Day Love Bug Craft For Kids
Love is in the air. I mean adorable-looking Love bugs that are. With Valentine's Day fast approaching, your kids will be itching for hands-on activities.
This Valentine's Day Love Bug Craft will make a great activity for school parties, play dates, or any day leading up to Valentine's Day! These love bugs are super simple to make. Which is always a BIG plus for this MAMA.
It seems that my kids are always in a hurry to get set up to make any craft. I know I am not the only one with kids who love craft time. Keeping small hands busy for some time is a bonus.
Remember those cute little pompom art projects you used to make as a kid for Valentine's day? You know the ones… pompom bodies, googly eyes, and little antenna ears. Well, that childhood favorite is now going to be passed down to your children.
Valentine's Day is a great time to teach your kids about the many forms of love and help with fine motor skills. The word LOVE, after all, will be heard throughout the month of February. We LOVE pizza; we LOVE our children, And we LOVE God, Plus we LOVE the new dress our friend is wearing.
The word Love gets used a lot. There are many types of love you can read in this article about each form. But in the meantime, we LOVE our Love Bugs……
Supplies Needed For Love Bugs:
Keep in mind that you may already have some of these items in your current craft supplies. You can use craft glue, but the dry time is much too long.
How to Make Your Adorable Love Bugs – Great Any Skill Level
First, cut your pipe cleaners to about 3"-4" long. You will need two for each bug, so keep that in mind when cutting. Curl the ends of the pipe cleaners (these will be your antennae), and set them aside.
In addition, you will need one heart shape piece of foam, one pom-pom, two pipe cleaner pieces, and two (or more, they're bugs!) googly eyes for each lovebug!
Now you can put a spot of hot glue on the ends of the antennae and press it into the pom-pom. With the use of hot glue, you may need to have those little hands-off unless you have older kids.
Next, glue on the googly eyes. Then, finally, to finish them off, glue them to the heart, with the pointy part of the heart facing backward. Now just mix and match colors to make it fun!
You can always use glue dots, instead of hot glue if you want the kids to be able to help you safely! They will work just as well and are easy peasy to use.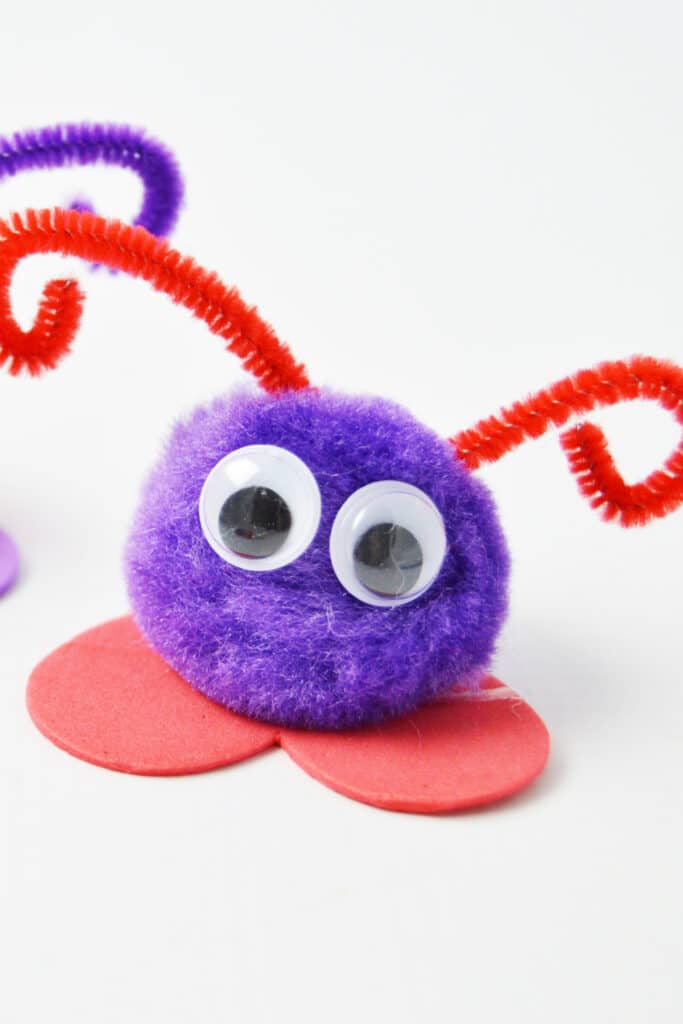 And there you have it…. your love bug craft project is complete.
Now you can pair your Love Bugs with a cute note, or piece of candy to make an adorable Valentine's gift!
My daughter loves making these to give to people. She insists on having people keep them in their pockets, so if they ever felt sad or lonely, they could reach into their pockets and squeeze the love bug to feel loved!
Happy Valentine's Day, my friends! – Enjoy
More adorable Valentine's Day Crafts from other Creatives
Valentine's Day Paper Wreath – From The Spruce Crafts
Valentine Treats Gift Wrap – From Honey & Lime
Valentine's Day Gnome Craft – From Simple Everyday Mom
For Some Extra Valentine's Day Love Bug Fun
Fun is what Valentine's Day is all about. It is actually the best part. And kids love to be silly, so let us allow them to be their silly selves. If you want to try a little something different, you can have your kids go one step further. Make those love bugs sill by positioning the googly eyes in different spots.
What a fun Valentine's day craft! Right? Perfect for young children and older children. you don't need a rainy day to happen to complete this wonderful valentine's day craft.
If you made this fun craft, we would love to hear all about it. We get so excited when we learn that you have chosen to make one of our crafts featured on Inspiring Savings.
Please leave us a comment below.
Other Valentine's Day Themed Ideas – Also These Are Fun Valentine's Day Gifts
Adorable Valentine's Day Paper Chains
Growing Valentines Day Heart Crystals
Semi-Homemade: Strawberry Whoopie Pies with Strawberry Filling
Printable Valentine's Day Card – "Kool" Friend – Kool-Aid Tag
Making this craft project at home is not only fun, but can save you money. No need to go out and purchase a Love Bug Craft kit when you can gather your supplies from home and make it yourself.