Estimated reading time: 5 minutes
Decorated Easter Sugar Cookies are always a hit at Easter! These sugar cookies are a delicious treat and perfect for Easter. Turn your plain sugar cookies into a fun Robin Eggs Nest with colored grass.
Easy Decorated Easter Sugar Cookies
I love making these decorated Easter Sugar cookies each year! The kids love helping me make them, and of course, they are tons of fun to eat.
They are a great semi-homemade treat that everyone loves to have, and are ideal for potlucks, parties, and special Easter events!
You certainly don't have to be Picasso to create a masterpiece.
A sweet treat for dessert at Easter or a spring party. These cookies couldn't be easier, starting with Pillsbury refrigerated sugar cookies and purchased frosting.
I used these pretty little Robin Eggs Candy to brighten up our cookies. It's a ton of fun to make Easter cookies like these that our kids can help make!
To make these, you'll need a few ingredients.
I use store-bought ready-made cookie dough to make this convenient and easy, but you can make your own homemade dough if you prefer.
For these Easter cookies, any sugar cookie dough will work.
Decorated Easter Sugar Cookies Ingredients:
Please note that a full list of ingredients and a printable recipe available below. Just scroll down. You will need the following ingredients to make these cute Easter sugar cookies:
Sugar cookie dough
Vanilla Icing
Mini Robbin Eggs
Unsweetened coconut flakes
How to Make These Decorated Easter Sugar Cookies
Remove your sugar cookie dough from the package and cut it into uniform circles. You will be cutting out 16 circles. Then bake your cookies per packaging instructions.
Let the cookies cool for a couple of minutes on the baking sheet, then transfer them to a wire cooling rack to cool completely.
Once cooled to room temp, you are ready to begin to decorate.
Grab your kids some fun aprons and set up an assembly line at your table or kitchen counter for them to work on.
Start by adding a few drops of food coloring to your ready-made frosting.  
Kitchen Tip
If using multiple colors. I would suggest dividing it into smaller portions so that you can mix a few different colors. Note that when you are not using the icing, cover the bowl with a wet towel to prevent it from drying out.
Coloring your grass
We are making these cookies look like they have grass and Easter eggs on top of them, so green is my choice for frosting. You can use plain white or have fun creating unique colors.
Do whatever you like (I used green to match the grass). Allow the kids to mix. This will be fun for them. Just be careful to make sure the food coloring doesn't dye their hands or clothes!
They may need smocks and gloves for a little protection.
After you mix up your icing, you'll want to add a few drops of food coloring to some of your unsweetened coconut flakes.
I recommend putting about a cup of coconut into a plastic baggie, adding 3-4 drops of food coloring to it, sealing it, and letting your kids shake it until the coconut is dyed green for grass on these Easter cookies.
Next, you will simply put some icing on your cooled cookies and sprinkle them with the colored coconut flakes.
Turning plain sugar cookies into a fun nest to hold your candy-robin eggs.
Add a few of your Mini Robins egg candies to the top of each Easter sugar cookie so they look like patches of grass with eggs hidden!  
What a fun and super easy Easter cookies idea for your kids to help you create!
Decorated Easter Sugar Cookies Recipe
Sugar cookies are basically my go-to cookie for any holiday. And one of my favorite holidays for making and decorating sugar cookies is Easter.
Yield: 16 Cookies
Kid Friendly Easter Sugar Cookies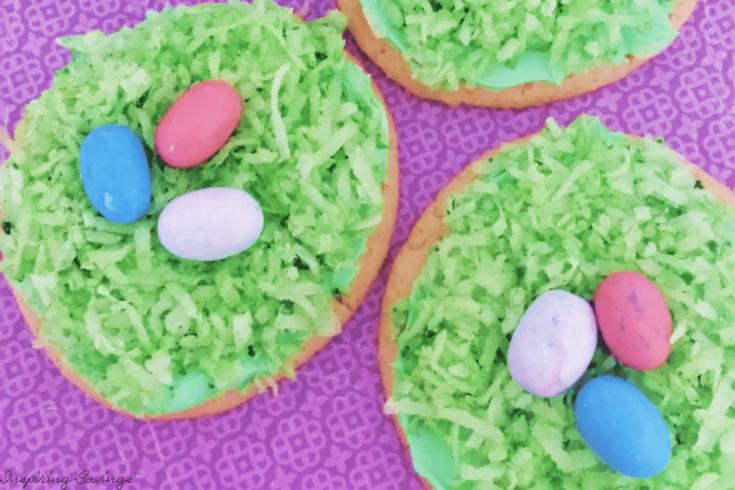 Decorated Easter Sugar Cookies are always a hit at Easter! These sugar cookies are a delicious treat and perfect for Easter. Turn your plan sugar cookies into a fun Robin Eggs Nest with colored grass.
Ingredients
1 tube sugar cookies
1 tub of whipped white frosting
Green food coloring
1 bag of shredded coconut
1 bag robin egg candy
Instructions
Cook sugar cookies as directed on package.
Cool cookies on wire rack until they are cool enough that the frosting won't melt once on the cookie.
Color the frosting and the coconut with a few drops of food coloring.
Frost each of the sugar cookies.
Once frosted add the greed shredded coconut on top of the frosting.
Now place 3 of the candy robin eggs in the middle of the cookie.
Enjoy!
Nutrition Information:
Yield:
16
Serving Size:
1
Amount Per Serving:
Calories:

25
Total Fat:

1g
Saturated Fat:

0g
Trans Fat:

0g
Unsaturated Fat:

1g
Cholesterol:

12mg
Sodium:

16mg
Carbohydrates:

3g
Fiber:

0g
Sugar:

2g
Protein:

1g
If you made this recipe, we would love to hear all about it. We get so excited when we learn that you have chosen to make one of our recipes featured on Inspiring Savings.
Please leave us a comment below.
More Cookie Recipes:
Carrot Cake Cookies With Cream Cheese Frosting
Salty Sweet Oatmeal Pretzel Cookies
Easy To Make Everybody Love Elmo Decorated Cookies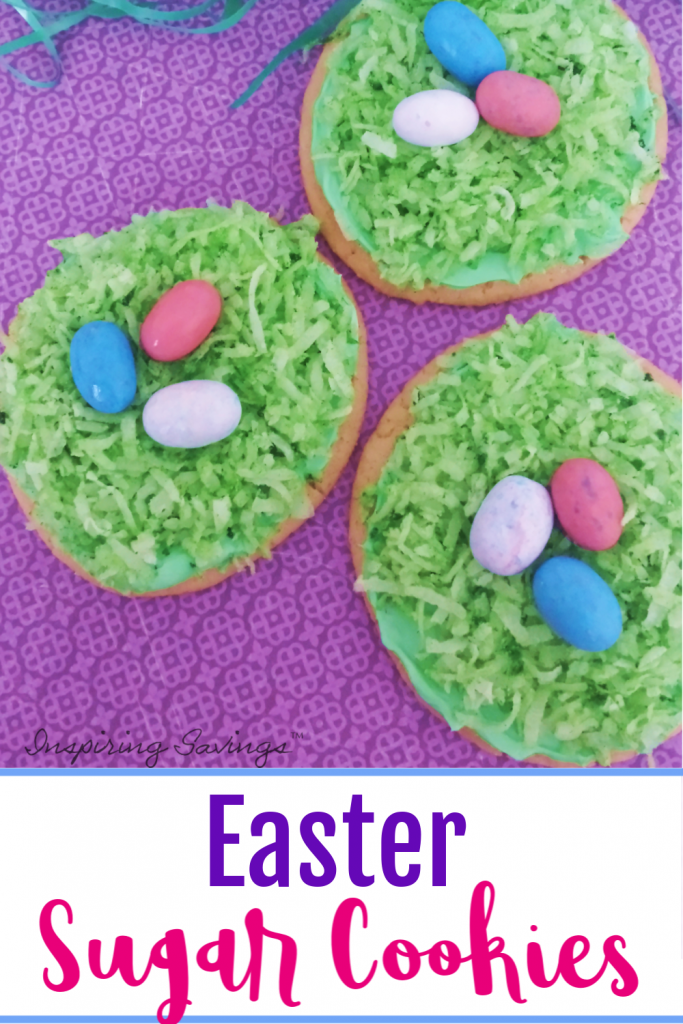 Eating out is easy, and it usually tastes delicious, but it's expensive. Making this meal at home will save you money. Add this recipe to your weekly meal plan.