Estimated reading time: 6 minutes
Make pizza delicious again. The hardest part of making your own homemade pizza is making the crust. Planning ahead does play a huge part in making the perfect dough. See this recipe and make your own Homemade Pizza Dough.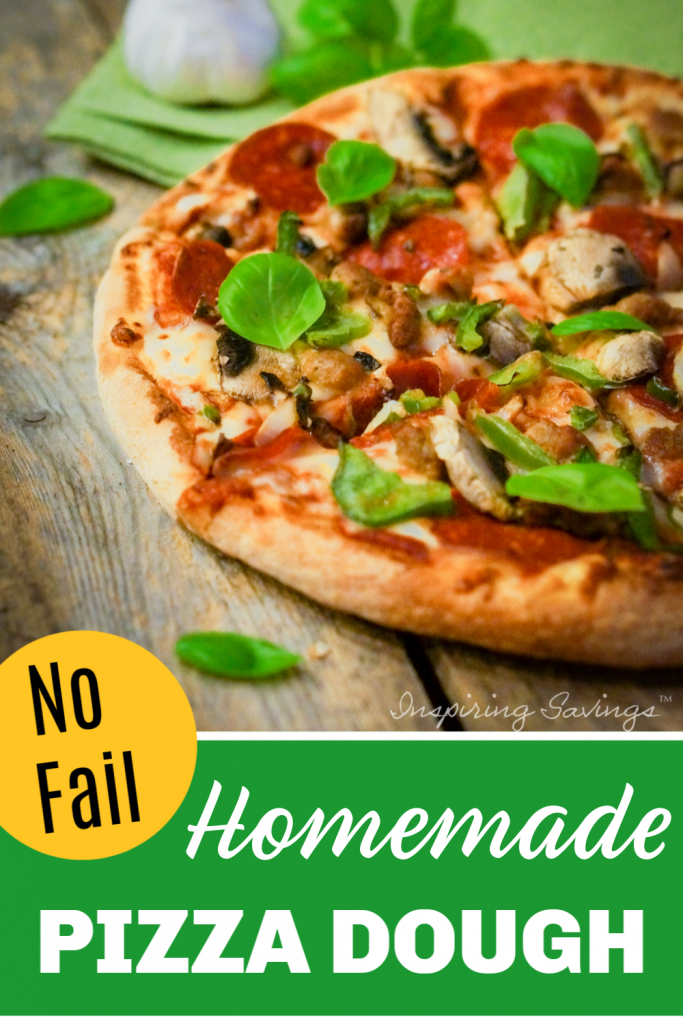 Homemade Pizza Dough
Please note that the printable recipe is listed below.
The hardest part of making your own homemade pizza is making the crust. Planning ahead does play a huge part in making the perfect dough.
One of my favorite homemade pizza dough recipes requires the dough to rise for an hour.
But I have to admit, I am sometimes in a hurry to make dinner and can't wait an hour for the dough to rise.
One way to make your own shortcut is to double your pizza dough recipe.
Once you're ready to top your pizza dough, take the extra, divide, and freeze. This way you will have extra dough available and ready.
The day you plan to use the dough, transfer it from the freezer to the fridge in the morning to thaw for dinner in the evening.
Or use my super quick method (you can tell I do this often): to unfreeze I place in a warm bath of water and within 20-25 minutes you are ready to start.
The rise time for dough after defrosting will still be about an hour once the pizza dough is fully defrosted.
If you have leftover pizza dough, here are some fun recipes you can create with the extras.
Is Homemade Pizza Dough Cheaper Than Store Purchased?
Can a homemade pizza beat the $4.99 Boboli 12-Inch crust or Pillsbury refrigerated dough priced on sale for $2.99?
My first quick answer is…"hmmm, I don't know". So I thought I would break the cost down in my very precise mathematical mode of operation and calculate it out.
Here goes:
How much does it cost to make a pizza?
Yeast
This cost will really depend on if you are purchasing the bulk jars or the 3 packs of yeast.
We make pizza often and let us not forget all the extra baked goods in our home, so bulk is how we purchase.
A 4-ounce store-brand jar is often on sale for $3.49. Two teaspoons of yeast are equivalent to 0.25 ounces. That means there are 16 servings in a jar. After doing the math, two teaspoons cost just $0.42.
Flour
I generally buy my flour when it's on sale. Typically, a 5 lb bag of flour when on sale costs around $2.49. Generally speaking, there are typically 17 cups of flour in a 5 lb bag.
That means each cup costs $0.15, and the two cups necessary for the pizza dough add up to $0.30.
Olive Oil
My bottle of Olive Oil costs around $3.50 for 8 oz. This means that 2 tablespoons cost $0.21.
Salt
The teaspoon that this recipe calls for costs a little less than $0.007. For the basis of calculation, let's just round this cost up to the nearest penny.
Sugar
A 4-pound bag of sugar costs $1.49. There are 9 cups of sugar in a 4-pound bag.
That is $0.16 per cup. We a literally only using 2 teaspoons of sugar.
This is so hard to measure based on cost. But in reality, it may cost us just $0.01.
Water
I am going to say that the tap water from our home costs next to nothing. But for the basis of calculations and to give it a cost, let us call it a penny. $0.01
Total Cost for Homemade Pizza Dough (Drum Roll Please), Just $1.23
That price is just screaming BARGAIN. On that note, here is a very simple pizza dough recipe that our family loves.
And remember homemade just tastes better. No extra ingredients that you can not pronounce.
Tips For Making a Better Pizza
Use a Pizza Stone or Pizza Screen Pan. (I own both and prefer the screen, we like a crispy pizza) – if using a pizza stone pre-heat stone as well prior to placing dough on it to cook. How to transfer your already top pizza to a pre-heat stone. I like the parchment paper method. Roll your dough on a floured piece of parchment paper. Make your pizza. Once topped, slide your pizza using the parchment paper onto the preheated stone and bake. Leave the paper intact.
Using a stand mixer with a dough blade on will help mix and kneed your pizza dough.
Preheat your oven to 450 degrees. (I have heard of others going even higher), then bake for 10 – 15 minutes.
Always place your pan in the center of the oven rack.
Let your pizza rest a few minutes after baking and before cutting. It makes cutting the pizza a lot easier.
Homemade Pizza Dough Recipe
This easy pizza dough recipe is great for beginners and produces a soft homemade pizza crust. This homemade pizza crust has it all: soft & chewy with a delicious crisp and AWESOME flavor.
Did You Enjoy Making This Recipe? Please rate this recipe with ⭐⭐⭐⭐⭐ or leave a comment. It helps other wonderful people connect with our recipes.
Yield: 1 Pizza Dough Crust
Homemade Pizza Dough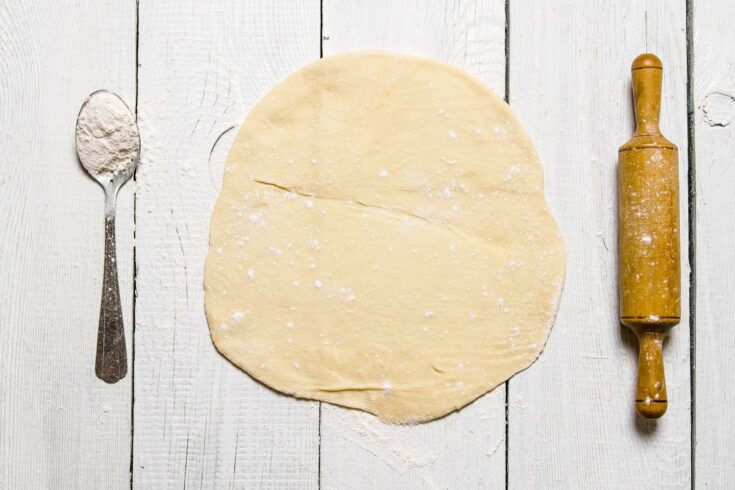 The hardest part of making your own homemade pizza is making the crust. Planning ahead does play a huge part in making the perfect dough. See this recipe and make your own Homemade Pizza Dough
Total Time
1 hour
15 minutes
Ingredients
1 Package active yeast (2 tsp)
1 Cup Warm Water
2 Cups Bread Flour
2 TBSP Olive Oil
1 TSP Salt
2 TSP Sugar
Instructions
In a small bowl dissolve yeast in warm water, and let stand until creamy (10 minutes)
In a large bowl combine 2 cups flour, olive oil, salt & sugar.
Combine wet mixture with dry. Mix with a dough hook until the dough becomes stiff.
Mold the dough into a ball, and place it in a warm place to rise for 1 hour.
Once the dough has doubled in size you are ready to make your pizza
Notes
Please note that you can substitute bread flour for all-purpose without seeing a major difference in the dough. I have tested substitute myself.
Nutrition Information:
Yield:
8
Serving Size:
1/8 Pizza
Amount Per Serving:
Calories:

159
Total Fat:

4g
Saturated Fat:

1g
Trans Fat:

0g
Unsaturated Fat:

3g
Cholesterol:

0mg
Sodium:

293mg
Carbohydrates:

26g
Fiber:

1g
Sugar:

1g
Protein:

4g
If you made this recipe, we would love to hear all about it. We get so excited when we learn that you have chosen to make one of our recipes featured on Inspiring Savings.
Please leave us a comment below.
Other Homemade Frugal Recipe Ideas
Make Your Own Homemade Dry Onion Soup Mix
Delicious Homemade Dinner Rolls
Homemade Breakfast Pancake Syrup – Made from Brown Sugar
Eating out is easy, and it usually tastes delicious, but it's expensive. Making this meal at home will save you money. Add this recipe to your weekly meal plan.