Estimated reading time: 11 minutes
Do you know a Coffee Lover? Here are some best gift ideas for Coffee Lovers. Unique ideas that will make great Christmas gifts for any Coffee Lover, include Coffee gift box ideas, unique accessories, and, of course, coffee.
Great Gift Ideas for Coffee Lovers
You may be one or you may know of someone in your life who enjoys a good cup of coffee. Oftentimes, it is hard to pick just the right gift.
However, this year we have cultivated a list of the best gift ideas for coffee lovers. Coffee is a simple pleasure in life. It gives sleep-deprived mamas a boost to make it through the day, a wake-up jolt too many of us, and can be called comfort in a mug.
Whether it's the cute mug, the aroma, or the mood boost, coffee is one of the best-waking joys.
Make the holidays extra special for the coffee lover in your life and order one (or more) of these fun and unique products! I must point out that it doesn't matter if they like their coffee black, rich, mild, or creamy; here, you will find the ultimate gift ideas for all coffee lovers!
For more Christmas ideas, check out the Inspiring Savings 2022 Holiday Guide Gift List. Bring you great ideas for everyone on your Holiday Gift List.
Or this list of Stocking Stuffer Ideas You Can Get from the Grocery Store.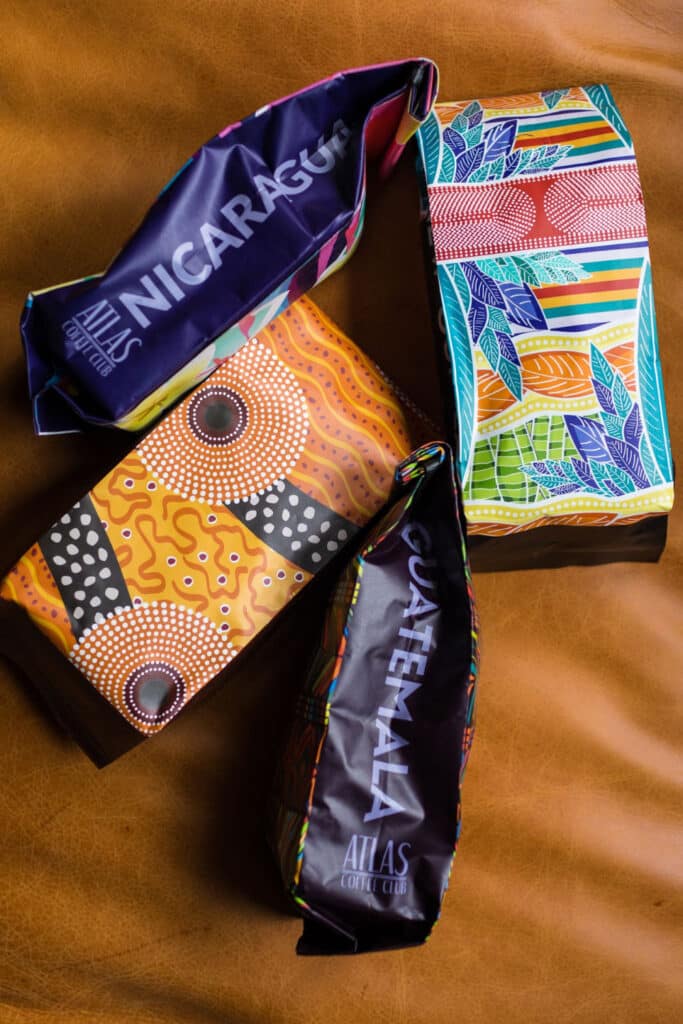 Who wouldn't want to take a trip around the world to taste the regional best coffee? I sure would, but you know that the expense of your traveling across the world would require a nice loan. And I know we both are not down for that!
The Atlas Coffee Club is a unique coffee subscription service that specializes in providing a different micro-lot of artisan coffee to its members each month. With your subscription, you will learn how to brew each flavor profile. Expect to receive a postcard from the region of interest.
You can sign up for a commitment of 3, 6 or 12-month options.
This coffee from Berres Brothers is less like Starbucks and more like Willy Wonka. They offer a wide arrangement of delicious flavored coffees. Some of my favorites include sea salt caramel, English toffee, and chocolate chip cookie. I have yet to try them all, but I am working on it.
You can order a la carte to create your own bundle or select from their pre-made bundle collections. If you know someone who adores different flavored coffees, they will surely enjoy Berres Brothers.
PERK BOX by Smart Sips is the perfect way to sample new, exciting flavors! Each month, an assortment of unique flavored gourmet coffees, hot chocolates, and cappuccinos will be delivered directly to your door.
Each box is filled with hand-selected, incredibly delicious gourmet flavors. PERK BOX is the ultimate assortment for coffee lovers that will have you brewing with excitement for your next box!
Each box contains 24 specially selected K-Cups.
This awesome gift box comes with almost a pound of delicious, gourmet coffee with freshness guaranteed. Included in the box are tasting notes and roaster profiles, so you know exactly what you're getting.
This box includes 8 freshly roasted coffees and 8 chocolate bars to pair with. Enjoy! Bean Box does offer a coffee subscription too.
What can make coffee better than having options? This sampler box is sure to pick up any coffee lover with custom-printed graphics and info on each specialty coffee inside.
Don Pablo Classic Italian Espresso: A special blend of smooth Colombian Supremo with Sumatra mandheling gives this coffee a very deep and complex flavor with a European flair. Rich, complex, and very smooth. 100% Arabica, Non GMO, Dark Roast.
CharBeanz Dark Coffee: This full city Roast is bold, dark and smokey yet rich and tasty with low acidity. 100% Arabica, Non GMO, Dark roast arabica coffee.
Pablo's Pride Guatemala: Rich and chocolatey with considerable depth of flavor, a very smooth velvety body, low acidity, and a clean caramel and cocoa finish. 100% Arabica Coffee, Medium-Dark Roast.
Perhaps even fully immerse yourself in a caffeinated atmosphere by lighting a coffee-scented candle. Inspired by fresh dripped Vietnamese coffee, Emme Essentials' Coffee Drip candle is deep, complex, and balanced with the sweet notes of condensed milk and chicory.
Hand-poured in micro-batches in New York City, Emme Essentials is a collection of luxury candles dedicated to Asian-influenced flavors designed to "smell like memories."
This wood-wick candle is free from gluten, toxin, paraben, and phthalate and comes from renewable sources. With this candle, you get 60 to 80 hours of burn time.
Have yourself an extra tasty staple for breakfast. An infusion with Stumptown Coffee Roasters Hair Bender Blend creates multidimensional tasting notes of dark chocolate, cherry, toffee, and fudge.
It's a deeper, sweeter, richer maple experience. Generally speaking, we love poured chocolate ice cream, but you can use it in your favorite cocktail, or on a fluffy stack of pancakes.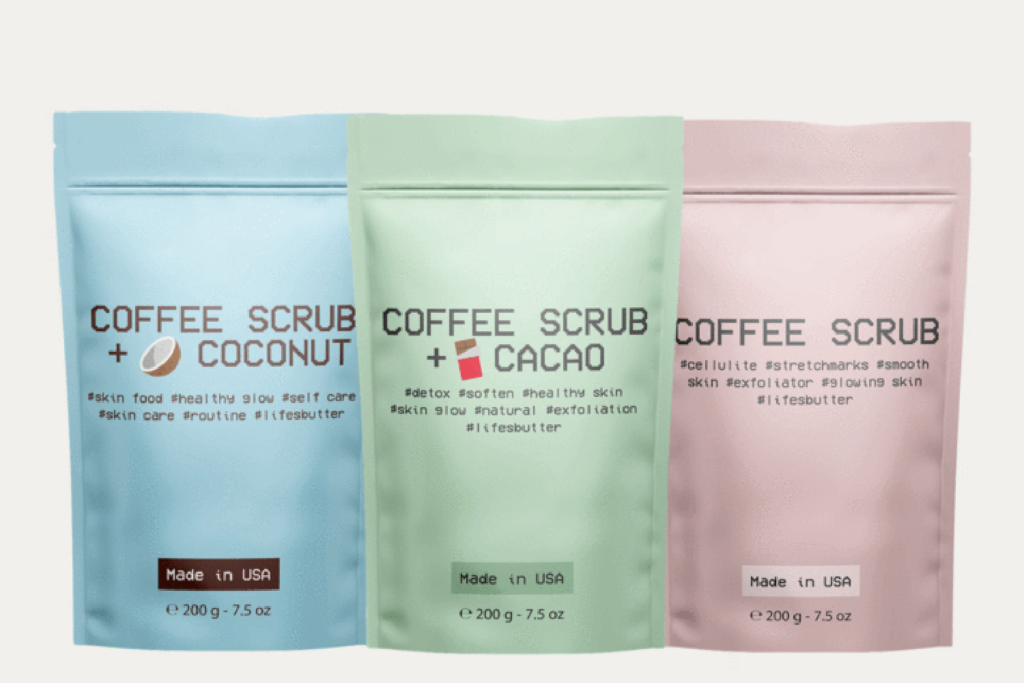 With all the right ingredients. Including antioxidant-rich cacao to protect the skin from premature aging, dead sea salt organic shea butter.
All of which are filled with antioxidant and anti-inflammatory properties. The coffee arabica seed oil promoted deep hydration. Made with organic fair trade Kona coffee. Which has literally hundreds of antioxidants and exfoliating abilities that will make your skin dewy and smooth.
Beware, you will need this every morning just like your regular old cup of joe.
The OXO Good Grips Cold Brew Coffee Maker brings the cold-brew process to your kitchen, offering smooth, low-acid coffee without a trip to the cafe.
Just add coffee grounds to the Brewing Container and fill the Rainmaker top with water. The Rainmaker ensures that water is distributed evenly over the coffee grounds. Let the mixture steep for 12 – 24 hours.
When you're ready to enjoy, the Brew-Release Switch allows for easy control of the draining process. The stainless steel ultra-fine mesh filter can be removed for quick cleanup.
Modern life moves at a fast pace. And it is no wonder we are always in search of reliable products. Especially during the morning commute, or when you find yourself standing on your feet for too long at work.
Meet the Contigo Autoseal West Loop Vacuum-Insulated Stainless Steel Travel Mug with Easy-Clean Lid, which combines intelligent design and innovative technologies to adapt to any commute, agenda, or lifestyle. This travel mug keeps drinks hot for up to seven hours and iced coffee cold for up to 18 hours for all-day sipping.
Unique and stylish, this ceramic coffee canister is from the Typhoon Living collection. It comes in two different colors: cream and light blue. It's perfect for your favorite coffee and other kitchen essentials. 
Generous 1-liter capacity but also compact enough to fit within crowded cupboards, the bamboo lid is airtight, keeping contents fresher for much longer. And just as a little tidbit for the environmentally conscious, the bamboo lid is sourced from sustainable forestry.
That is a gift idea for coffee lovers we can all get down with!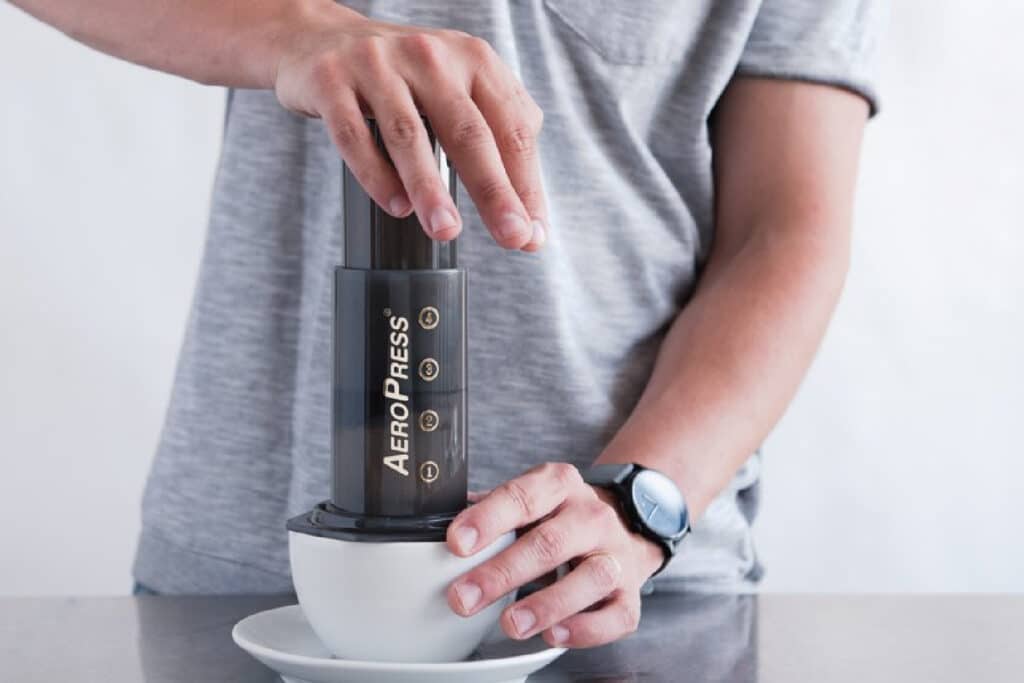 The AeroPress is ideal for any coffee lover looking for a rich and smooth cup of coffee.
The device helps to remove acidity and bitterness. You can choose to brew one cup or up to three cups of American or espresso-style coffee in about a minute. And I must mention, clean up takes only a few seconds. It's a great addition to any kitchen. It is durable, lightweight, and compact.
The AeroPress also makes the perfect companion when traveling, camping, or just going to work. Includes: 350 filters, chamber, plunger, filter cap, filter holder, funnel, stirrer, and scoop.
Transform your morning coffee routine with a JavaPresse manual grinder. It is designed to liberate and empower you. Change your favorite whole-bean coffee ritual into an extraordinary daily experience. 
Crafted with the same essence as traditional Japanese cookware. Not to mention, it has patented Ceramic Burrs. Which have been tested through three quality inspections to last 5x's longer.
This is much longer than any comparable stainless steel burrs. This device will take your favorite coffee lover to a whole new experience level. Altogether, a great gift idea.
This broad, but accessible handbook is for the average coffee lover who wants to make better coffee at home. Unlike other coffee books, this one focuses only on coffee.
They do not include any recipes for espressos, lattes, etc. This book explores multiple pour-over, immersion, and cold-brew techniques on 10 different devices. In addition, it has been named the top food & drink book of 2017 by Food Network, Wired, Sprudge, and Booklist.
We hope you picked an item from our list of the best gift ideas for coffee lovers in your life! For more gift inspiration, check out our Holiday Gift Guide.