Give Dad The Best Father's Day Gift This Year – Plus Frugal Car Washing Tips
(Here is a picture of our FAVORITE dad, hanging out in Maine. We love to be goofy.)
Father's day is just around the corner. And lets face the facts, that we are all busy Mommas! We do want the men in our lives to feel special and needed, but what about finding the perfect gift in really the shortest time possible. For me, it always means planning Father's Day in less than two days. He means more to us than two days of planning, but after schlepping the kids from dance, soccer, Tai Kwon Do,  keep the house clean and oh yea, what about dinner; it is hard to just find time to sneak out of the house for some daddy shopping time. I did say this was for Father's Day and not Mother's Day right?
What would he really like for Father's Day?   It could be a real drag to figure out the best gift for your dad. But no matter the budget, we've got a great idea for you and some frugal care car tips.

Give Dad The Best Father's Day Gift This Year
This year we are doing it different. Yep, we are planning ahead and heading over to Walmart to grab Armor All Car Care Essentials Bucket . ONE point for mom.
Today, I took my little lady on over to help me search out the isles of Walmart for our Armor All Car Care bucket. Plus had some fun taking a few selfies.
We are always in search of deals and who wouldn't be? As mom it is our job to help our family save money. On top of this Armor Car Care Essentials Bucket being only $19.98 there is $2/1 Armour All Car Care Essentials Gift Pack Printable Coupon. These products are great for helping you preserve and protect the value and appearance of you car. Please see your Walmart store deal below.
Walmart Father's Day Gift Deal
Armour 10 Piece All Car Care Essentials Gift Pack – $19.98 (Valued at $30 worth of products)
What I love most about this car care bucket is it contains everything you need (excluding water) to get your car wash started. It even contains the sponge and towel for washing/drying your car. I do have to say (Product PLUG) – I was amazed after my little Emi squirted the tires with the Armor All Quick Silver Wheel & Tire Cleaner (included in this 10 pc bucket). After she did her job of spraying every inch of the tires, I hosed down the tires. WOWZA! No scrubbing at all and all the road wear was gone.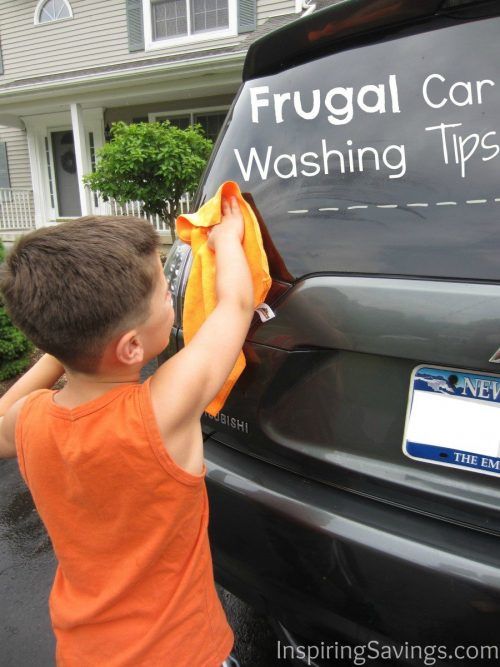 Frugal Car Care Tips
Taking your car to a professional car wash is always an option, but if frugal is the goal, follow these tips to do it at home We all know that washing your car at home is less expensive than taking to your favorite car wash. In fact you can spend up $9 and up for just getting the outside washed, but with coupons and picking up the Armor products you need from Walmart can save you a ton. Plus you can continue to reuse those products for future car washings.
– Do it yourself (or have your kids do it). As mentioned above you can spend well over $9 every time you take your car to a professional car wash service. By purchasing multi use cleaners, waxes, etc can have you loads of money each year.
Here are my cuties washing the Dad's car.  They had so much fun. Guess who was in charge of the hose and getting the car rinsed and spraying the kids? Yep, you got it, this mama.
– Try to wash your car in the shade and make sure the engine is cool.  A hot surface will dry the water too quickly and leave unattractive soap spots.
–Wash the tires first.  If you splash wheel cleaners or dirt onto your vehicle, you can simply wash it off as you wash your vehicle. If you leave the tires until last will more than likely have to rewash your car around the wheels. Making more work and using more water than needed.
– Save on Water – Use the hose only when needed. For instance using it to wash and rinse your car instead of leaving it on during the duration of your car wash. Plus using a bucket with water & soap instead of just using a soapy sponge and the hose.
– Try using crumpled newspaper instead of paper towels to clean your vehicle windows. Newspaper is more durable than paper towels, doesn't leave any paper residue like some towels can, and it'll otherwise just be heading to the recycling bin.
– Don't use soap not made for your car's paint. Using household cleaning agents like hand soap, dishwashing detergent, or glass cleaner on you car and strip the protective layer of wax and ultimately damage the paint of your car. Costing you more money in the end to fix the problem.
Do you have any frugal car care tips?