Estimated reading time: 6 minutes
Save money without coupons. Ever wonder when grocery items go on sale at your local grocery store? It's called a grocery sales cycle. Save even more money by shopping the sale cycles.
How To Track Grocery Sales Cycles
The Big secret to saving money on groceries is not the couponing.
Seriously, did I just say that?
Yes, I know it is hard to believe. Being frugal can really help with providing your family with more savings. 
The secret is knowing what price you should pay for an item. It's very easy to get swept up in a sale, especially that famous B1G1 or 50-60% off sales.
Grocery stores and manufacturers work hard to push out their best sale prices to you on a weekly basis through their store circulars.
If you follow along closely, you'll notice that most products operate on a 6 -8-week sales cycle. You'll also find that "product families" all go on sale at the same time.
You'll save a lot of money by tracking your supermarket's sales cycles and stocking up on just the items that are on sale that week.
For example; P&G products (Tide, Downy, Pantene, etc) will be discounted the same weeks and will return to their regular prices for a few weeks, then go back on sale together. All about shopping the Sales Cycles!
Best Times to Shop for Groceries
Know Your Prices
For many items, that may only require buying an extra package or two, so you don't even have to have a lot of storage space to be able to take advantage of the deals.
If you don't have a lot of refrigerator or freezer space, don't worry. You should only focus on stocking up on shelf-stable items, you'll still save a ton.
Now how do you know when to stock up on sale items? As you know, not all sales are created equal.
To maximize your savings, keep track of the sales cycle among major supermarket competitors in your area.
At the very least, you need to know what price is the everyday price, a good price, and a great price. If you are the primary grocery shopper and are well aware of pricing, this should come easily to you.
However, if you are not sure, the next time you go to the grocery store for a little shopping, make a point to start keeping a mental list of the items you purchase regularly.
You can even go one step further and start a list at home. After all, who could know the best price for every item from memory?
Start a price book.
Record basic information about the products you buy regularly, including how much you paid for an item when you bought it, and where you bought it.
Once you really start to understand those sale prices, you will soon start to notice you won't need this price book anymore.
But it may be fun to look back years later to see how prices fluctuated from when you first started.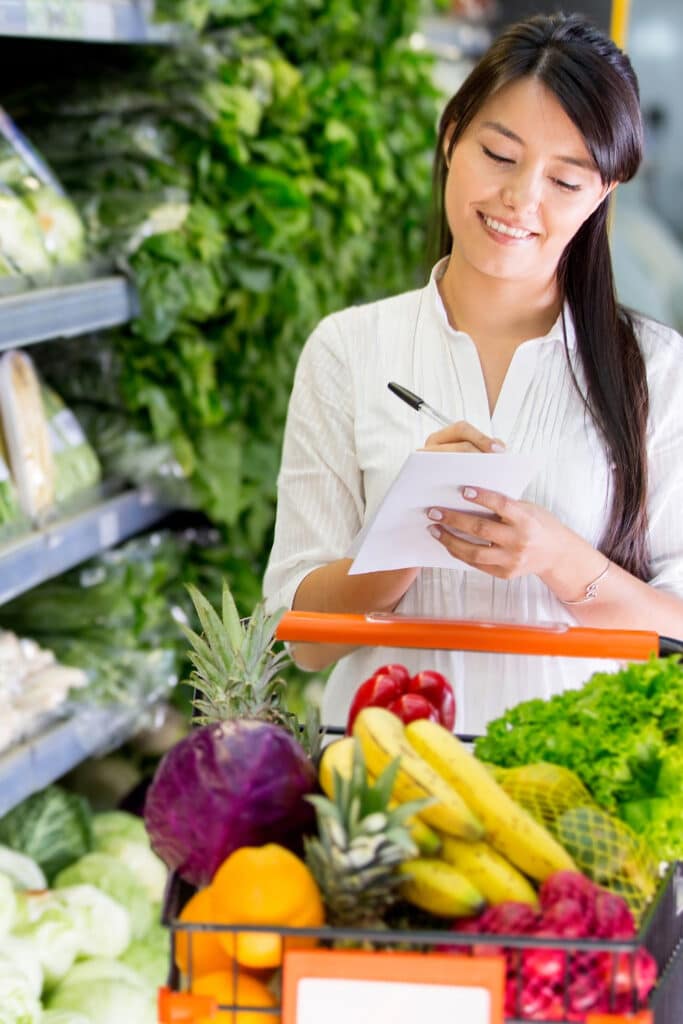 Saving Even More Money
When your favorite items are at their lowest rock-bottom price, that is when you purchase them and stock up for the next sale.
Remember that prices of food fluctuate every 6-8 weeks.
What that means is there will be another sale on those items you just purchased (maybe not the same brand name). Learn when those times are, and then stock up.
There is the best time to buy everything.
To maximize your savings, keep track of the sales cycle among major supermarket competitors in your area. You may find that one chain is best on canned food items sales, while another has the best deals on condiments.
You may also find that one store always has the best price on some products, regardless of a competitor's sales cycle.
For my local area, Hannaford food stores are always the lowest regardless of the sale cycle.
The time to use coupons is when food pricing for an item is at its lowest price.
Spending your money wisely and making the best possible decisions while shopping will greatly improve your savings at the store.
There are seasonal exceptions to this sale cycle rule. I have noted them below.
Shopping the Sales Cycles – Seasonally
A Month by Month Breakdown.
January
Diet foods, cold medicines & vitamins, Quaker products, party foods (Super Bowl Sunday), and Christmas clearance.
February
Candy, chocolate, canned foods (veggies, fruit, tuna.).
March
Frozen Food Month, Easter candy, baskets, decor, as well as cleaning supply sales begin.
April
Easter dinner foods, Easter clearance.
May
Party foods, BBQ, and camping supplies.
June
National Dairy Month, BBQ, and camping supplies will continue, and Gift Card Promotions.
July
MORE BBQ foods, school supply sales begin.
August
School supply sales continue with school lunch items, and Kraft food items, such as mac & cheese.
September
Labor Day BBQ items and the end of school supply sales, Campbell's sale, and more "school food" items.
October
Halloween candy toy sales begin for Christmas
November
Halloween clearance items, all Thanksgiving dinner, and baking items, Gift Card Promotions,
December – Thanksgiving clearance items (decorations, napkins, etc.) And all Christmas dinner and baking items.
I have a more comprehensive list here that goes over in more detail all the grocery sales month by month.
Make sure you review this list, especially if you are in the market for things other than grocery store items. Shopping when knowing the timeframe of the next sale can save you hundreds of dollars.
Now you are equipped with this money-saving tip – it is now your turn to Save Even More Money By Shopping the Sales Cycles!
We would love to know if you follow the sale cycles and what items do you purchase from following them. Leave us a comment below.
Other Saving Resources
Unexpected Places to Help You Find the Best Food Deals
Hidden Things That Break The Budget and How to Avoid Them
Learn HOW to Save More Money on Groceries with The Ibotta App