Estimated reading time: 6 minutes
Saving money can be tough when you have a super tight budget. Here are some quick budget-saving tips when moving that everyone needs to know. Moving Tips for simplifying a move and keeping you organized.
Easy Ways to Save Money on Your Move
Congratulations! You've found a new home to move in with your family.
As you know, moving can be an incredibly stressful ordeal. Growing up in a military family moving is the norm. My father served over 20 years in the Army.
My mom delivered a well-developed system and the whole family got on board. Let's face it. You don't mess with the boss of the family.
Moving represents a new chapter in your life.
Even when you are excited about moving, it can still cause financial stress and worry. You want to spend less if you can, and there are several ways you can reach this goal. You may even be able to take the money you save and buy something nice for your new home.
Making your move budget-friendly is simple with a little bit of strategizing.
Let's Get Started Reviewing some Budget Saving Tips When Moving
Organize & Purge
The quickest way to save money is to eliminate any extra items that you don't really need to take with you.
Organizing your move means preparing for a new life. Ditch the things that may hold poor memories or items that just cluttered your home.
It's hard enough living with clutter. It's even harder trying to move with clutter! Donate or have a yard sale before you start packing up. You may even be able to take a tax deduction for donating to a charity.
Having a yard sale is a great idea to earn money that can further help with your move.
Really, my favorite tips are the ones that save money. It is all about those budget-saving tips when moving.
Reasons why it is important to purge
You will have less to unpack in your new home
Your new home will be easier to organize/clean
You'll save money. The less you have to move, the less it will cost to move it.
Your home will be easier to stage (if you are selling)
Do Your Homework
If you are using a moving company, do your research before booking an appointment. Read the fine print to see if they charge extra based on weight.
You also want to know how many workers it includes, how much time you get, and any fuel surcharges.
Summer is naturally the busiest time of year for movers, so if possible try to move in the off-season for better rates.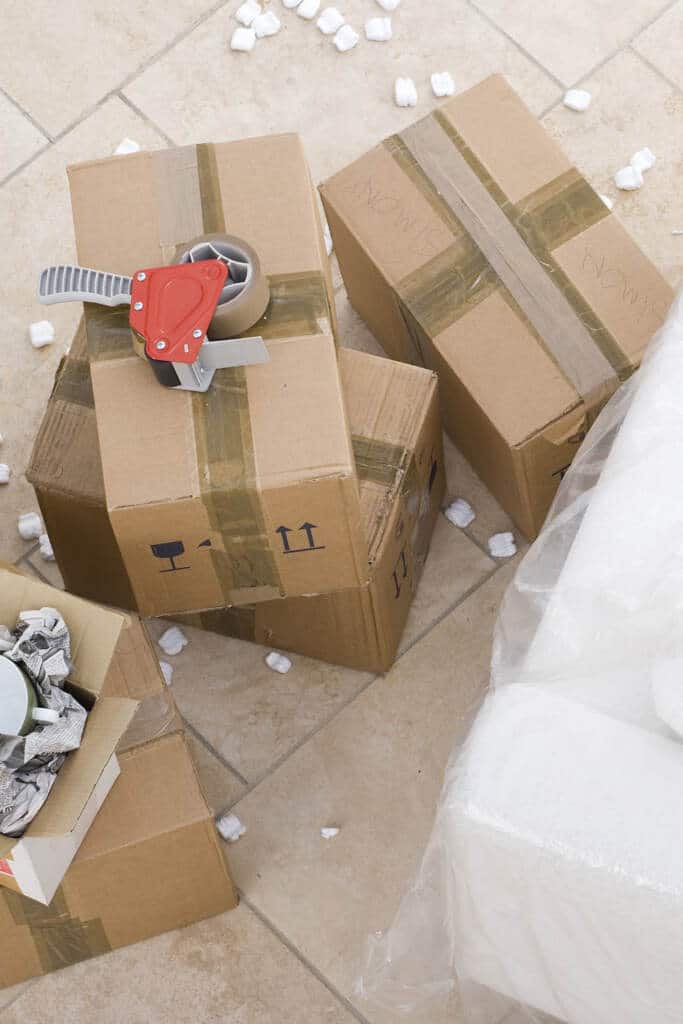 Don't Pay For Boxes
If you didn't hire professionals already or you want to start packing before the movers come, it is time to stock up on boxes. More often than not, you can get high-quality sturdy boxes without paying for them.
Boxes that printer paper comes in are sturdy and usually have a lid.
If you work in an office or have friends that do, you should be able to find these boxes easily. They also make stacking and organizing your boxes much easier.
These are a perfect size for kid's items or even dishes. Check with your local grocery or drugstore to see when the best time is to pick up boxes.
Most stores put them out early in the morning.
You will often find ads on Craigslist or local Facebook groups where people are giving away boxes/packing supplies right after they finished moving.
Having a hard time finding boxes? Look for moving companies that offer reusable plastic boxes for rent – you'll not be disappointed with your decision. You can also take advantage of your social media followers and friends to get free boxes.
Don't Forget to Label Your Boxes
Labeling your boxes is so important. As you are packaging your items have a sharpie marker on hand. When labeling your boxes, make sure you label the tops as well as the sides.
This will enable you to know the contents of a box when another one is stacked on top of it.
You'll also want to make sure you mark boxes with breakables "FRAGILE" so you the movers don't accidentally toss them down the stairs!
Don't Pay Anyone To Pack For You
Most of us don't work for companies that will come and pack for us and take care of all the headaches associated with moving, including the costs. It is wonderful if you can snag a relocation package as part of your new job. 
Start saving your newspapers for a couple of months before the move to help you wrap breakable items. Instead of packing blankets and towels, use them to wrap pictures in frames or other large pieces.
Slowly pack up months or weeks before your actual moving date. Pull items that you don't use frequently.
You will also want to think about consulting with friends for extra help on moving day. They will be my biggest Budget Saving Tips When Moving.
Pay them in pizza in exchange for their muscle power.
Spread out the tasks so you have to help packing and moving. Be appreciative; saying thank you does not cost anything. Having great friends is the best and believe me, most want to help. 
Also, you can plan your weekly meal planning around your move. This way, dinner is thought of and you aren't left starving and spending extra cash on take-out food.
Your new home deserves the care and attention that will ensure its success. Moving on a budget is entirely possible, and it can seem easy if you follow these tips.
Do you have any favorite Budget Savings Moving Tips When Moving or ideas that have been helpful to you?
Share with us in the comments!
Other Frugal Living Articles
10 Common Items that Make Great Toy Organizers!
How Decluttering Can Save You Money!!