Homemade Refrigerator Sticker Magnet Craft
Looking for Homemade Refrigerator Sticker Magnet Craft? Here you'll find step-by-step instructions on how to make homemade Refrigerator Magnet Craft for Kids.
We all get them!!! And right now, it is that time a year for advertising magnets. Before you toss them I have a great idea to upcycle them for a more kids friendly project. Let's get ready to make some Homemade Refrigerator Magnet Crafts for Kids.
This year I received one from our loan officer who helped us with our home mortgage (by the way we purchased our house almost 10 years ago) and a few other magnet calendars from random real estate brokers who have sold homes in our area.
Before you toss out those advertising magnets, let's recycle them. Your kids are going to love this craft and so will you since it costs very little. Here is how:
Homemade Refrigerator Sticker Magnet Craft for Kids
Gather your supplies:
Magnets
Stickers, your choice
Scissors (Good Pair – You can purchase through Amazon)
Glue Stick (May need)
First, you will need to cover those magnets with fun kid-friendly stickers. I used puffy 3D ones for this project. Try to stay with stickers that are not see through. Just to avoid seeing the advertisements. You can even use alphabets stickers, puzzle stickers, etc. The ideas are endless.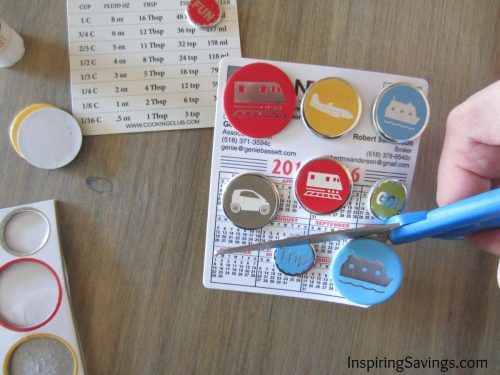 Once your stickers in place. Simply cut around the stickers while in place or you can trace around them using a pen and then cut. The choice is up to you. I chose to cut around them while in place.
(sorry for my poorly manicured nails, HA I was trying to hide them to the best of my ability)
Then trim them around the edges. You may have to add a dab of glue to the edge to help them from lifting. VIOLA!! Add them to your fridge or to a cookie sheet and let your kids imagination do the work.
You kids are going to have fun playing with their new homemade refrigerator magnets.
Other Kid Friendly Frugal Crafts
Edible Play Dough – Easy, FUN & Yummy
Items you may need to purchase for this craft