Looking for a list of all the most current Catalina Promotions at ShopRite. Well you got it. Come check out your latest future promotion offers here.
ShopRite Catalina Promotions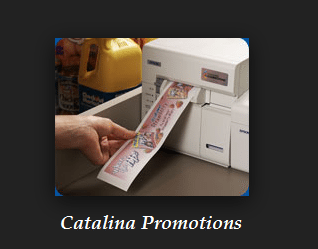 Here is the new staring list of ShopRite Catalina Promotions.  If you happen to stumble upon any that I haven't listed, please let me know and I will update.
Catalina Coupons & Promotions are coupons that print out of the Catalina machine at participating stores. This Catalina coupons can be used on your next shopping order (OYNO).
Catalina Promotions are deals that require a certain dollar amount to be purchased or quantity of products to be purchased. Once you have met those qualifications, a Catalina coupon will print at time of checkout, for a certain amount off your next purchase. This coupon offer can typically be used to purchase anything in the store, however, sometimes these promotions require they be used toward a specific brand or product.
Here are the current ShopRite Catalina Promotions
Band Aid First Aid Products or Neosporin
3/19 – 4/15/18
Buy 2, Get $1 Off OYNO
Buy 3+, Get $2 Off OYNO
Dreamfields Pasta Products
3/1 – 4/26/18
Buy 2, Get $1 Off OYNO
Buy 3, Get $1.50 Off OYNO
Buy 4+, Get $2 Off OYNO
Gatorade Product
3/19 – 4/15/18
Spend $6, Get $1 Off OYNO
Spend $10+, Get $2 Off OYNO
Good Earth Teas
1/14 – 3/31/18
Buy 2, Get $1.50 Off OYNO
Buy 3, Get $2.50 Off OYNO
Huggies Diapers, Huggies Wipes, Pull-Ups or GoodNites Underwear
3/18 – 4/15/18
Spend $25, Get $5 Off OYNO
Wish Bone Salad Dressing, Includes 15 oz or larger
3/19 – 4/15/18
Buy 2, Get $1 Off OYNO
Buy 3+, Get $2 Off OYNO
Please Note: If your catalina coupons do not print, the best thing to do it to contact Catalina Marketing. Telephone: 1-888-826-8766 or via email ncsc@catalinamarketing.com.
You can also read this article to learn more about Catalina Marketing and why so often the coupons may not print at checkout.