Estimated reading time: 7 minutes
I loving shopping at Target. Learn how to save more money at Target by finding bargains within their clearance sections. Find everything you need from Home Decor, clothing, to gift ideas. These tips will help you find Target Markdowns.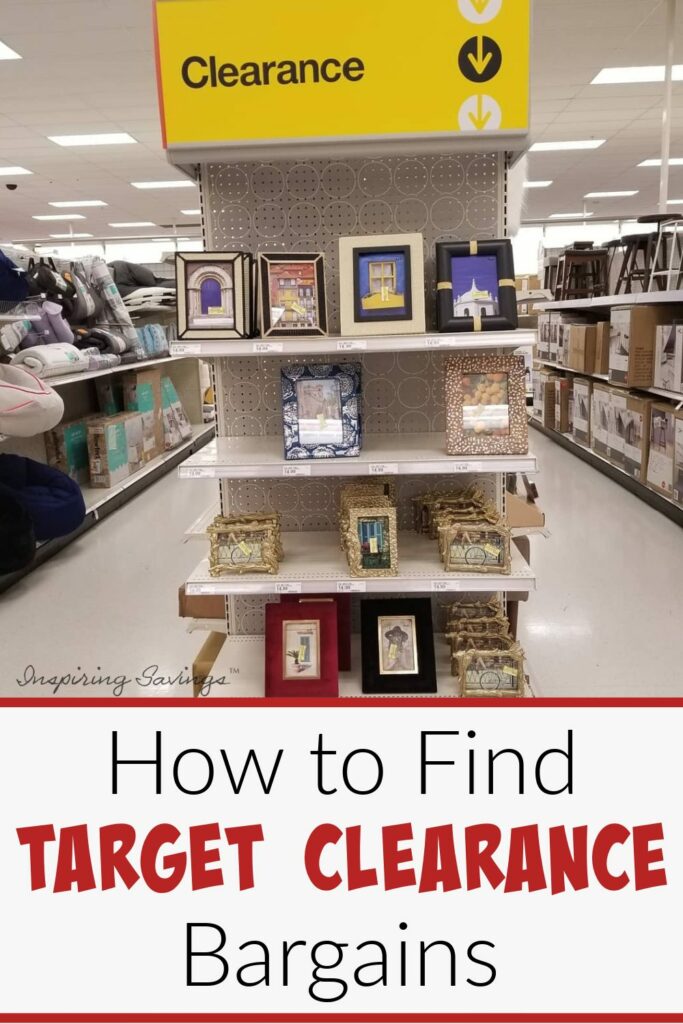 Your Complete Guide to Finding Target Clearance
Shopping the clearance sections at Target can always be lots of FUN, but do you know How To Find Target Clearance Bargains? It is one of my favorite stores to find bargains. You never know what great deals you will find.
Sure they have your everyday prices, but just lurking down those aisles are RED tags just screaming "Look at ME! I am marked down". All Target inventory goes through a markdown phase that is in set increments. Those increments are as follows; 15%, 30%, 50%, 70%, and so on, up to 90%.
If you see a 70% off sign at Target, this is truly the best deal you will find.

Also, keep in mind, they will likely liquidate these items from the store. Which means you won't see these items again.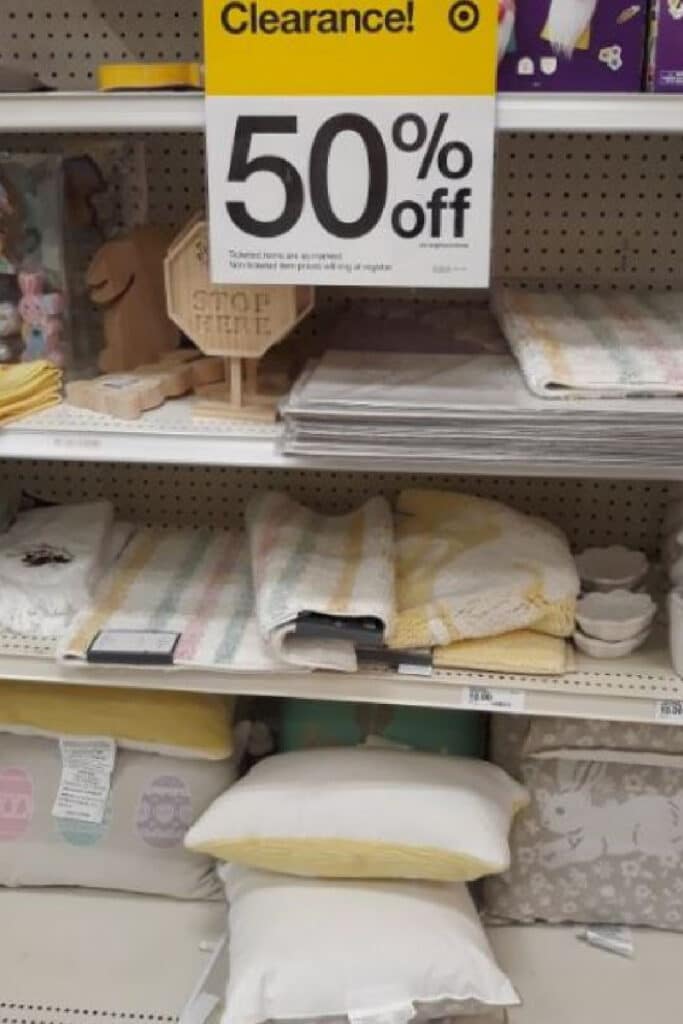 How to Find Deals at Target
If you're a frequent Target shopper, you know that you have to keep an eye on the weekly ad to catch the best Target deals. However, there are many unadvertised deals that you can stumble upon in-store.
Below, I will show you how to shop for those amazing deals. But first, did you know.….Some of the deals do require a Target Circle membership.
If you're not already a member, you can sign up here for free.
Where to Find The Target Clearance Sections
Most are found at the end caps of each aisle, but sometimes they can be found hiding on shelves in plain sight. The next time you are in Target, take a look around and get familiar with your store.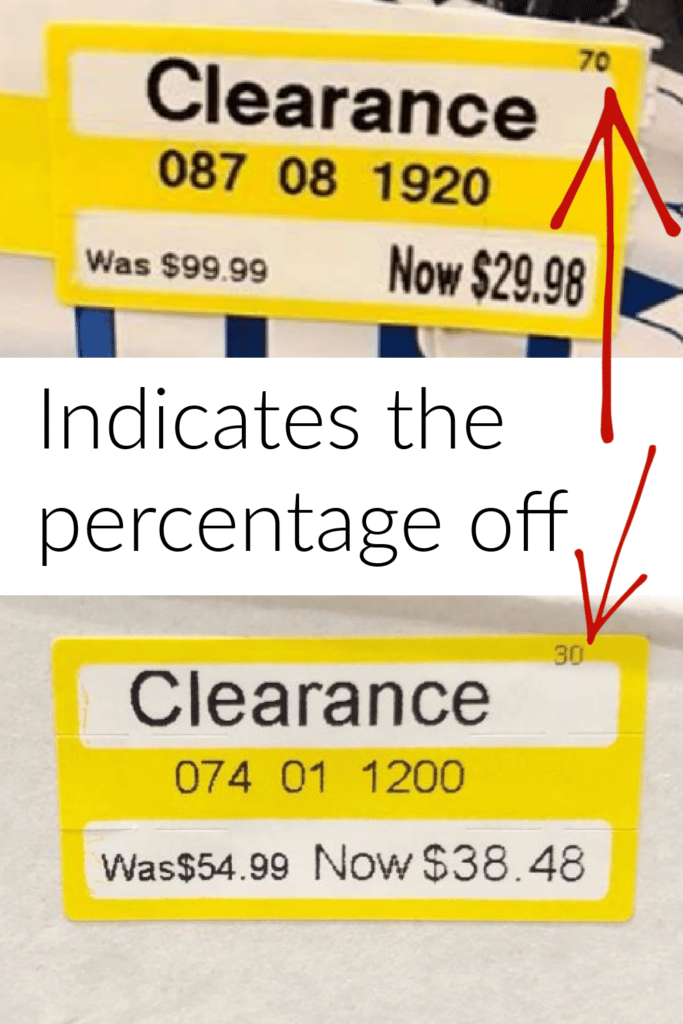 (In this image, the top right number circled is the percentage off. The number to the right is what you are paying now with that discount)
Target will mark down its products frequently.
If you are watching an item and see that it has been discounted to 30% – 50% off, you can try to go back in another two weeks to see if it has been marked down further. But keep in mind that someone may just nab it at that price.
Target typically further reduces unsold clearance merchandise every two weeks once the markdowns have begun, but this can vary based on region, amount of unsold inventory, and manager discretion.
Here's Target's markdown schedule:
Monday: Electronics, accessories, kids' clothing, books, baby, stationery
Tuesday: Domestic goods, women's clothing, pets, market (food items)
Wednesday: Men's clothing, health & beauty, diapers, lawn & garden, furniture
Thursday: Houseware, lingerie, shoes, toys, sporting goods, home decor & luggage
Friday: Auto, cosmetics, hardware, jewelry
90% off sale items are typically seen after the Holidays. My favorite is shopping the after Easter Clearance Event at Target.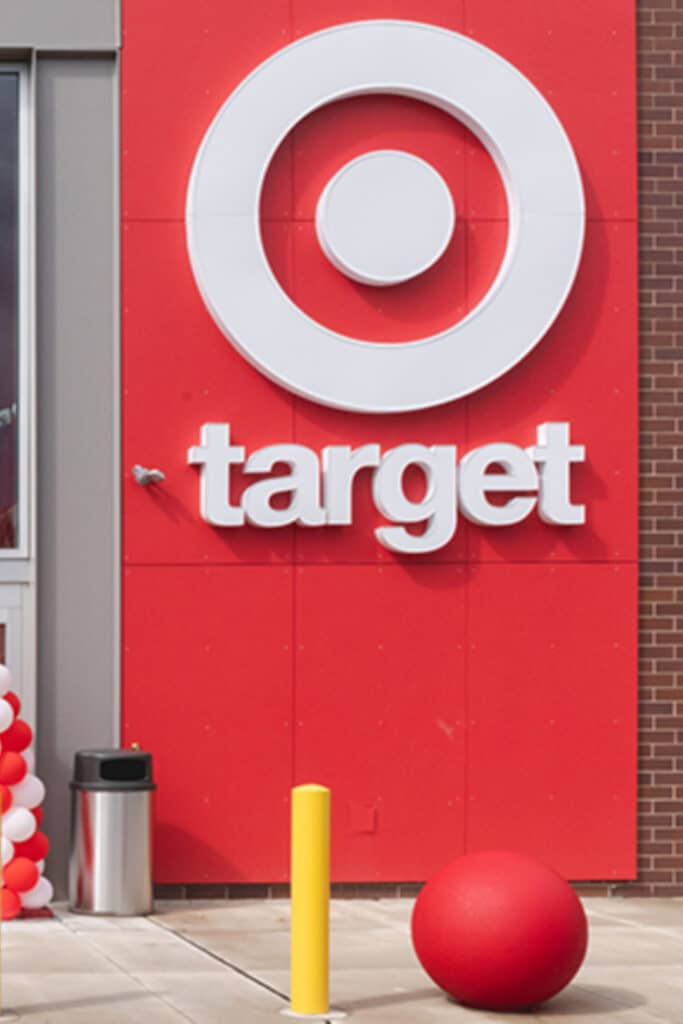 Understand How Items Get Marked Down
All-BIG Clearance Sale runs on a cycle. Target routinely marks items for clearance near the end of a season as well as post-holiday and during their semi-annual big toy clearance sales.
For instance, the big toy clearance happens in late January and at the end of July/early August (on a Thursday) every year. Mark your calendar and start paying attention to markdowns prior to the sale.
Signs Aren't Always Correct
Finally, yet importantly, do not judge a clearance by its sign. If you keep on walking because the clearance sign only reads 15% off, you may be missing out. The fine print typically says 15% OR MORE and you'll often see steeper markdowns upon closer inspection, intermingled with the 15% off goodies.
If you question a sale price, look around for a price scanner. Give it a shot. Sometimes the clearance team misses an item that should have been re-stickered at a lower price (It has happened to me!).
Time for an exploring expedition at your local Target Store! Don't forget your coupons!!
Make sure every time you are in Target, you walk around the outer perimeter of the store (near the exterior walls) because that is where the clearance items will be located: on the shelf end caps facing these walls.
Most of all, don't forget to scan clearance items to see if they come up even lower in price; sometimes clearance items are marked at a higher price than they ring up as! Therefore, you can use coupons on clearance items to maximize savings.
However, most Circle offers will not work on clearance items.
Other Ways To Save Money at Target
If you frequently shop at Target, you already know they can help you save money on anything from pillows to popcorn. With more than 1,900 stores across the U.S., the retail giant has made its reputation as a low-price mecca. But many don't realize shopping at Target can save you money.
Take Advantage of Target Circle Discounts
Shopping at Target is now more rewarding – for all shoppers. Savings upon savings will keep you shopping and looking for deals throughout the store.
Formally known as the Target Cartwheel. It is a savings program that Target offers to all customers. With the Target Circle program (app) shoppers will earn 1% on every purchase to redeem on a future shopping trip.
They'll also get personalized offers like a birthday discount of 5% and can cast votes to help direct Target's giving to approximately 800 nonprofit organizations. However, there is a catch if you currently have a Target RedCard.
Those members will not be eligible to earn 1% when they pay with the store-branded card. They will, however, continue to get 5% off purchases. They can still take advantage of the other Target Circle perks.
Where do you get Target Circle?
Simply download the Target App. You will find Circle as an extension within the app. It's all very user-friendly. Don't have a smartphone to get the app? No problem.
Your Target Circle barcode is the same no matter which offers you have loaded onto it. Just print it out from the website and keep it in your wallet to have them scan it each time you check out.
Update: You can now just type in your phone number at checkout.
Download the Target "Circle" app
Sign up for the Target Redcard
Use Target Category Coupons – to Find Target Clearance Bargains
Just about every week, Target offers category deals. And the savings can be huge. These deals will be a percentage off a specified category. For example: Saving 25% off furniture.
You will find these category coupons in the weekly flyer OR a mobile coupon in your Cartwheel app. Under the checkout screen, you'll see a tab at the bottom labeled coupons. Click it and all the available category coupons that are valid pop up.
You can use your mobile barcode coupon ONCE. If you want to do additional deals I suggest you cut out the paper coupons in the flyer. The good news is that manufacturer coupons AND Circle offers on individual items stack with a category coupon!
Learning to Save More Money
6 Food Purchases That Kill Your Budget
Tips To Buying Organic Food On A Budget